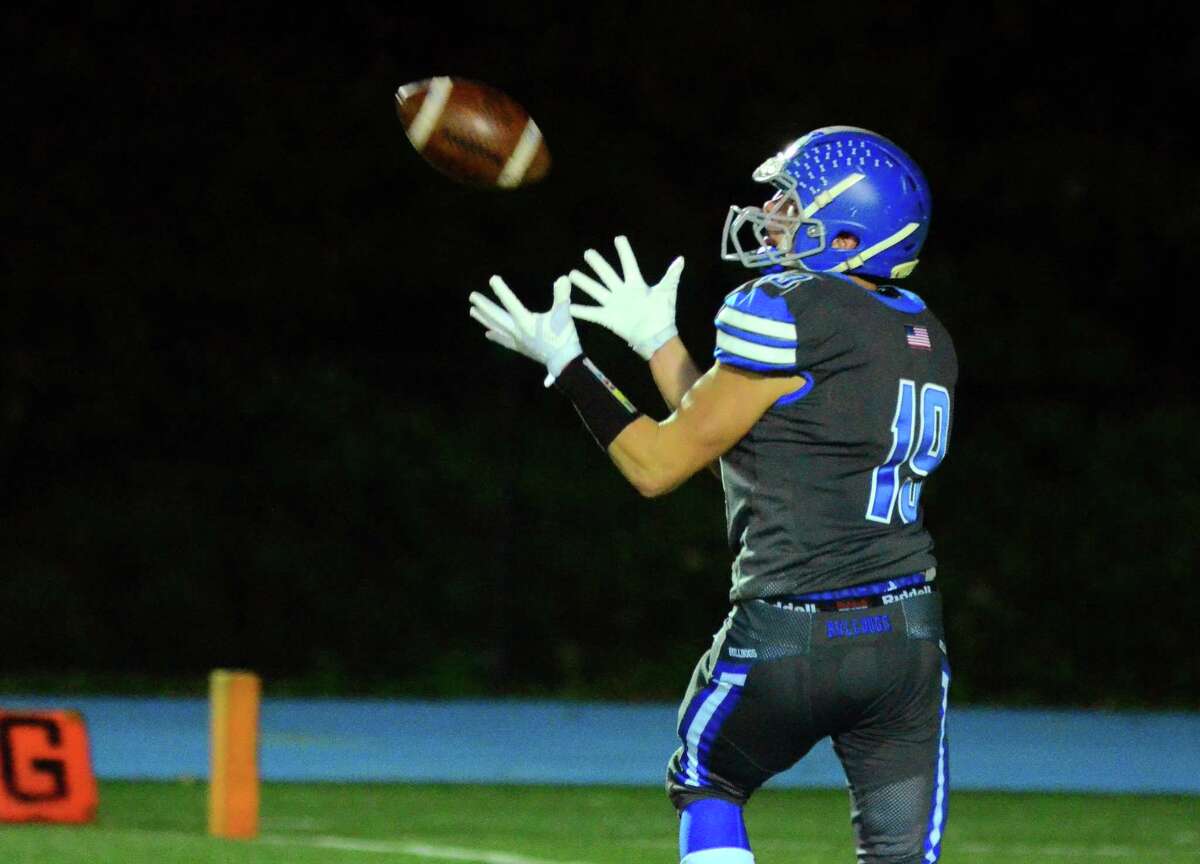 STRATFORD — Sean Mignone found the first five minutes of Bunnell's big South-West Conference tilt with Masuk hard to watch. A fumbled kickoff and a few other mistakes sent the Bulldogs into an early 14-point hole on their home field.
Ultimately, though, the Bulldogs answered. Again, and again, and again.
Bunnell kept its unbeaten record intact by rattling off 50 unanswered points in a 50-28 romp over Masuk.
"Before we blinked I felt like we were down 14-0," Mignone, the Bulldogs' fourth-year coach, said. "After that, though, I felt like we made some adjustments and we started playing. We started going. Our line opened some holes, and we got Tyreek (Smith) and Christ (N'Dabian) the ball. We threw the ball pretty well in the first half when we had to."
Added N'Dabian: "Our line came out to block after we were down a little bit. They realized we had to come back."
N'Dabian, a 5-foot-5 speedster out of the backfield, carried Bunnell's offense. He caught one touchdown from Brian Carrafiello and ran for three more, including a 96-yarder midway through the third quarter that gave the Bulldogs a comfortable 42-14 cushion.
@REALBunnell_FB scores 50 unanswered points to take down Masuk 50-28. @BunnellBulldogs @SWCinsiderCT #cthsfb pic.twitter.com/0KWoVHcUiw

— CT Sports Now (@CT_Sports_Now) October 20, 2018
"He's phenomenal," Mignone said. "To be his size and to have the natural gift that he has, the speed that he has, he's so tough. He never goes down with first contact. He's very hard to bring down. Get him out in the open and it's really fun to watch."
It was certainly fun for Bunnell. Masuk, on the other hand, wouldn't have minded a much quieter performance.
"They've got very good players, very good athletes," Panthers coach Joe Lato said. "When they had some daylight, they did more than just get a few yards."
N'Dabian on his big night for Bunnell #cthsfb pic.twitter.com/qAZwhKp51X

— Doug Bonjour (@DougBonjour) October 20, 2018
Four of Bunnell's touchdowns from scrimmage went for 19 yards or more. That's not counting Smith's 90-yard kickoff return, which squashed Masuk's early momentum and got the Bulldogs on the board at 14-6.
"They captured momentum there, and then we had a touchdown called back. It is what it is," Lato said. "We just couldn't get anything back after that."
N'Dabian's first touchdown came one play after Masuk's punter accidentally kneeled at the 10-yard line while attempting to recover a low snap. Bunnell would score twice more before the half to go up 26-14.
The win pushed the Bulldogs to 6-0 on the season. Masuk, meanwhile, dropped to 2-4.
"They're always a good program. They're always a good team," Mignone said. "To play them the way we did — to play defense and to score like we did — it feels good. I still feel like we can get better, though. We weren't perfect."
A pair of touchdown runs by Kevin Luke (3 and 1 yard) gave Masuk an early 14-0 lead. Luke also intercepted a pass and caught a 6-yard touchdown as part of his big night.
PLAYER OF THE GAME
Christ N'Dabian, Bunnell, RB: The speedy senior gashed Masuk's defense for four touchdowns, including a 96-yarder that put a capper on Bunnell's blowout win.
QUOTABLE
"They're a really big rival of ours. We look forward to this game a lot. To know that we came back and we played hard and shut them down and made them quiet, it felt really good." — N'Dabian
BIG GAME ON TAP
Bunnell will carry its unbeaten record into a showdown with fellow unbeaten Newtown (6-0) next Friday at home. The Nighthawks, No. 7 in the GameTimeCT poll, beat Pomperaug 42-0 Friday night.
The same night, Masuk will host winless New Milford (0-6).
BUNNELL 50, MASUK 28
MASUK 14 0 0 14 — 28
BUNNELL 12 14 24 0 — 50
M — Kevin Luke 3 run (Nolan McCarter kick)
M — Luke 1 run (McCarter kick)
B — Tyreek Smith 90 kick return (Run failed)
B — Christ N'Dabian 10 run (Run failed)
B — James Savko 19 pass Brian Carrafiello (Jovan Eggleston run)
B — N'Dabian 5 run (Run failed)
B — N'Dabian 22 pass Carrafiello (Smith run)
B — N'Dabian 96 run (Eggleston run)
B — Smith 65 run (Eggleston run)
M — Luke 6 pass Thomas Juliano (McCarter kick)
M — Daniel Verrastro 2 run (McCarter kick)
Records: Masuk 2-4; Bunnell 6-0