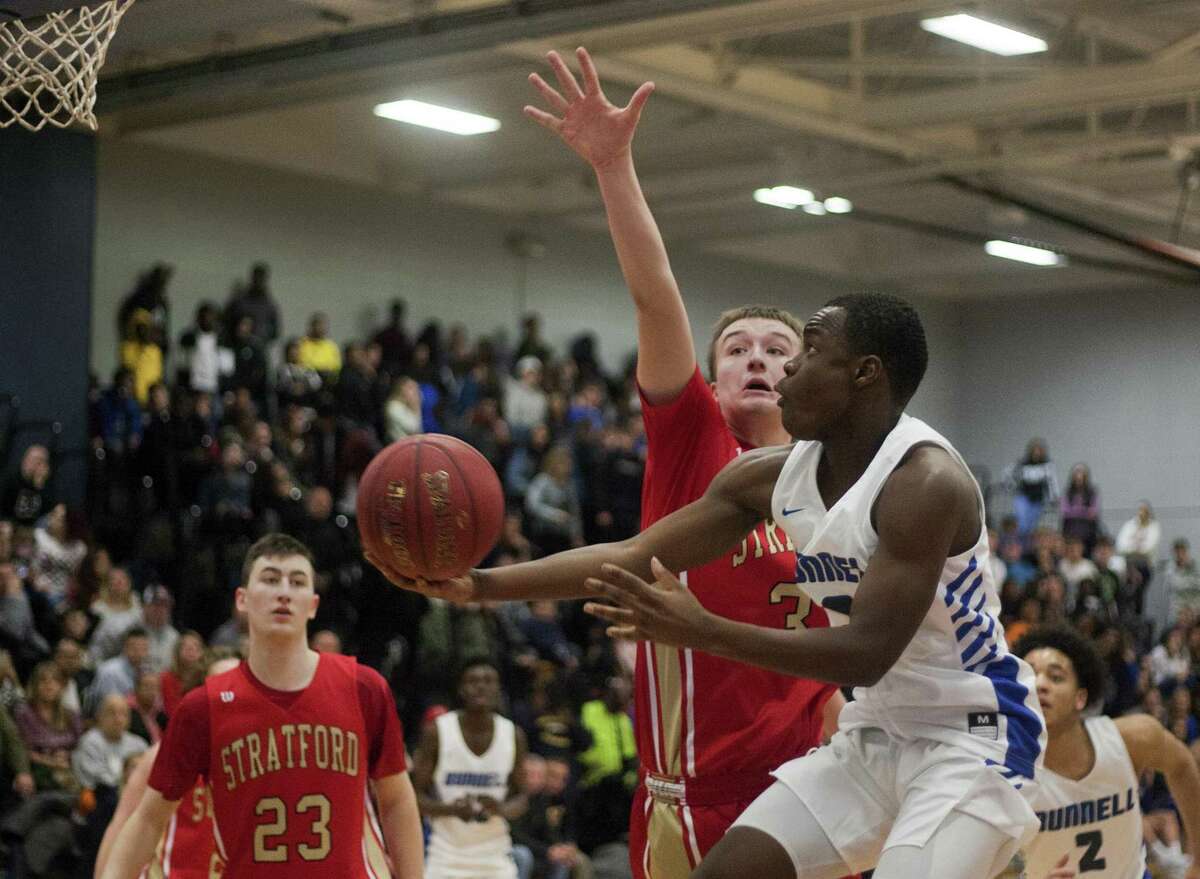 STRATFORD — As the fourth quarter was unfolding Friday, surprisingly no red alert warning went off on the Bunnell bench, despite the Bulldogs letting an 18-point lead slip to three, and the box-and-1 defense employed by Stratford was keeping Bunnell star Max Edwards somewhat in check.
"Nobody was nervous," Bulldogs coach Dannie Powell said after the town clash at a sold out Bunnell gym. "We've been in close or tied games almost every game so far and we've lost some of them, but it's taught us how to win."
The Bulldogs never let Stratford get closer than three in the final quarter, and behind sixth man Khalid Moreland, who had eight fourth-quarter points, held on for a 70-64 SWC victory.
"No one was nervous," said Edwards, who scored 27 points. "We all trust each other. When it was close, yeah, it's my time to take over, but they had a box-and-1 on me so it was a great team win."
Bunnell (4-3, 1-0 SWC) appeared on its way to a blowout win after building a 48-30 lead midway through the third quarter. The streak actually started a quarter earlier when the Bulldogs made their first nine field goal attempts to take a 41-27 halftime advantage. Bunnell shot 9 for 10 from the field in the quarter and 29 for 53 (55 percent) for the game.
However, Stratford (3-4, 0-1), a perimeter shooting team led by Mike August, got hot. August, who scored 27 points to lead the Red Devils, made three treys in the third quarter to eventually cut the deficit to 58-55.
"Bunnell is good, and when they can go fast they're very good," Stratford coach Tim Swaller said, referring to Bunnell's 22-point second quarter. "But then we got patient on offense and got back into it. But we didn't shoot well, and we're a very good shooting team."
Stratford missed 19 of 29 shots in the second and third quarters before getting hot. But with Bunnell leading 62-58, an Edwards dunk after a steal seemed to take the life out of the Red Devils. Edwards and Moreland (13 points) each made two free throws in the final minute to seal the victory.
"We looked for Max but they were keying on him so we needed someone to step up and Khalil did that," Powell said of Moreland." Khalil is such a smart player. Max is very talented but we need others to step up and Khalil did that tonight."
Joe August added 12 points and Jack Ryan had 11 for Stratford while Preston Williams pulled down nine rebounds.
Joshua Giannoni had eight rebounds and Derrick Gyimah had seven boards for Bunnell.
PLAYER OF THE GAME
While Bunnell's Moreland had a great fourth quarter and Stratford's Mike August had 27 points, it was Bulldog Max Edwards, who had 27 points despite being the focal point of the Stratford defense, who made the difference .
NO "I" IN TEAM
Edwards was 10 for 22 from the floor but the rest of the Bulldogs made 19 of 31 shots (61 percent).
QUOTABLE
"Next time it's going in" — Bunnell's Max Edwards who missed a dunk after passing the ball to himself off the backboard in the final minute.
BUNNELL 70, STRATFORD 64
STRATFORD (3-4, 0-1 SWC)
Joe August 4 0-0 12; Zach Fedak 0 0-0 0; Preston Williams 3 0-0 6; Mike August 10 2-3 27; John Bike 1 3-5 6; Jayquan Kirkland 1 0-0 2; Jack Ryan 4 3-4 11. TOTALS: 23-55 8-12 64
BUNNELL (4-3, 1-0 SWC)
Tyler Staggs-Burgess 0 0-2 0; Max Edwards 10 3-3 27; Elijah Alexandre 4 0-0 8; Derrick Gyimah 3 0-0 8; Joshua Giannoni 2 0-0 4; Khalid Moreland 5 2-3 13; Jaqvon Wilson 4 0-1 8; Jaden McDowell 1 0-0 2; Kevin Lanham 0 0-0 0. TOTALS: 29-53 5-7 70
STRATFORD 15 12 17 20 — 64
BUNNELL 19 22 13 16 — 70
3-pointers: S — M. August 5, J. August 4, Bike. B — Edwards 4, Gyimah 2, Moreland.