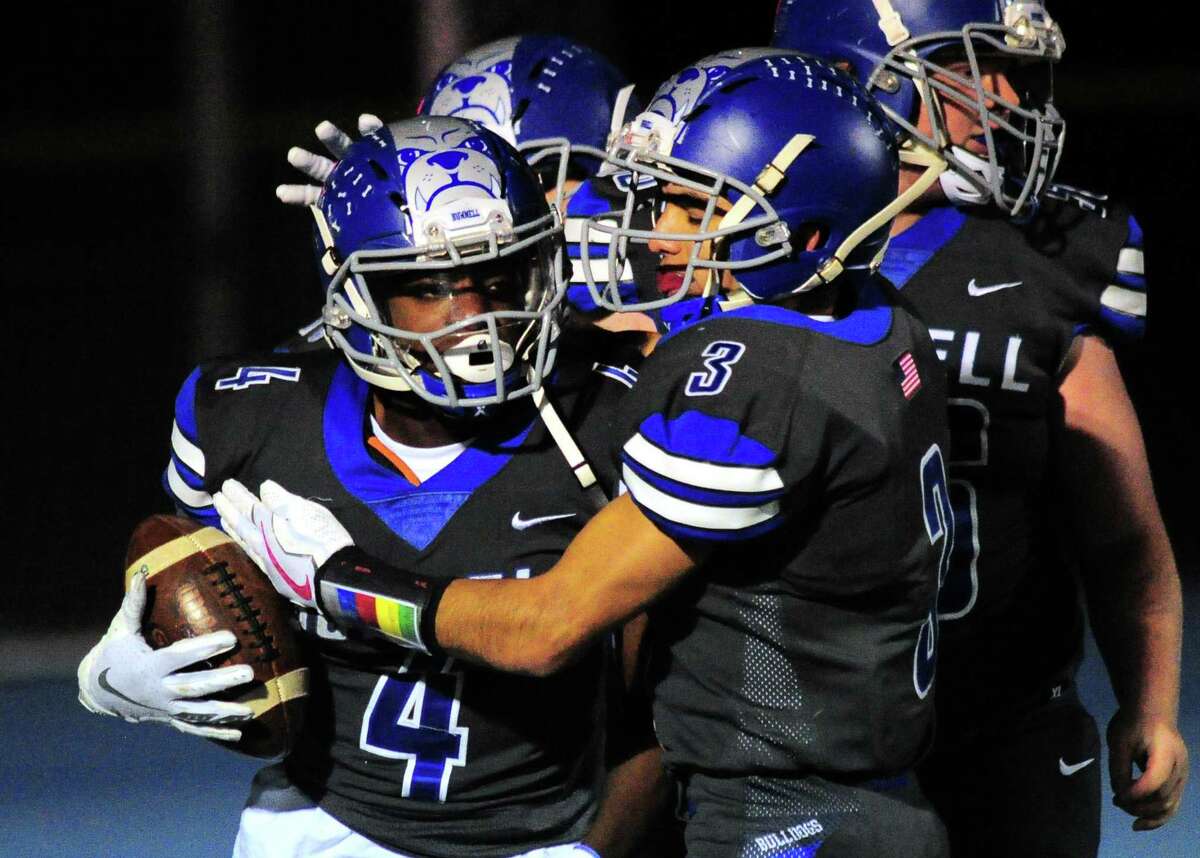 STRATFORD — Bunnell High School looked in Wednesday night's regular-season finale against Stratford as if last week's victory over Pomperaug had clinched a state football Class L playoff berth. It did not.
So, the Bulldogs, who came into Wednesday's traditional rivalry game against Stratford 8-1 and holding the fifth spot in the eight-team playoff field, needed to beat the 1-8 Red Devils to clinch the berth. After losing their first game in overtime, the Red Devils' last seven defeats were by an average of 39 points, none closer than 35.
Pierce of cake, right?
Not so fast.
Bunnell came out flat, but the old adage that good teams find a way to win rang true. With Christ N'Dabian scoring two touchdowns and quarterback Brian Carrafiello returning after missing two games with an injury and throwing for two more, the Bulldogs did enough to win 26-8 and officially clinched the berth.
"It was one of our poorer games," Bunnell coach Sean Mignone said. "The offense never got it going but the defense saved us."
James Savko, who also caught a late touchdown pass from Carrafiello, was terrific on defense from his linebacker spot and was named the winner of the Pat Caseria MVP award.
Bunnell (9-1) will now wait for the final CIAC rankings to come out following tomorrow's games to see if it will earn a home game in next Tuesday's Class L quarterfinals.
Stratford, meanwhile, seemed to treat Wednesday's game as its state playoff game.
"I'm proud of the way we played," Red Devil coach Jack Petion said. "We bottled up what they like to do best. It was one of our best performances."
Bunnell, with a bevy of talent on offense, was indeed bottled up for most of the contest.
Late in the third quarter the Bulldogs held only a 12-point lead. If there was a point spread in this game the line would've been three times that. But the Bulldogs had too much speed, too much experience, too much talent.
N'Dabian finished with 86 yards rushing, including a 56-yard scoring run in the second quarter. Carrafiello, who broke his throwing wrist four weeks ago, was 7 for 13 for 170 yards.
"Brian was not 100 percent and was a little rusty," Mignone said. "But he's a tough kid and really wanted to play."
Each team took advantage of early fumbles. Bunnell recovered a fumbled punt at the Stratford 10 and N'Dabian took it in on the next play from five yards out. Jovan Eggleston's run on the conversion gave the Bulldogs an 8-0 lead.
Stratford was forced to punt on its next possesion, but Bunnell fumbled setting up the Red Devils at the Bulldogs' 17. Cevon Mitchell scored on a fourth down from the 2, but Stratford missed the conversion.
Bunnell then opened a 14-point lead on a 79-yard bomb from Carrafiello to Eli Alexandre late in the first quarter, and N'Dabian's 56-yard run for a score later in the half.
Take away those two plays, though, and the heavily-favored Bulldogs, who had three first-half turnovers, would have just 75 total yards on their other 26 plays.
Stratford recorded a third-quarter safety before Carrafiello and Savko hooked up in the final minute to complete the scoring.
Glen Diaz led Stratford with 63 yards rushing.
BUNNELL 26, STRATFORD 8
STRATFORD 6 0 2 0 — 8
BUNNELL 14 6 0 6 — 26
B — Christ N'Dabian, 5 run (Jovan Eggleston run)
S — Cevon Mitchell, 2 run (run failed)
B — Eli Alexandre, 79 pass from Brian Carrafiello (run failed)
B — N'Dabian, 56 run (run failed)
S — Safety, N'Dabian tackled in end zone
B — James Savko, 29 pass from Carrafiello (run failed)
Records: S 1-9, B 9-1