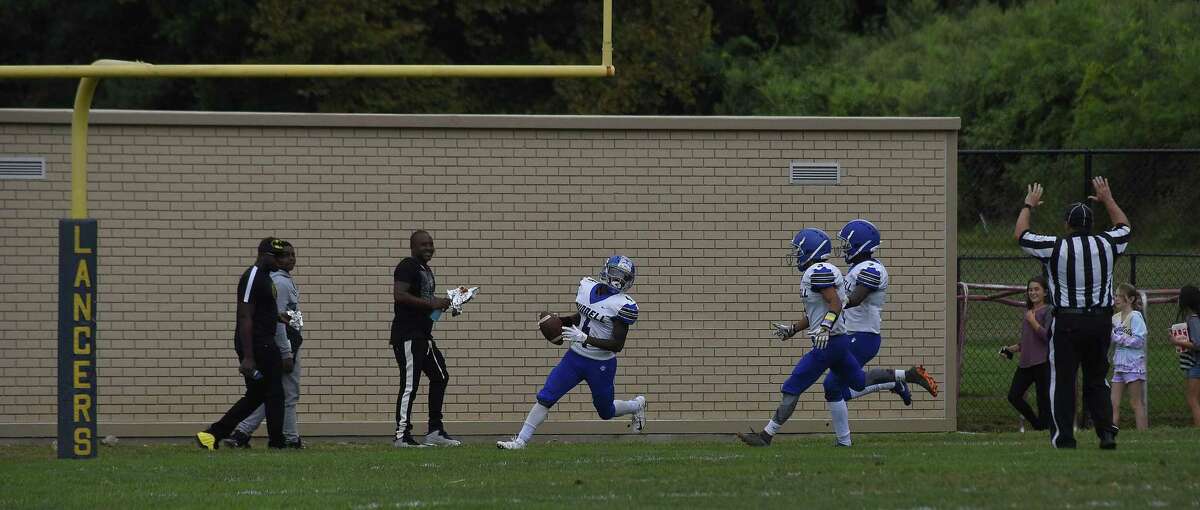 FAIRFIELD — This will not be one of those game films that Bunnell coach Sean Mignone or Notre Dame-Fairfield coach John Johnson dissects with a fine-toothed comb.
There were good plays and bad plays — on both sides. There were silly penalties and dumb mistakes — on both sides and there were plays that make you jump out of your seat or cover your eyes — on both sides.
And while the end result was Bunnell taking a 34-0 opening week victory, don't let the score fool you. For three quarters, this was anyone's game until the Bulldogs experience and depth eventually wore down the young and inexperienced Lancers.
"I feel it was like a numbers game, they don't have a ton of kids," said Mignone. "Unfortunately, I know about that, I played here, I went to Notre Dame, so I know what it's like. As the game went on we were able to wear them down because of the numbers."
Bunnell dressed at least 60 players while Notre Dame-Fairfield probably dressed half that. But the Lancers — led by sophomore Nehemiah Harris on both sides of the ball — did what they could to stay close.
"One play here or there … we had a dropped pass in the end zone, a couple of stupid penalties, a couple of turnovers on our end, if we don't have those, it's a different ballgame," Johnson said. "For a young team that's only been together for a couple of week in terms of real football, I'm extremely pleased with how they're progressing. For three quarters, we gave them everything we got but you could see toward the end our lack of depth and our youth caught up with us in the fourth quarter."
Thanks to a 56-yard touchdown run from Christ N'Dabian midway through the second quarter, Bunnell held a 6-0 halftime lead but on the first play of the third quarter, N'Dabian struck again, this time going 58 yards to make it 12-0.
"We have people that are very talented with the ball in their hands," Mignone said. "We have to take what the defense gives us and if Christ is hot, we ride Christ, if Tyreek (Smith) is hot, we ride Tyreek or Javon (Eggleston) or someone, so it's going to be a week to week, game to game thing to see if someone's playing really well, we ride them. It's good to have that option."
N'Dabian finished with 145 yards on just eight carries — a crazy 18.12 yards per carry average. Smith added 56 yards on nine carries while Eggleston had 36 yards on seven carries. Overall, Bunnell had 257 yards rushing on 28 attempts, a 9.178 average.
"Once we made a couple of adjustments at halftime, we started to move the ball and our defense started to get us on the field, so we could get the ball on offense," Mignone said.
In the fourth quarter, Bunnell used touchdowns from Smith (15-yard run), N'Dabian (12 yards) and Eggleston (eight yards), along with a conversion pass and a conversion run to put the game away.
Harris led Notre Dame with 42 yards rushing on 12 carries. He even played some quarterback when starter John Fasset got shaken up late in the game. He forced a fumble and had at least a half dozen tackles, including one for a loss.
"He's a heck of a ball player," Johnson said. "He's a heck of a talent and I always tell him, if he keeps his head on his shoulders, the other kids will follow him. We're young, but the future is bright and we're progressing the way I want us to."
PLAYING FOR 'POPS'
The Lancers have dedicated this season to the memory of long-time assistant coach Bruce Howard, affectionately known as 'pops.' Howard passed away on Thursday after a brief battle with cancer, according to athletic director Rob Bleggi. The players had a sticker with 'Pops' on their helmets. Howard was 73.
BUNNELL 34, NOTRE DAME-FAIRFIELD 0
BUNNELL 0 6 6 22 — 34
ND-FAIRFIELD 0 0 0 0 — 0
Records: Bunnell (1-0), ND-Fairfield (0-1)
B — Christ N'Dabian, 56-yard run (pass failed)
B — N'Dabian, 58-yard run (run failed)
B — Tyreek Smith, 15-yard run (Javon Eggleston run)
B — N'Dabian, 12-yard run (Jerrod Leak pass from Brian Carrafiello)
B — Eggleston, 8-yard run (run failed)