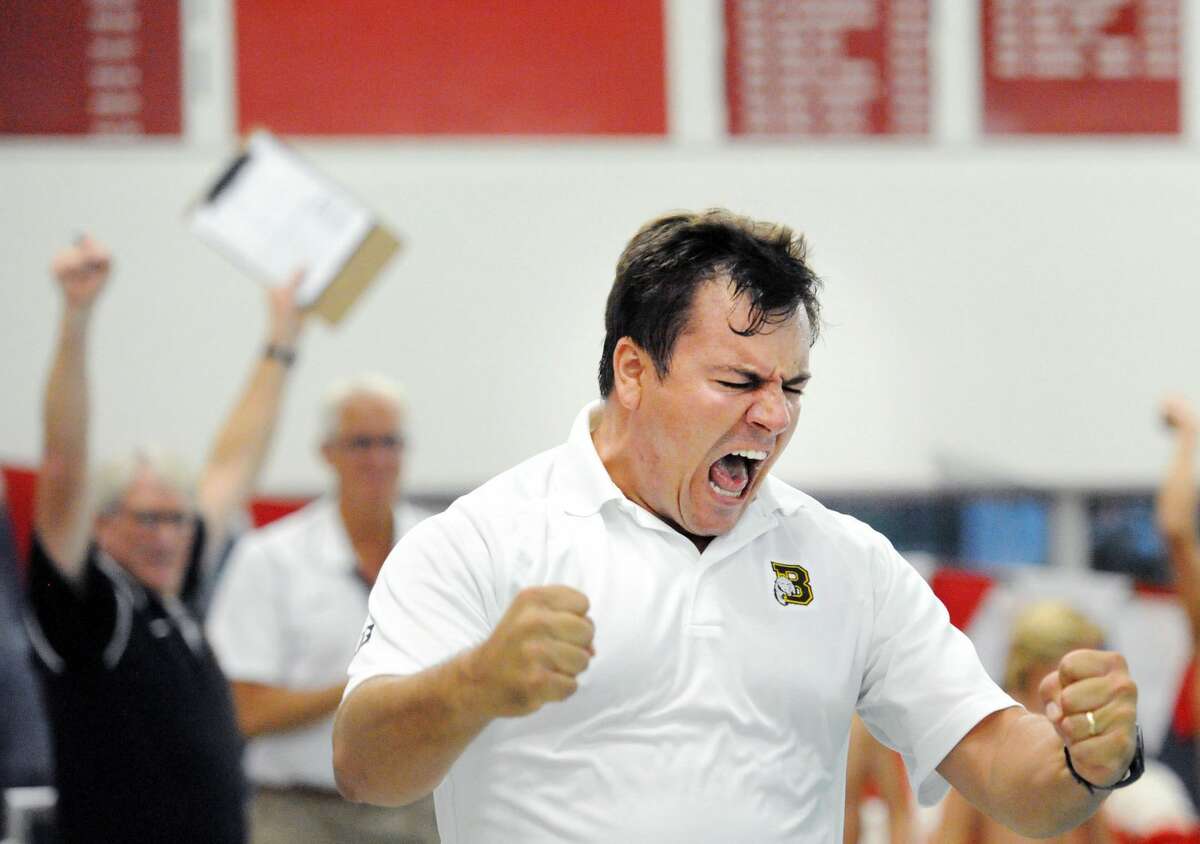 For a program that's less than 10 years old, the Brunswick School water polo team has sure accomplished plenty.
The 2017 season saw the Bruins register a record of 23-2 — a mark that was capped by a 14-6 victory over Phillips Exeter Academy in the championship game of the Liquid Four Tournament (NEPSAC Championships).
The convincing win gave Brunswick it's fourth consecutive NEPSAC title, an especially impressive feat for a program that was formed in 2009.
Brunswick opens its 2018 campaign Saturday at home against the team it beat for the New England championship last fall, Phillips Exeter Academy. And the Bruins hope it's the beginning of another journey toward a memorable season.
"This is a very good, highly motivated team," Bruins coach Ulmis Iordache said. "I'm very happy with how the preseason went. We have a full squad with no injuries and we've set some good goals for the season."
Defeating rival teams, such as Greenwich High School, Chelsea Piers and Greenwich Aquatics and excelling in competitive events such as the Beast of the East Tournament in Pennsylvania and the Cardinal Invitational at Greenwich.
"I'm impressed with the leadership we're getting from the seniors," Iordache said. "We're looking perform the best we can in the competitive tournaments we are going to play in. I'm very impressed with my juniors and sophomores — they are going to bring a lot to the table."
Seniors Nico Apostolides, Keegan Drew and Christian Hartch. Apostolides has been a dynamic playmaker the past three seasons, while Drew has powered the squad offensively with clutch goals. Hartch, meanwhile, is a steady force in goal.
"Like past leadership, they are great captains," Iordache said. "They provide a great example to their teammates, I could not be happier with them."
Drew, who helped spark the squad offensively in last season's win against Phillips Exeter in the NEPSAC final, earned All-Tournament honors, along with Hartch (14 saves NEPSAC title game). Thacher Scannell, a 2017 graduate, was named the tournament's MVP.
Junior Kyle Yelensky returns after producing a strong sophomore season and Jake Charney, a standout defensive player, begins his junior year. Also returning to power the Bruins on both ends of the pool are senior Cole Pierce, Gavin Molloy (sophomore), Jack Moore (sophomore), Danny Taylor (sophomore), Jack Moore (sophomore) and Tim Saunders, one of the team's top shooters on the left side.
"Our team is deep, we have a lot of talent coming off the bench, which is good," Iordache said. "Anyone can come in the game at any time and help us."
One of the tournaments the Bruins are most psyched up for is a competition out west in Coronado, California. Brunswick will play several teams from California at Coronado High School. Last season's trip to the west coast was extremely successful for the Bruins, as they went a perfect 4-0 against their foes and received scoring from numerous sources. Drew, Hartch and Saunders each flourished during the four games. This year's tournament near the San Diego area begins on Sept. 21
"One of our main goals is to do well in California, we are going to have about four to six games there," Iordache said. "We want to show them how well we play water polo over here. The California tournament should be a challenge and we are looking forward to the Cardinal Invitational and of course, hopefully defending our New England title."
Kristina Norrgard, a who swam and played water polo at Greenwich High, returns as an assistant coach, while Leszek Ciecimirski joins the coaching staff.
Following their game against Phillips Exeter on Saturday, Brunswick hosts Greenwich on Friday at 6 p.m.
dfierro
@greenwichtime.com