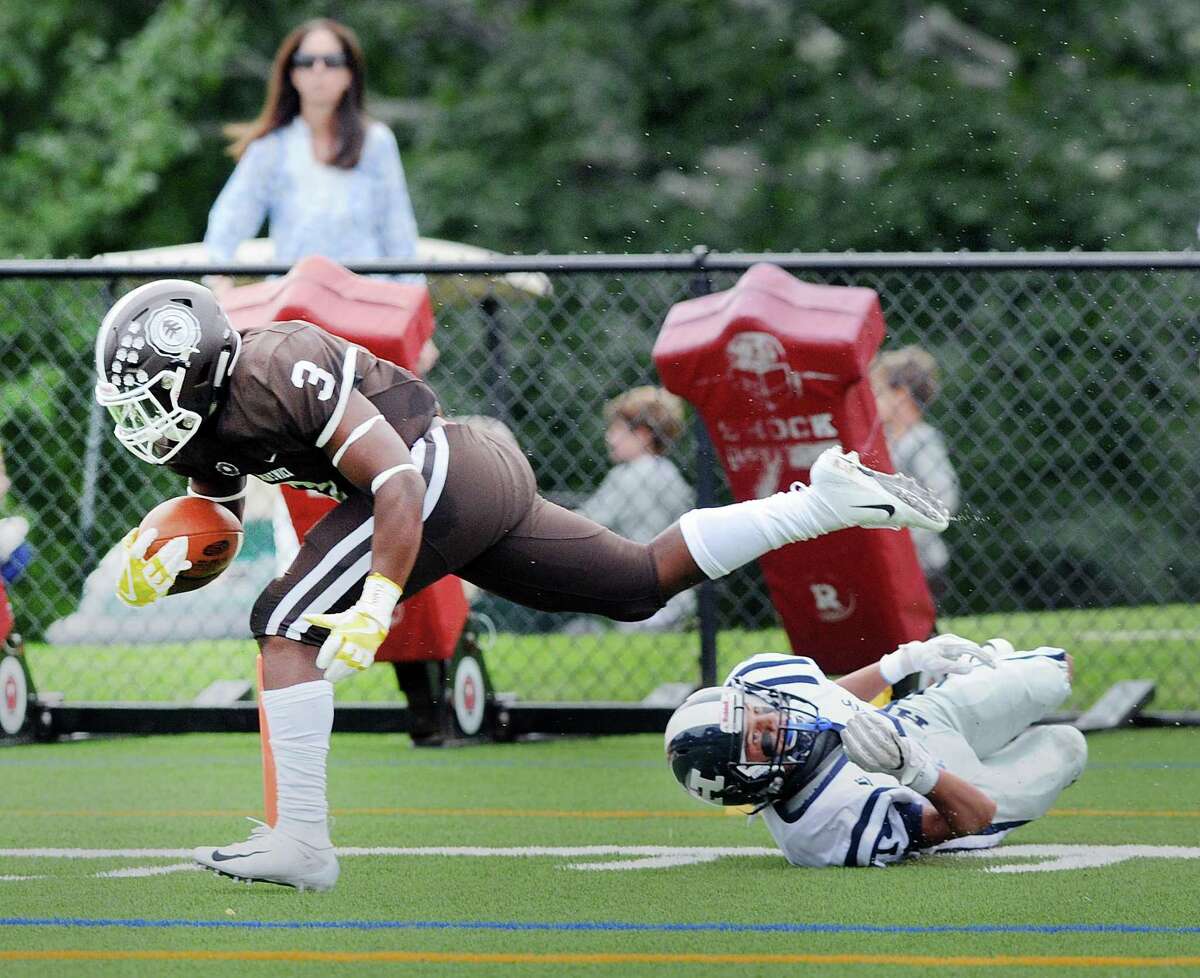 GREENWICH — Returning a kickoff 99 yards for a touchdown, then scoring on a spectacular catch-and-run on a play that covered 74 yards, Brunswick School senior Cornelius Johnson showed Hotchkiss School how tough it is to tackle him during Saturday's matchup.
And with Johnson in playmaker mode and the team's defense on point, the Bruins were indeed, a difficult team to beat.
Johnson's two long touchdowns and another superb defensive performance led Brunswick to a decisive 41-7 victory over Hotchkiss School in an Erickson League football game at Robert L. Cosby Field.
The elusive Johnson caught two touchdown passes and reached the end zone three times overall, junior running back Jalen Madison rushed for 85 yards and junior quarterback Nick Winegardner competed 6 of 8 passes for 158 yards with four touchdowns for the 2-0 Bruins.
"We got the win today and, obviously, we're glad to start the season 2-0," said Johnson, a senior co-captain. "We still have a lot to improve on, but we accomplished our goal of winning our first two games at home."
Brunswick, which posted a 28-7 win against Hotchkiss last season, intercepted the Bearcats' quarterbacks four times, with David MacGillivray, Whit Knight, Liam Fairback and Alex Burdick each picking of passes. The Bearcats (0-1) rotated quarterbacks Tommy Lewis and Bryan Allen.
"We were expecting our defense to be good, but we're surprised that we're causing this many turnovers," said Brunswick senior linebacker/co-captain Nick Villis, who was a force all over the field for his squad. "We're just doing a good job of following our reads and making plays."
Madison put the Bruins ahead with 4:38 left in the first quarter. A 22-yard scramble by Winegardner helped set the Bruins up at the Bearcats' 47-yard line. Two plays later, Madison broke loose on a sweep to the left for a 43-yard touchdown. Chris Chavez converted the extra point attempt, making it 7-0.
"It was an outside zone run and I received just fabulous blocking from the line and I was able to get around the corner," Madison said. "They sealed the edge and I used my speed for a touchdown."
On the ensuing possession, MacGillivray, a senior linebacker , intercepted a pass from Lewis, setting the Bruins up at the Bearcats' 30-yard line.
"I dropped back into coverage, the ball was coming right at me and I jumped and caught it," MacGillivray said of his interception. "Defensively we are really coming together. Our goal was to shut down the run and then focus on their passing game."
Facing fourth down and 19 from the Hotchkiss 27, Winegardner dropped back and lofted a pass into the end zone that was tipped by a Bearcats' defensive back and settled right into the arms of junior receiver Bernard Zoungrana for a touchdown, giving the home team a 14-0 lead.
"I told the kids we stunk the joint out on about seven or eight plays, other than that we played pretty well," Bearcats coach Danny Smith said. Unfortunately, they were all big plays."
Winegardner threw a 10-yard touchdown pass to Johnson, who stretched out to to make the catch, giving the Bruins a 21-0 lead with 1:06 left in the opening half.
The second half started with Johnson running the kickoff back 99 yards for a touchdown, on a play that saw him sprint down the right sideline.
"I got really good blocking on the kickoff and I just bolted," Johnson said. "I saw a lane open and was able to score."
Said Bruins coach Jarrett Shine: "The kids have so much confidence with Cornelius on the field. He's a nationally recruited player and he checks off all the boxes — making plays as a receiver and kick returner."
Hotchkiss drove to the Bruins' 10-yard line behind the hard running of junior Lucas Mastrodomenico, but their drive was halted by Fairback's interception. Brunswick then drove 90 yards, capped by Johnson's 74-yard touchdown on a play that saw him break four tackles after catching a short pass in the flat by Winegardner late in the third quarter.
"Having him (Johnson) on the field is like having three people, it really helps us," said Winegardner, who produced his second straight strong game. "Our game plan was to run the ball when we can and throw the ball when we could and it worked out."
Senior Chase Mangini caught a 40-yard scoring strike from Lewis for Hotchkiss' score with 10:20 remaining in the final quarter.
"We did some good things, I thought we got better as the game went on," Smith said. "Too many self-inflicted penalties and mistakes. We knew we had to play error free to beat them and it didn't happen."
Charles Packard, a senior, sealed the Bruins' scoring by snaring a 31-yard pass from Winegardner in the end zone while being tightly covered for a touchdown with 5:37 left to play. Led by George Hill and Justin Canelli, the Bruins' offensive line was solid throughout.
While Brunswick's offense was once again, effective, its defense flourished behind Villis, the secondary and junior Howard Powell on the line.
"We started out a little slow, but then we started gang tackling and making plays," Shine said of his squad's defense. "I'm really pleased with how we played on defense."
BRUNSWICK 41, HOTCHKISS 7
HOTCHKISS 0 0 0 7 — 7
BRUNSWICK 7 14 13 7 — 41
B — Jalen Madison 43 run (Chris Chavez kick)
B — Bernard Zoungrana 27 pass from Nick Winegardner (Chavez kick)
B — Cornelius Johnson 10 pass from Winegardner (Chavez kick)
B — Johnson 99 kickoff return (Chavez kick)
B — Johnson 74 pass from Winegardner (kick failed)
B — Charles Packard (31 pass from Winegardner (Chavez kick)
H — Chase Mangini 20 pass from Tommy Lewis (Lewis kick)