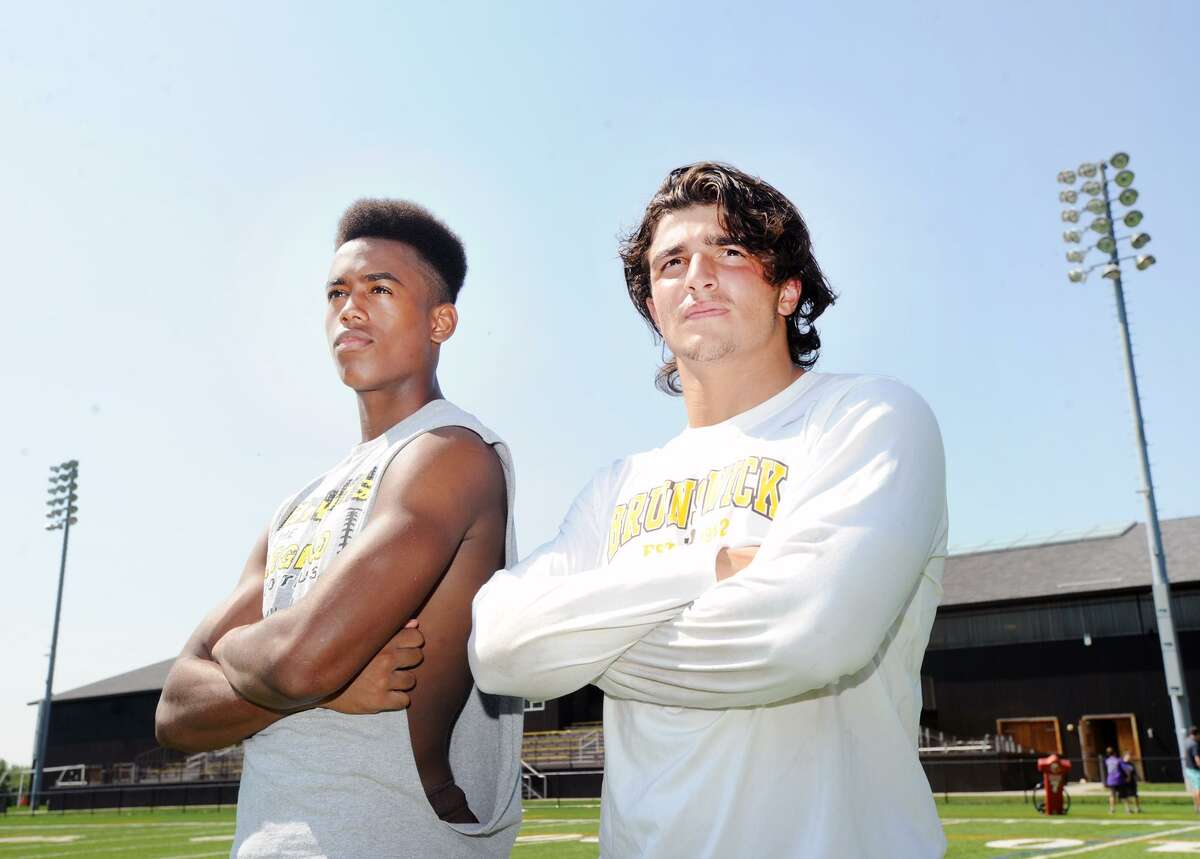 For the first time since 2012, the Brunswick School football team's regular-season finale last fall marked the conclusion of its season. That's because the Bruins found themselves in the unfamiliar situation of being on the outside looking in come postseason time.
Brunswick, which appeared in a NEPSAC championship bowl from 2013-2016, missed qualifying for the postseason due to a tough 40-35 Week 7 loss to Erickson League rival Trinity Pawling School.
Primed for their 2018 season-opener against Loomis Chaffee Bruins are intent on earning a NEPSAC championship bowl bid. Yet they know there will, of course, be challenges ahead.
"We lost 23 seniors from last year's team, which was the biggest senior class we ever graduated from our team," said Brunswick coach Jarrett Shine, who is starting his 10th season at the helm. "Every game is going to be competitive for us, every game is going to be a battle, because we play such talented teams."
Nick Henkel headlined the key players who graduated from last season's 5-3 squad. A fixture at quarterback for three seasons for the Bruins, Henkel passed for 1,910 yards and 23 touchdowns in eight games in 2018, earning All-Erickson League honors and All-New England Class AA First Team accolades.
Selected as the Erickson League's Offensive Player of the Year for the second year in a row in 2018, Henkel is now playing the position at Yale University. Brunswick, therefore, begins the season with a lack of experience, but skill at the quarterback position. Senior Fin Signer and junior Nick Winegardner, neither of whom threw a pass last season, are the Bruins' quarterbacks. Signer is more of a drop back passer, while Winegardner relies on his mobility and scrambling ability. Both should see action for Brunswick, which hosts Loomis Chaffee School at Robert L. Cosby Field Friday at 7:30 p.m.
"Quarterback is a question mark, but we like whoever is going to be there and what he can do," Shine said. "Each quarterback brings his own skill set. Our offensive line has to be physical and protect our quarterbacks."
While the quarterback position is in transition, the Bruins know what to expect from several of its receivers, one of whom is Cornelius Johnson. A senior co-captain, Johnson is regarded as one of the premier wide receivers in the nation and has received scholarship offers from dozens of Division I schools such as Alabama, Notre Dame, Penn State, Stanford, Michigan and Nebraska.
Johnson is coming off a junior season that saw him earn All-New England Class AA First Team and All-Erickson League honors.
"So far, we can see the team coming together, the family coming together, which is important," Johnson said. "We are striving for excellence this year."
The 6-foot-3, 197-pound Johnson should be complemented at wide receiver by Kevonne Wilder, Charles Packard and several up-and-coming players. Among some of the graduates from last season's receiving corps were Sean Amill (All-Erickson League selection, 28 receptions, 490 yards, eight touchdowns in 2017) and Harrison Caponiti (tight end, 22 receptions, 355 yards, All-Erickson League honors in 2017).
"We have some young guys who have come in this year and they are working hard with their drills and are getting better," Johnson said. "We have already seen the improvement they have made."
Johnson enjoys his expanded role as one of the team's captains.
"It's great and it's different in terms of more having more responsibility in getting all the guys together getting and getting everything in place. Leading the team vocally and by example are what we have to do as captains."
Signer and Winegardner are looking forward to passing to a dynamic playmaker like Johnson.
"Throwing to him makes it easier for me," Signer said of Johnson. "He's always on his game and always going 100 percent. We have a great unit on offense that can score a lot of points this year."
Said Winegardner: "It's great having a talented receiver like Cornelius out there making plays. Overall on offense, we have a bunch of skill players who can make plays."
Intense preparation has been key for the Bruins as they get primed to play Loomis Chaffee, which plays in the Central Football League.
"When you had someone like Nick Henkel the past few years, it was like having a coach on the field," Shine said. "He knew what the offense was about and ran it well. The way we are teaching things this year is a little bit different. If we are firing on all cylinders we can be a good team. It's up to our quarterbacks to make the right calls and the right reads. If our running backs and receivers get open, they have the speed to make big plays."
Returning to aid the squad's ground attack is senior running back Michael Gottlieb, who turned in a solid junior season. Jalen Madsen, a junior transfer from Bunnell High School, should spark the Bruins' running game and help the team achieve balance offensively.
Every team the Bruins face seems to have a diversified offense and senior co-captain/linebacker Nick Villis knows the defensive unit must be on point each game.
"It's definitely challenging, every offense we play has a different strong suit, but I'm excited to see how the guys come together as a unit," said Villis, who registered a team-high 116 tackles in 2017 for the Bruins. "We lost a lot of guys, but I think everyone can step up. Howard Powell looks really good as far as getting into the backfield and causing havoc and our defensive backs are looking good as well."
Like Madsen, Powell played at Bunnell last season. He is expected to help lead Brunswick on the defensive line, along with senior Justin Canelli.
"We have to stop big plays from happening," said Villis, an All-Erickson League Team selection last season. "That was our problem last year, especially against specific teams."
Junior Clayton Ostrover is among the linebackers the Bruins will rely on, while Wilder, senior Nick Pope, senior Jose Riero and senior Whit Knight return to the secondary.
"This team is a family, with players who believe and trust in each other," Shine said. "If we stay together as a team and everyone does their job we'll have a successful season."