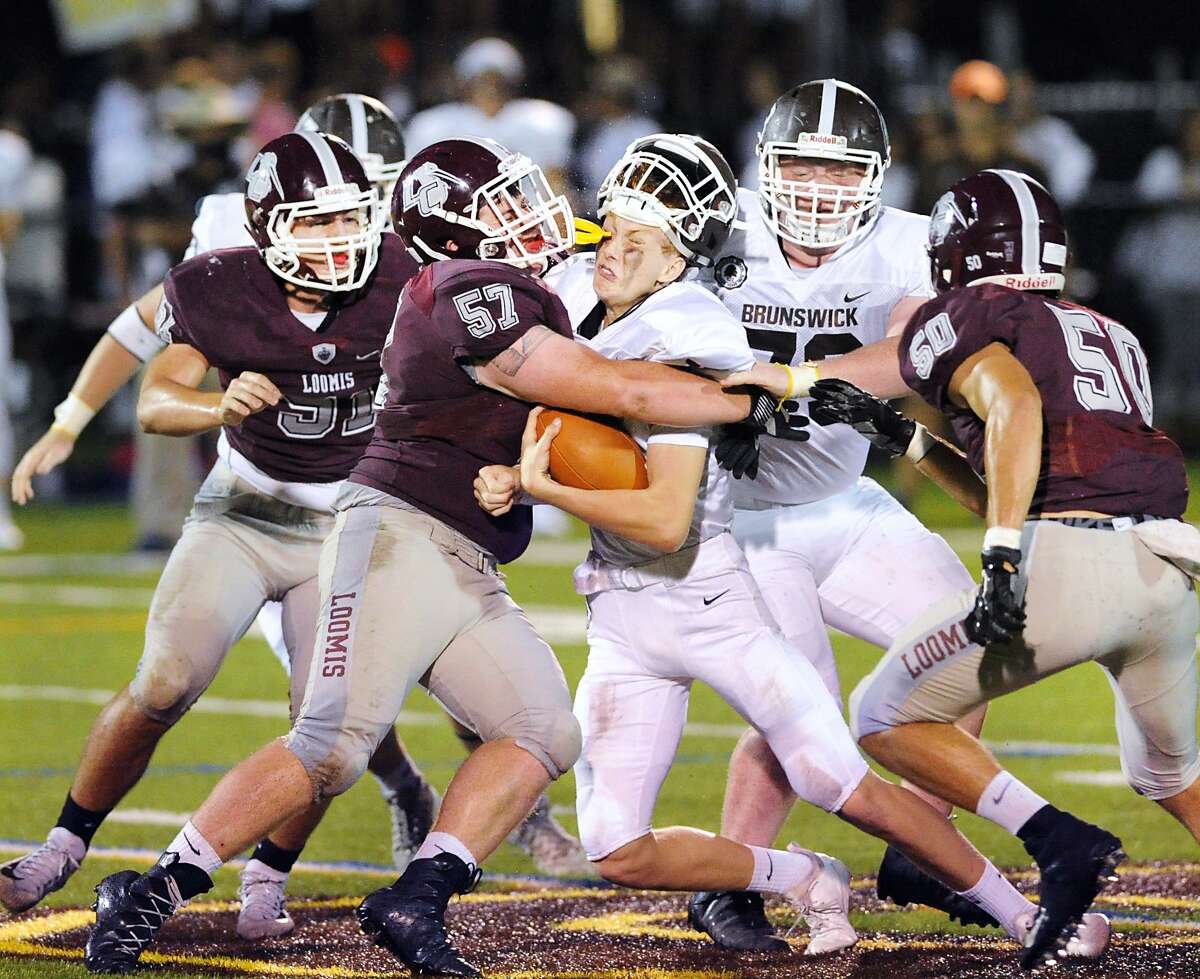 GREENWICH — Consistently capitalizing on a short field, went a long way for the Brunswick School football team Friday night against Loomis Chaffee School.
Two interceptions, a punt return and a fumble recovery gave the Bruins possession deep into Pelicans territory and they used their diversified offense to score each time.
Senior wide receiver Cornelius Johnson caught two touchdown passes, junior running back Jalen Madison ran for a pair of scores and Brunswick's defense forced four turnovers in a 35-13 season-opening win over Loomis Chaffee School under the lights at crowded Robert L. Cosby Field.
Senior Fin Signer and junior Nicky Winegardner each saw action at quarterback, with Signer getting the start and Winegarnder finishing up for the Bruins, whose defense sparked the squad. Following a scoreless first quarter, Brunswick entered halftime with a 14-6 lead.
"Our defense did a very good job of keeping us in the game when our offense was sputtering," Brunswick coach Jarrett Shine said. "All of a sudden things started to click with our offense, which was great. Having a short field made a big difference."
Signer completed 7 of 13 passes for 57 yards with one touchdown and one interception. Winegarnder was 6 of 7 passing for 63 yards and threw one scoring strike.
Jack Tishman, Loomis Chaffee's senior quarterback passed for 206 yards with one touchdown and three interceptions. He was pressured throughout by the Bruins' defensive line.
"We made some mistakes and hurt ourselves on a number of occasions," Loomis Chaffee coach Elliott Dial said. "But our guys kept fighting. Our quarterback Tishman will get the timing down for next week hopefully. When his footwork is right, he throws a good deep ball and we've got the weapons, so we need to utilize them."
Each team failed to score on their first four possessions. Signer, making his first career varsity start, was intercepted by sophomore Kam Watkins-Hunter off a tipped ball on his first pass attempt. Bruins senior defensive back Whit Knight picked off Tishman's pass on Loomis' second possession of the opening quarter.
A fumbled snap that was recovered by Brunswick senior linebacker Nick Villis on the Pelican's fourth possession set the Bruins up on Loomis' 16-yard line. After a 3-yard loss on a running play, Winegardner scrambled for 17 yards, making it first-and-goal from the Pelicans' 2-yard line. Madison, who is in his first season on the squad, ran it into the end zone the ensuing play. Junior Chris Chavez converted the first of his five point-after attempts, giving the Bruins a 7-0 advantage with 10:01 remaining in the second quarter.
Driving 75 yards in seven plays on the ensuing possession, Loomis cut Brunswick's lead to 7-6. Junior wide receiver Seth Robertson's 32-yard touchdown reception from Tishman capped the drive with 8:03 to go in the second quarter.
Johnson hauled in a 10-yard touchdown pass from Signer on Brunswick's next possession, making it 14-6 at the 5:25 mark of the second quarter. Winegardner began the drive, then Signer entered the game and threw the scoring strike to Johnson near the pylon.
"I ran a quick comeback to the pylon and it was a great throw by Fin Signer," said Johnson, who had five receptions for a team-leading 68 yards. "It feels good to get this first win. That's all you can ask for at the beginning of the year."