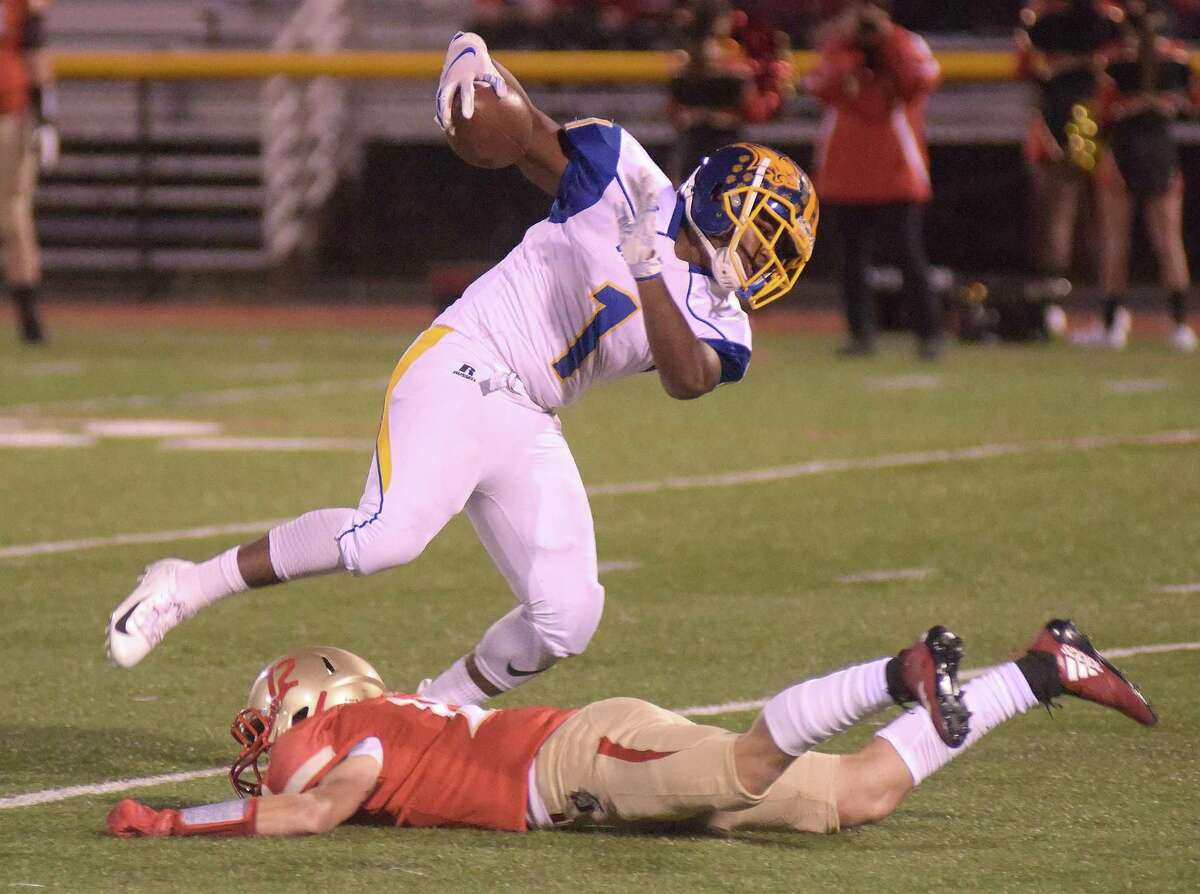 STRATFORD — Nick Henderson might be No. 1 on the roster sheet, but he's far from the only one in the Brookfield Bobcats backfield.
A trio of Brookfield backs tore up Penders Field for more than 300 yards rushing on Friday night as the Bobcats bested host Stratford 42-7 in an SWC matchup.
Henderson had 136 yards on 15 carries, Conor McVey had 116 yards on nine carries and Jack Mix picked up 46 yards on seven carries to pace the Brookfield offense to its fourth win without a loss this season.
McVey scored three touchdowns while Henderson added two more.
"Our runners did their job," Brookfield coach Rich Angarano said. "They're good players. I've said it all along, we've got a stable and we've still got another horse to get back to the team."
Of Brookfield's 417 total yards, 361 came on the ground as the Bobcats offensive line of Richard Mitchell, Adam Frame, Daniel Drysdale, Eric Reich and Ryan Melby, along with tight end Gavin Borges, opened holes all night.
"It's great. We've got three great runners," said Reich, one of Brookfield's captains. "We just want them all to score. Our line are full of good guys. We like each other and we have fun out there."
Only took Brookfield three plays for Nick Henderson to score on this 17 yard run. #cthsfb @GameTimeCT pic.twitter.com/mCLbjVR7Ud

— John Nash (@NikonNash) September 28, 2018
SEVEN PLAYS
It only took Brookfield seven offensive plays to open up a two-touchdown lead.
McVey opened the game with a 23-yard run before Henderson went 14 yards and 17 yards, the latter run for a touchdown and a 7-0 lead.
On the fourth play of Brookfield's next series, on a fourth-and-one, McVey broke into the open field for a 43-yard touchdown run.
"Our line is doing the job," Angarano said.
While Stratford, behind Jack Ryan's strong arm, got one touchdown back on a 16-yard pass to Jasen Docteur, the Bobcats answered with a third first-quarter touchdown.
McVey capped off an eight-play 62-yard drive with a 3-yard scoring plunge to make it a 21-7 game with two-plus minutes left in the first quarter.
NOTHING TO LOSE
Angarano predicted the opening play as Stratford looked to steal an onside kick on the opening play.
The Red Devils didn't quite complete the play, despite a perfectly placed squib, but it sent a message to Brookfield's team.
"This is the type of game that scares coaches," Angarano said. "When you come out against a team that's 0-3 with nothing to lose and everything to gain, you never know."
Once the Bobcats got the lead, though, they stayed in control.
McVey added his third touchdown run midway through the second quarter before Henderson racing 20-yards late in the first half for a 35-7 lead.
On the opening play of the fourth quarter, Brookfield capped off its scoring on a 28-yard touchdown pass from Trevor Sterry to Borges out of the tight end spot.
BE-DEVILED
Playing Newtown and Brookfield back-to-back hasn't been easy on Stratford, which lost quarterback Jack Ryan to a lower leg injury late in the first half.
Ryan was 10-for-20 for 108 yards in the first half before giving way to Docteur in the second half.
Docteur finished the game with 59 yards rushing, 62 of which came in the second half.
"We definitely have playmakers, but we're young upfront," Stratford coach Jack Petion said. "We have to find ways to put it together. Right now, it's a consistency thing and doing the small things. In my eyes, we should be playing better football than we have been."
BROOKFIELD 42, STRATFORD 7
BROOKFIELD 21 14 0 7—42
STRATFORD 7 0 0 0—7
B—Nick Henderson 17 run (Jackson Breuel kick)
B—Conor McVey 43 run (Breuel kick)
S—Jasen Docteur 16 pass from Jack Ryan (John Bike kick)
B—McVey 2 run (Breuel kick)
B—McVey 1 run (Breuel kick)
B—Henderson 20 run (Breuel kick)
B—Gavin Borges 28 pass from Trevor Sterry
Records: Brookfield 4-0, Stratford 0-4.