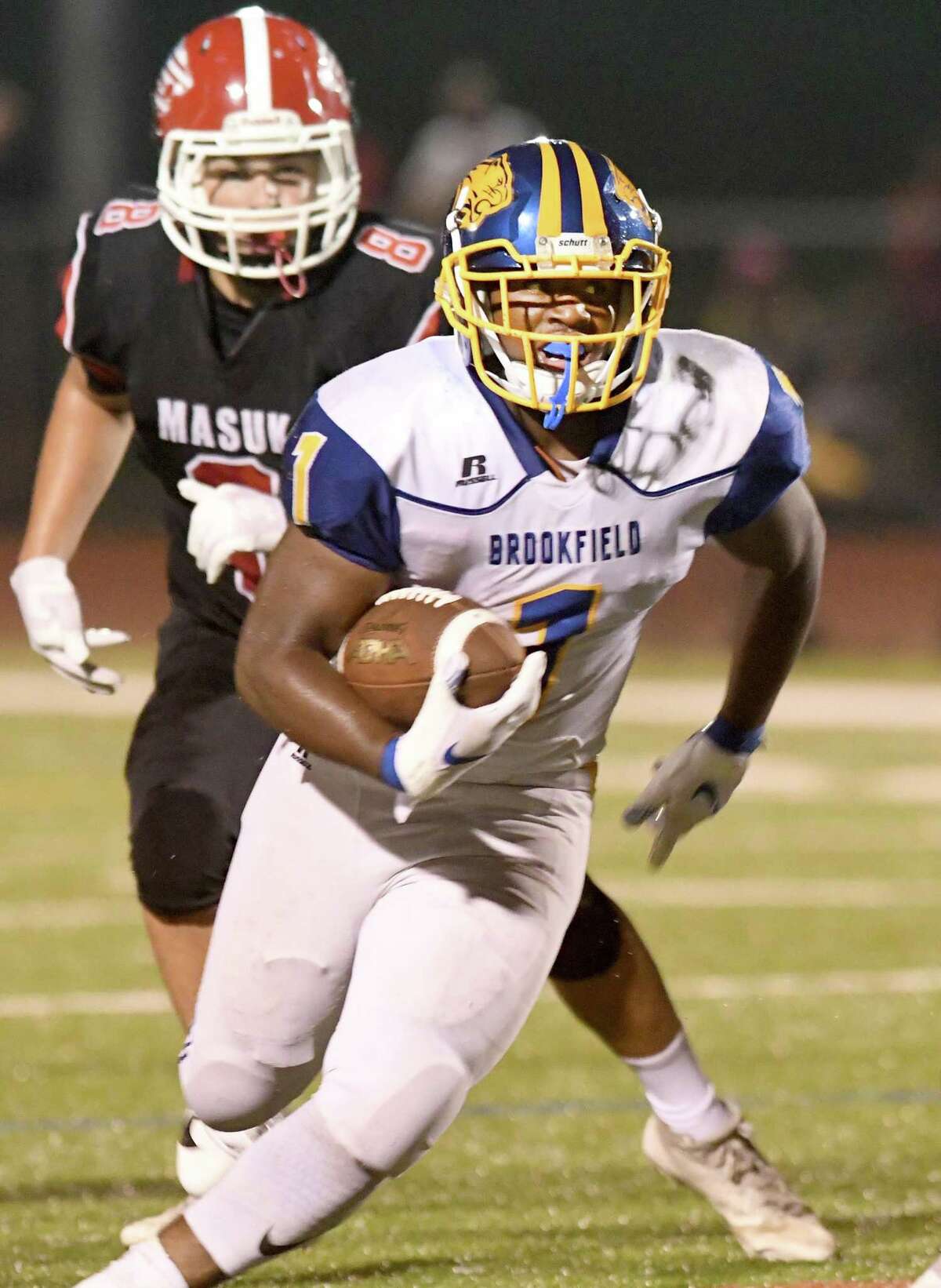 MONROE — All the traits that Rich Angarano loves in a football team — power, speed and physicality — were on display Friday night.
Brookfield opened its season in style, using a ferocious running attack to thump Masuk 42-21 at Benedict Field.
"We came in here thinking we could run the football," said Angarano, now in his 19th season as the Bobcats' coach. "We came into the season thinking we could run the football."
The senior-laden Bobcats, a team with 19 starters back, certainly ran the football. They ran for a whopping 507 yards and six touchdowns, punishing a Masuk squad that finds itself in rebuilding mode after making it to the Class L final a year ago.
Junior Nicholas Henderson had the biggest night of anyone, rushing for 250 yards and four touchdowns — on runs of 10, 21, 91 and 46 yards — on 16 carries. Jack Mix ran for 106 yards on 13 carries while Conor McVey had 85 yards on 10 carries.
We have points. Brookfield in for six. #cthsfb pic.twitter.com/0UScxlUUiE

— Doug Bonjour (@DougBonjour) September 7, 2018
The Bobcats outscored Masuk 21-0 in the third quarter.
"We got worn out," Masuk coach Joe Lato said. "That was a concern. We were concerned with their size, the physicality of their running backs."
The Bobcats did most of that damage of the ground without senior Chris Comizio, who limped off early in the first half and did not return.
"Comizio will be a major loss if he doesn't get back," Angarano said. "We have a stable of running backs, and he's one of them."
Henderson broke things open for Brookfield, jetting 91 yards on the first play of the second half to give the Bobcats a 21-14 lead. He scored another touchdown — this one from 46 yards — less than a minute later following a Masuk turnover.
Luke to Tillotson. Masuk trails 35-21 #cthsfb pic.twitter.com/UcYw2izOtQ

— Doug Bonjour (@DougBonjour) September 8, 2018
"I don't know what got into me," said Henderson, who rushed for 305 yards on 27 carries all of last season. "I think it was the spirit above or something. I just ran."
Having graduated all but one starter on defense from an 11-2 team, Masuk didn't have much of an answer. The Panthers were outscored 28-7 in the second half, managing only a late touchdown pass from Kevin Luke to Chris Tillotson.
"We had kids out there for the first time, but we're not going to make excuses," Lato said. "There's just things we can do to get better. That's all we can focus on right now."
The Panthers had a promising start, grabbing a 14-7 lead on a 22-yard run by Luke in the second quarter. Brookfield, though, tied it up 1:39 before halftime on a 21-yard run by Henderson.
PLAYER OF THE GAME
Nicholas Henderson, Brookfield, RB: The junior enjoyed a career night, rushing 16 times for 250 yards and four touchdowns.
QUOTABLE
"(Henderson) stepped up. It's hard when you're a small team because one of the things we do is we have guys that play both ways. We don't have one-way players like some of the bigger teams. When you're playing in the heat of the week that we had, there were a lot of cramps … I told Nick and Connor (McVey) and Jack (Mix), it's time to step it up." — Brookfield coach Rich Angarano
QB DEBUTS
Making his first varsity start at quarterback, Masuk's Thomas Juliano completed 12-of-18 passes for 57 yards, one touchdown and one interception in the first half. Juliano did not finish the game, though, returning only momentarily after sustaining a hard hit early. Kevin Luke replaced him and led the Panthers on two scoring drives.