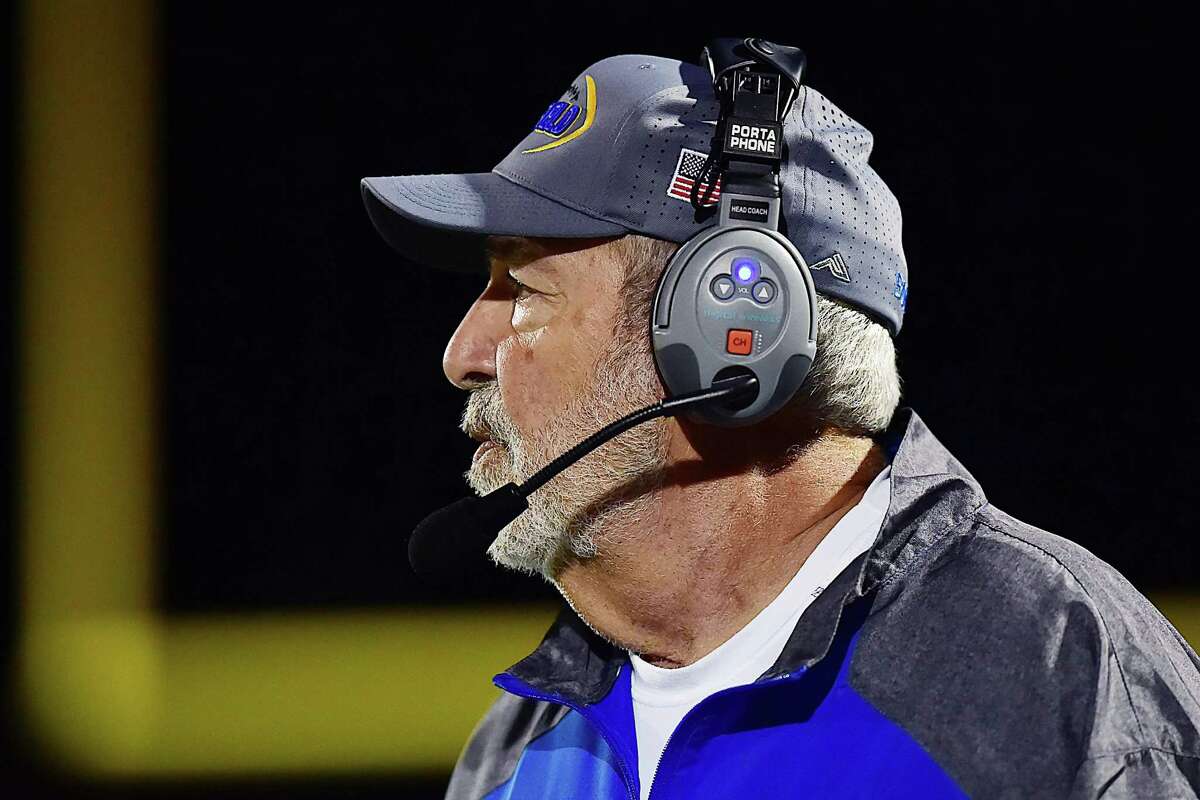 BROOKFIELD —You don't have to look further than his own sideline to see the impact Rich Angarano has had on the lives of athletes across the Brookfield community over the past few decades.
The man synonymous with Brookfield football has created lifelong bonds with current and former players, many of whom have returned to pay homage to the man who gave them their football education.
Angarano is calling it a memorable career after 19 years at the helm after this season comes to a close. It was a period that included three state championships and 10 state playoff appearances in addition to several league titles. He spent the previous 12 years as an assistant with the school.
Angarano, 71, will leave behind one of the most well-respected programs in the state, a program he helped construct. He retired from a career in project management in 2017 and is set to enjoy the newfound extra time with his family.
"As you can imagine, it's very mixed emotions," Angarano said. "You don't have 32 years coaching high school football and touching lives of 60 players and families (each season) without having mixed feelings. But coming on 72 and having a wife — who's been great allowing me to have another life — it's time to have time with her and go wherever we want to go when we want."
Angarano — who made the decision when the season began — hoped to tell his team after the final snap of 2018, but the school had previously planned a ceremony for the legendary leader during halftime of the team's Thanksgiving game against Bethel.
"I said I guess I better tell my kids," Angarano said. "I wanted them to hear it from me. They would have (figured it out). I had thought I'd let the season go through, but I couldn't get that far. My family was there and it was a great moment."
His name will overlook the Bobcats stadium on a plaque next to two of the finest players he coached in his tenure — The No. 9 of Bobby Drysdale and the No. 21 of Scott Lutrus. Angarano won the last three WCC championships (1993-95) as an assistant before winning SWC championships in 2005 and 2008.
Angarano's loyalty is what shines through when others discuss his impact; he's long praised the continuity of his staff as a key to his success. Several current members played for him while he was either an assistant or head coach and were quick to point out the impact they've witnessed in that time.
"He genuinely cares about you," said defensive coordinator Bryan Muller, who began as an assistant in 2001 and has been with the team since. "If you're talking to him, you're actually talking to him. He's not looking around at other things; he's invested in your conversation and he cares about you as his family."
"He just goes out of his way," said offensive coordinator Louie D'Arcangelo. "There's been kids in the past that may not have wanted the help and he's gone out of his way and basically changed their whole mentality and how they go about things and set them down the right road. Everyone cares about their kids, obviously. He just goes the extra mile."
And how would D'Arcangelo know that?
"When I was a kid playing for him I made a couple of bad decisions and he was always there for me," D'Arcangelo said. "Whether it was writing letters, defending me to say he was a good kid who made a mistake and deserves to be punished. For 20 years he's been there for everybody."
One final rodeo remains for Angarano, who is preparing his squad for the Class M playoffs which begin Tuesday against No. 3 Berlin.
'We were a little shocked (when we found out) but we thought at some point he was going to have to do something," said senior captain Eric Reich. "We were a little upset, but we want to finish this year great for him, hopefully."
MAN IN THE MIDDLE
The sixth-seeded Bobcats (8-2) will hope to send Angarano out a winner, beginning with the matchup against the Redcoats. The road to any championship is through defense, an area Brookfield has improved as the season has progressed. Muller took over coordinator duties this year after leading the offense for several seasons; the Bobcats are yielding 14.7 points per game.
Stopping the Redcoats' multidimensional attack will be a tough task for the senior-laden Bobcats. Berlin (9-1) — which has six shutouts of its own — has four runners with at least four rushing touchdowns on the season.
Reich is one of the commanders on that side of the ball, a smart middle linebacker who leads the team with 95 tackles. The three-year player also led the team last season but has become the foundation of the unit as a senior.
"He's awesome," Muller said. "He understands the whole concept of the defense, which is great. He can make adjustments on the fly. If (the other team) comes out with something we've never seen, we can adjust and it's not a big deal. He's the orchestrator of all that. His instincts are that of a really good middle linebacker; he knows how to fill a cap and get in there. Our defense is not the same without him."
Fellow linebackers Conor McVey, Jack Mix and Nick Henderson have also been key contributors at the position. Baron Brown, Matt Rosa (secondary) and Gavin Borges (defensive line) have also raised the unit's level of play. Reich was second team All-SWC a year ago and backed that up with another All-League level effort this fall.
Reich credited a much more serious approach to the weight room for the uptick in performance.
"I was eager (to have a big year)," Reich said. "Last year I improved a little bit more and I just wanted to be the best I could; I wasn't winning my one-on-one battles as much and I feel like I got a lot stronger this year."
Slowing down the Redcoats, who have a stellar quarterback in Kevin Dunn, thrower of 22 touchdown passes, will be the key to progressing to Sunday's semifinal round.
"They have a bunch of different running backs who run well," Muller said. "If they find a weakness in your defense they're going to expose and attack it, which is what any team should do. They have weapons we know about and have to keep an eye on."
Who will win the Class M quarterfinal Brookfield at Berlin?

Brookfield

Berlin

Total Response: 350 Votes

Loading ...