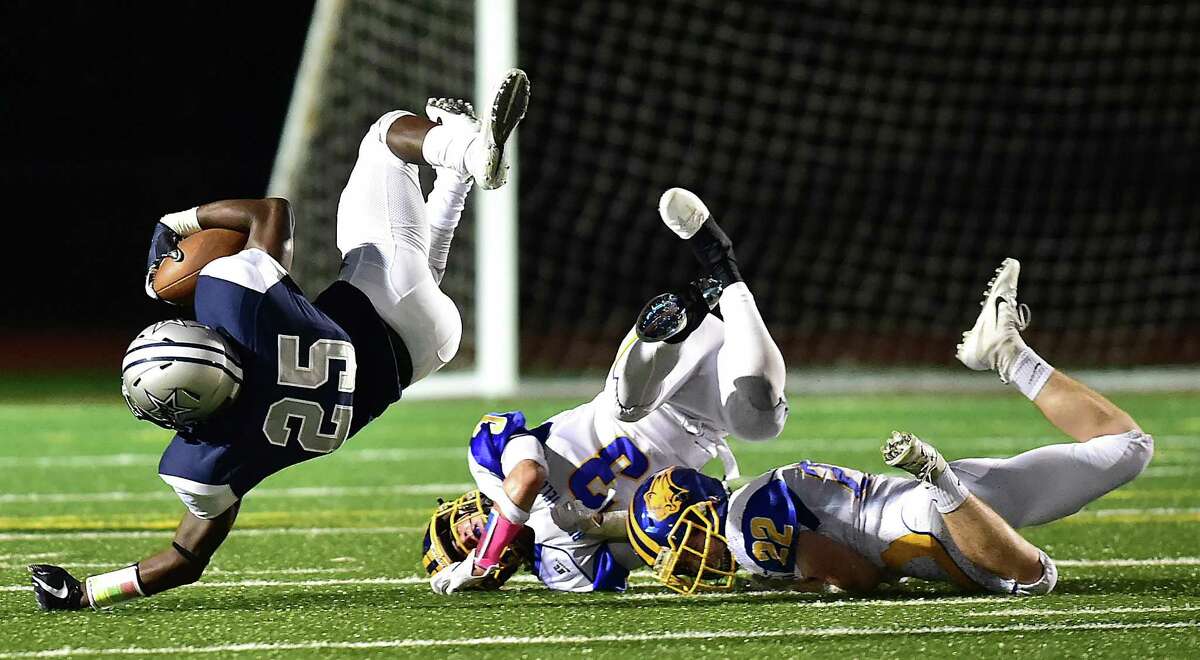 NEW HAVEN — There were sweeps for long gains, bruising sprints through the line and simple jaunts that gained yard after yard.
The Brookfield football team likes to the run ball. That much has been evident in wins over Masuk and Hillhouse to start the season.
But it's one thing to favor a style and another thing to thrive at it. Brookfield, with an array of backs, simply excels on the ground.
Brookfield, fresh off their season-opening win against Masuk, ran around and through the Hillhouse defense Friday night at Bowen Field. The 51-18 victory was emphatic for a team with postseason designs.
Brookfield (2-0) compiled 351 yards on the ground, led by Conor McVey (15 carries, 176 yards) and Nicholas Henderson (21 carries, 133 yards).
"We like to run the ball," Rich Angarano said. "We're going to spread it around … We have a lot of confidence in our backs."
Brookfield rolled to a 25-6 halftime lead, dominating on both sides of the ball as it put Hillhouse (0-2) in insurmountable hole.
How lopsided was the first half?
Hillhouse was unable to move the ball past its own 22 and its offense generated minus-2 yards in the first quarter. Its first possession of the second quarter ended with a stray snap being recovered in the end zone for a safety.
Brookfield, meanwhile, was efficient and productive as it marched to a 25-0 lead. On its second possession, Brookfield moved 37 yards and scored on a 7-yard run by McVey.
There would be a safety on an errant snap by Hillhouse to make it 9-0 before Henderson scored on a 4-yard run as time expired in the first quarter.
"I thought our defense played well," Angarano said. "We're almost there. We're pretty happy so far."
Said McVey, "Me and [Henderson], we build off each other. With use, we feel like there's always a threat in the backfield.
At 8:00 of the second, quarterback Trevor Sterry ran left on a sweep to score from 7 yards and Jackson Breuel's point after kick made it 25-0. The crowd at Bowen Field was muted as Hillhouse sputtered and Brookfield surged ahead.
But there was a glimmer of hope for the home crowd late in the half. After three consecutive incomplete passes and facing fourth-and-15 from its own 32, Hillhouse threw another pass.
This time, Sahim Hasan connected with Demelle Turner. Scampering through defenders and evading tacklers, Turner didn't stop running.
The 68-yard touchdown pass brought the home crowd to its feet. It was 25-6 at halftime.
And the Academics offense, so stagnant early, came to life in the second half. Maybe it the was the long completion that ignited the unit, but Hillhouse found its groove.
The half began with a 61-yard, 6:21 drive, culminating in a 1-yard score by Willie Gulley. The second possession ended with a 10-yard touchdown run by Neal Eley with 4:10 left in the quarter.
The drives were impressive, but the Academics were unable to gain ground. That's because Brookfield answered each score.
There was a 10-play drive that resulted in a 1-yard score by sophomore Andrew Manesis. That made it 31-12 and a 7-yard touchdown run by Henderson pushed the lead to 38-18.
And the final blow of the third quarter put an exclamation point on the night. As time expired in the quarter, McVey bolted for an 86-yard touchdown run.
"Our linemen just put the blocks out there every game," McVey said. "We obviously show we have plenty of running backs. We're deep. But our line is really the key. They open up holes."
As the fourth quarter began, Brookfield had a 45-18 lead. For good measure, there was yet another touchdown — Jack Mix on a 2-yard jaunt midway through the fourth.
Brookfield 51, Hillhouse 18
Brookfield 16 9 20 6 — 51
Hillhouse 0 6 12 0 — 18
BR: Conor McVey 7 run (Jackson Breuel kick)
BR: safety
BR: Nicholas Henderson 4 run (Jackson Breuel kick)
BR: safety
BR: Trevor Sterry 7 run (Jackson Breuel kick)
Hillhouse: Demelle Turner 68 pass from Sahim Hasan (kick failed)
Hillhouse: Willie Gulley 1 run (pass failed)
BR: Andrew Manesis 3 run (kick failed)
Hillhouse: Neal Eley 10 run (pass failed)
BR: Nicholas Henderson 7 run (Jackson Breuel kick)
BR: Conor McVey 86 run (Jackson Breuel kick)
BR: Jack Mix 2 run (kick failed)
Brookfield (1-0)
Hillhouse (0-2)