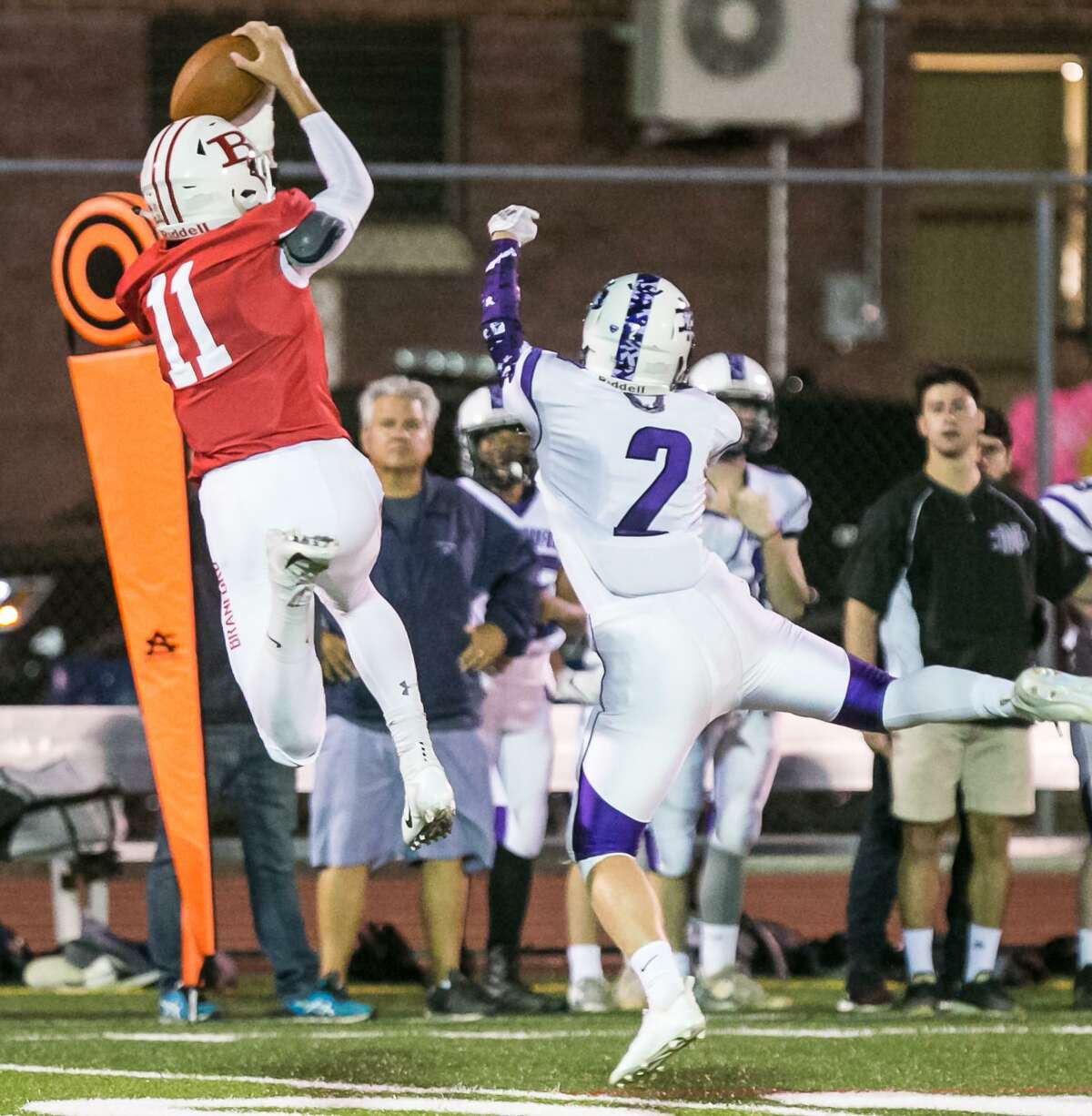 BRANFORD — It had been 33 years since Branford and North Branford last met on the gridiron and not much was different Friday night than the last time the two teams met.
Branford dominated from the opening kickoff and took a 42-12 victory over North Branford in a non-conference game at the James MacVeigh Alumni Athletic Complex.
The Hornets won 34-0 the last time they met in 1985.
The matchup was set up when Creed closed, giving Branford an open date. Nonnewaug followed by dropping its varsity program, giving North Branford an open date of its own. The two schools got together and Friday's matchup was born.
It's also the first time since 2009 that Branford has started a season with three consecutive wins.
"I haven't seen that in my four years," said Branford's Jackson Seward, who scored two touchdowns.
"We're extremely happy," Branford quarterback Sean Kelly said. "Compared to last year, we've played better offense and defense. It's going to be a great season for us."
Branford got on the board midway through the opening quarter when Kelly (114 yards passing and 82 yards rushing) connected with Chris Bouton at the 30-yard line and Bouton raced into the end zone for the touchdown.
Branford blew it open in the second quarter, scoring three touchdowns, all on the ground. Kam Holmes scored from a yard out, Seward from 10 yards out and Kelly from 25 yards out.
Meanwhile, the Hornets' defense held North Branford in check, allowing just 20 yards on the ground and 42 in the air.
"Our defense is playing well," Branford coach John Limone said. "They prepare and they work. We play team defense. We don't have one guy."
North Branford really doesn't have a quarterback, so it has been using running backs Tyler DiNapoli and Nick Mancini there.
"We have 32 guys, four freshmen and no starting quarterback," said North Branford coach Mark Basil, who saw his team fall to 1-2. "I lost my tight end in the second quarter. That put the kibosh on what we do pretty early."
The Thunderbirds finally got on the board with 9:08 left in the third quarter when DiNapoli rushed from 15 yards out to close the gap to 26-6.
However, Branford took advantage of a blocked punt by Amari Phillips to extend its lead later in the quarter. On the first play from scrimmage after the punt, Kelly hit Aiden MacNeil on a perfect slant across the middle for a 29-yard TD pass. With Kelly's successful two-point conversion it was 34-12.
DiNapoli added his second touchdown of the quarter with 1:38 to play in the third to pull North Branford within 34-12.
Branford followed with another quick touchdown as Seward ran for 42 yards on the first play from scrimmage to account for the final score.
"It's an exciting time here, but as you know its back to work tomorrow," Limone said. "It's a nice atmosphere and they are fun kids to be around."
PLAYER OF THE GAME
Sean Kelly, Branford — Threw for one touchdown and rushed for another. Passed for 144 yards and rushed for 82 yards.
QUOTABLE
"These young guys are doing a lot of things. We have a lot of sophomores making a lot of plays for us."
— Branford coach John Limone

Branford 42, North Branford 12
| | | | | | | | |
| --- | --- | --- | --- | --- | --- | --- | --- |
| North Branford | 0 | 0 | 12 | 0 | | — | 12 |
| Branford | 7 | 19 | 16 | 0 | | — | 42 |
Branford: Chris Bouton 58 pass from Sean Kelly (Elijah Hanlon kick)
Branford: Kamryn Holmes 1 run (Elijah Hanlon kick)
Branford: Jackson Seward 10 run (pass failed)
Branford: Sean Kelly 25 run (kick failed)
North Branford: Tyler DiNapoli 15 run (kick failed)
Branford: Aiden McNeil 29 pass from Sean Kelly (Sean Kelly run)
North Branford: Tyler DiNapoli 18 run (pass failed)
Branford: Jackson Seward 42 run (Aiden MacNeil pass from Sean Kelly)
Records: North Branford (1-2) Branford (3-0)