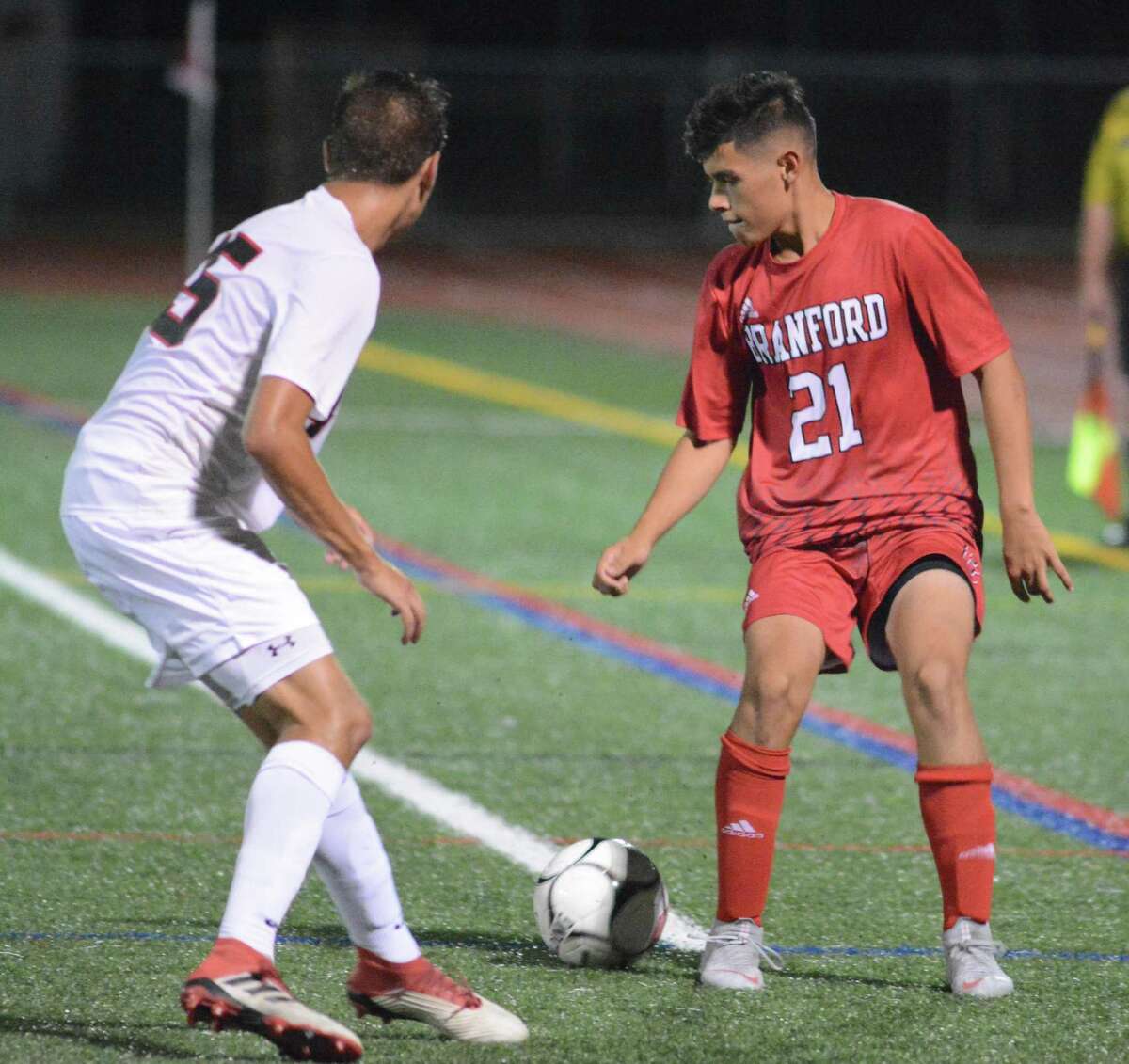 BRANFORD — Going into Thursday night's game, Branford had allowed just two goals in three wins, while Cheshire had yet to allow a goal in two wins.
So what do you get?
Another night of defense. The two Southern Connecticut Conference Oronoque Division rivals remained unbeaten as they played to a 0-0 deadlock in a boys' soccer clash at the James MacVeigh Alumni Athletic Complex.
"It was a great high school game," Cheshire coach Artur Branco said. "I thought both teams worked very hard and these are the games that make you better."
Branford had outscored its opponents, 7-2, while Cheshire had nine goals in two outings, so it was obvious one goal could be the game-winner.
And both teams just had two good chances to score apiece.
"Each team had a couple half chances here and there, but it was two evenly matched teams," Branford coach Paul Hunter said. "Over last several years, every game we've played against Cheshire is a one-goal competitive game."
Branford had the best chance of the first half when Raffaele Ciarleglio's shot heading for the left corner of the net was tipped aside by Cheshire goalkeeper Nathan Pisani and it bounced off the left post.
Just 8:03 into the second half, Branford had its best opportunity. Andrew Wirtz got loose down the right side and ended up with a one-on-one chance against than Pisani. But Pisani came out of the net and was able to make the save.
"We had Andrew sprung down the right flank," Hunter said. "To be honest, I thought it was the best opportunity of the whole game."
Cheshire's best opportunities both came later in the half. Denys Fuentes came down the right side and passed the ball into the middle into Matthew Mayano, but Branford goalie Praneeth Ganedi was able to make the save with 25:21 remaining.
Seventeen minutes later, Fuentes had a chance from the left side, but Ganedi steered that chance aside.
"I think we moved the ball very well," Branco said. "We just weren't as effective as we need to be. That's the part of our game we need to rectify."
Over the last couple minutes, both teams seemed to be content to settle for the scoreless tie.
"To a degree as both teams were very tired," Hunter said. "It was a high tempo game, with guys flying around the field for 80 minutes. Passing and decision-making wasn't as crisp for us in the last 20 minutes.