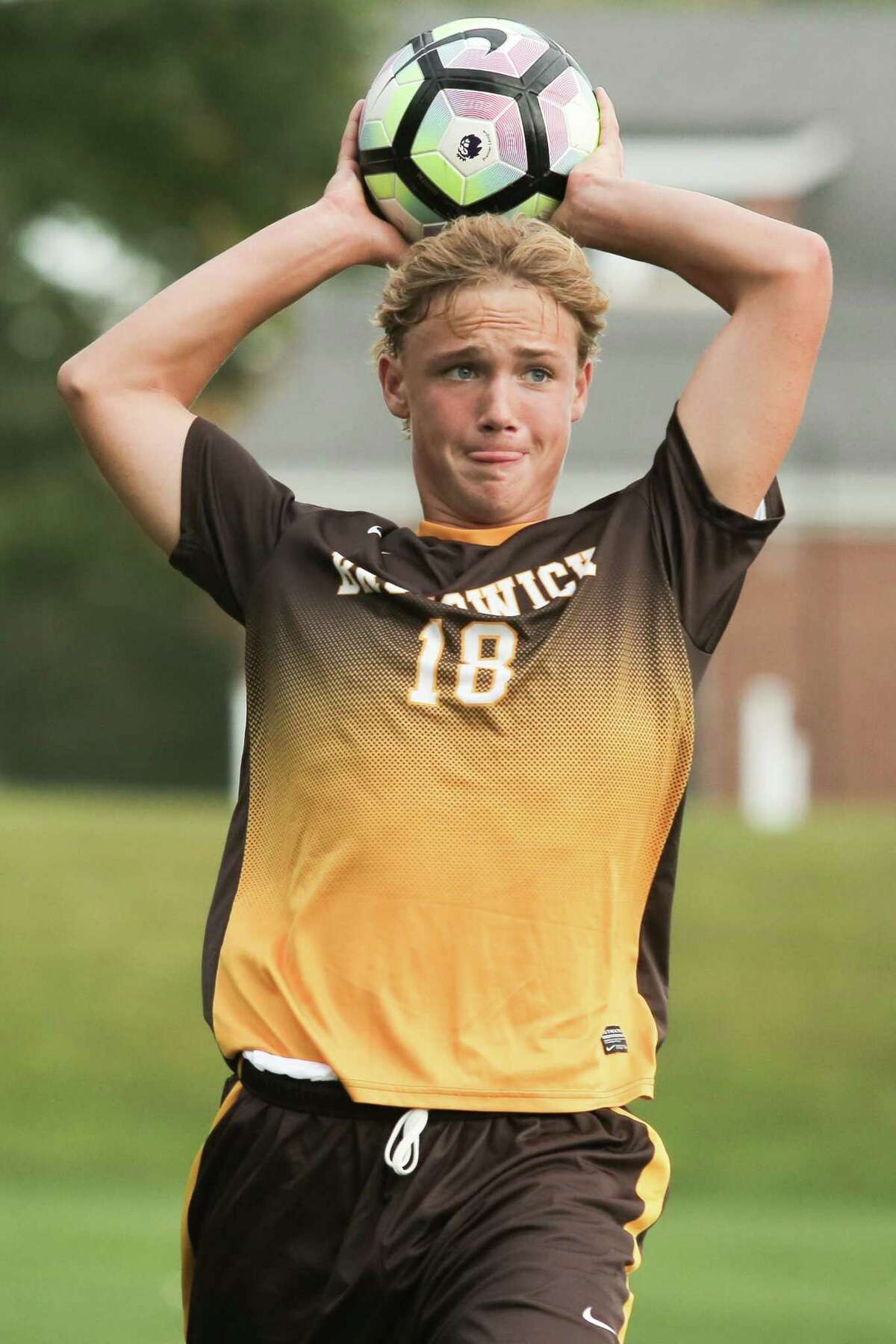 Last season's 8-8-2 record was especially impressive for the Brunswick School soccer team, which started its 2017 campaign slowly, but displayed significant improvement as its season progressed.
Starting with Wednesday's road game against Choate Rosemary Hall, the Bruins are determined to get a jump on their opponents this season.
"I learned a lot about our opponents and our players during my first season as coach last year," Bruins coach Danny Simpson said. "Our team is very focused on coming out quicker and being ready for game 1. The schedule gets on us right away. Looking at the schedule, we can't take anyone lightly."
Indeed, playing a NEPSAC schedule, which Brunswick does, is a daunting challenge. The Bruins were below .500 early last season, before stringing several solid victories together to finish at the .500 mark.
Brunswick's season-opening matchup against Choate Rosemary Hall on Tuesday is a familiar event for both squads. The Bruins and Wild Boars began last season by facing each other and dueled to a 1-1 draw.
Simpson liked what he saw in the preseason from his squad, which includes 12 seniors, five juniors, five sophomores and one freshman.
"We have a lot of talented players with great soccer knowledge," Simpson said. "They understand the nuances of the game and they have impressive skills. Our team is going into the season in good shape. They each put in a lot of work in order to get ready for the season."
This season's Bruins are captained by seniors Ben Israel, Harry Barringer and Ben Powers.
Barringer, the starting goalkeeper, made eight saves in last season's 1-1 tie against Choate and stopped six six shots in the team's 1-0 win against Hopkins. Powers, a starting center back, tallied the Bruins' goal in the season-opening draw against Choate a year ago.
"Our captains lead by example on the field and are also vocal," Simpson said. They are very positive and our guys listen to them. I believe our team is a lot more experienced and is ready for the challenges we face."
AT THE HELM: Simpson starts his second season as coach of the Bruins. Brunswick registered a record of 8-8-2 in his first season. Prior to arriving at Brunswick, he coached the Greenwich High girls soccer team for 12 seasons (2005-2016). He led Greenwich to four FCIAC championships, including three straight from 2010-2012.
Jonathan Kaptcianos and Christopher Forester are assistant coaches.
WHO'S GONE?: Nick Boardman, the Bruins' leading scorer from last season, graduated, along with defender Jamie Polak. An outstanding player, Boardman, the team's captain in 2017, accounted for 75 percent of Brunswick's goals.
"We have to focus on creating chances for a lot of different players this season," Simpson said. "A lot of players are going to have opportunities to step up."
WHO'S BACK?: The Bruins should receive strong play and leadership from Barringer, Israel and Powers. Returning on defense are senior Jeffrey Ramirez, senior Jack Withstandley, junior Henry Foster and senior P.K. Keller.
Brunswick possesses a lot of depth at midfield and forward with senior AJ. Delgado back, along with Christian Barnard (senior), Freddy Tucker (senior) and George Varvel (senior).
Will Maynard, Chris Paucar and Aidan Williams are seniors and Peter Lehrman, Eric Meindl and James Widdowson are each beginning their junior season on the squad.
WATCH OUT FOR: Brunswick has five sophomores — Aaryan Chinai, Freddy Gazal, Michael Huber, John Dunn and Nico Montoni — and one freshman, Chisom Okpara, who could make key contributions.
STRENGTHS: With 16 seniors, the experience of playing against the top boarding schools in New England could help the Bruins. Barringer gives the team a battle-tested goalie.
SHOWDOWNS: Taft, home, Sept. 15; Loomis Chaffe, away, Sept. 19; Deerfield Academy, home, Sept. 22; Avon Old Farms, away, Sept. 26; Kent, away, Oct. 6; EF International Academy, home (Homecoming), Oct. 12; Salisbury, home, Oct. 20; King, away, Oct. 26; Hotchkiss, away, Nov. 7; Westminster, home, Nov. 10.
dfierro@greenwichtime.com