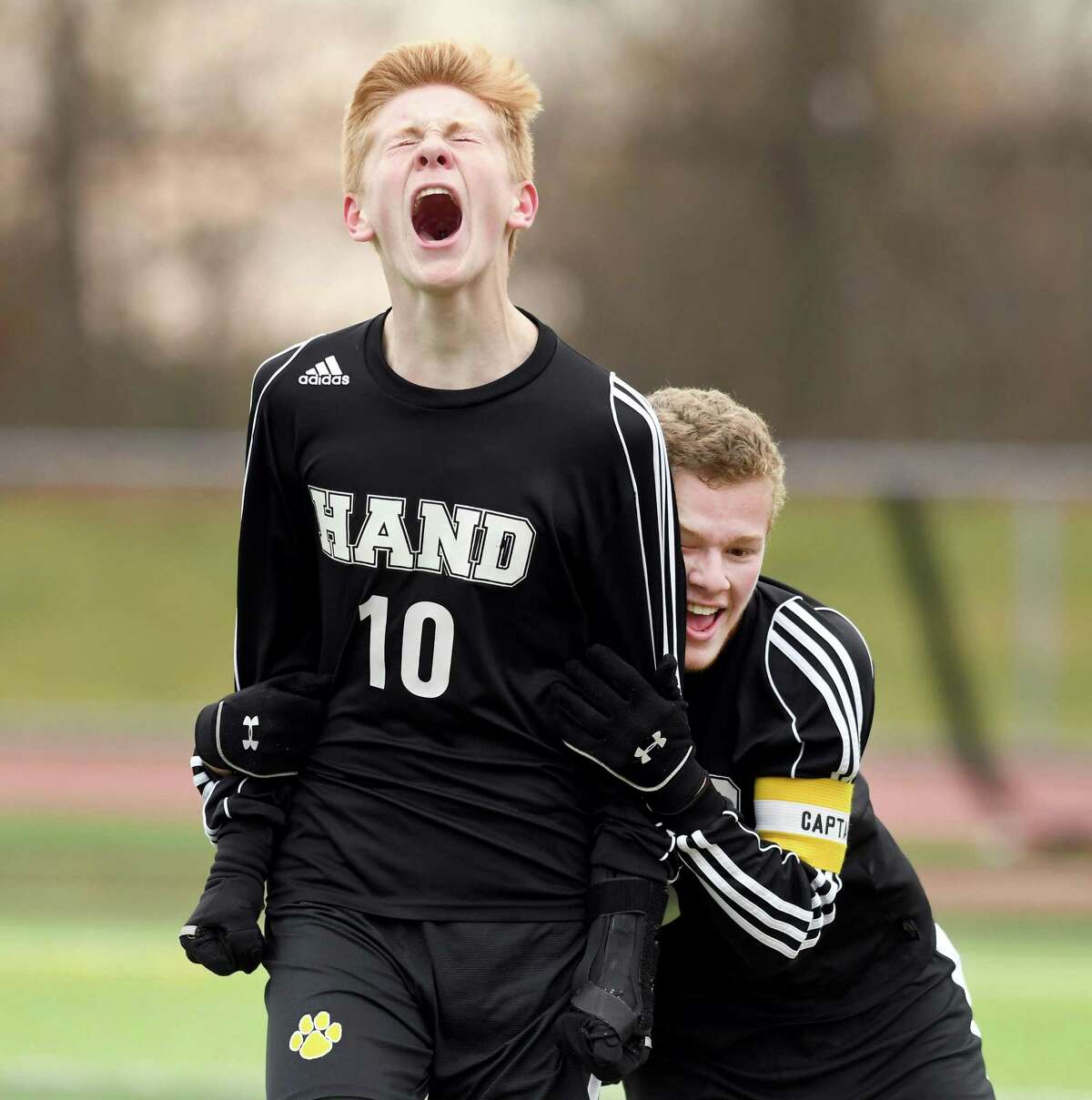 WEST HAVEN — Scott Testori heard what everyone else had heard about Masuk's "Legion of Doom" defense and its reputation for smothering even the most skilled opponents. He also saw the statistics: seven goals allowed in 23 matches.
And none of it intimidated him.
Ultimately, 10th-seeded Daniel Hand solved their opponent's rigid back line, edging the fourth-seeded Panthers 2-1 on Saturday to repeat as Class L champions in boys soccer.
"We knew who to attack and we knew which players to attack them with," Testori said. "We pretty much stuck to that game plan and it worked out."
A direct kick from midfield helped set up the eventual game-winning goal, a header by Testori in the 13th minute. Testori, who had a second goal negated by an offsides call in the 64th minute, was named Tournament MVP.
"Credit to them, they did an incredible job," Masuk coach Antonio Viscuso said. "We worked on set plays and corner kicks all week. We warned them that that's the way they score goals. Unfortunately we didn't get it done."
Hand (19-3-2) started fast, grabbing a 1-0 lead in the third minute on a header by Nicholas Porte off a corner kick from Owen McShane. Masuk answered exactly two minutes later, though, behind Ryan Winkler, who buried a direct kick from roughly 25 yards out.
"The report was that they were dangerous on set pieces," Hand interim coach Anthony Mancini said. "We tried to avoid them, but unfortunately, it's hard to do in the course of an 80-minute game. But we were confident that if we got some corner kicks and free kicks that we could score some goals."
After the Tigers regained the lead thanks to Testori, their defense didn't budge. The Panthers were limited to just four shots — though Viscuso believes they could've had more.
The Panthers, who were in the state final for the first time, finished the year 20-3-2.
"I can't go without saying that there was some calls that were missed," Viscuso said. "There was certainly a PK that was missed. The linesman's flag was for a PK, and my forward got rocked by the goalkeeper, too. But that's sour grapes, I'm not going to make excuses. We didn't play our game and they deserved to win."
The victory capped a sensational run for the Tigers, who responded from a late-season slide — they were 0-2-1 over their final three regular-season matches — by claiming an SCC title and their fifth state title.
"It's just amazing," Testori said. "We had the team to do it."
PLAYER OF THE GAME
Scott Testori, Hand, F: The freshman's goal with 27:42 left in the first half stood as the eventual game-winner.
STAYING FOCUSED
Hand interim coach Anthony Mancini credited his captains — William Akers, John Ruggiero and Owen McShane — for helping to maintain the Tigers' focus after coach Stan Latkowski was relieved of his duties in October. "I hope I brought them together as a group, but the captains really just took control of the team and kept their focus," Mancini said. "They just had a lot of fight."
QUOTABLE
"I'm proud of every single one of these boys. They did an incredible job." — Masuk coach Antonio Viscuso on his team's run to the state final
Hand 2, Masuk 1
HAND 2 0 — 2
MASUK 1 0 — 1
Records: Hand 19-3-2; Masuk 20-3-1. Scoring: H — Nicholas Porte 1g, Scott Testori 1g, Owen McShane 1a; M — Ryan Winker 1g. Goalies: H — Thomas Hobin (0 saves); M — Sam Forsythe (2). Shots: H — 7; M — 4. Yellow cards: M — Aidan McShane, Matthew Machan.