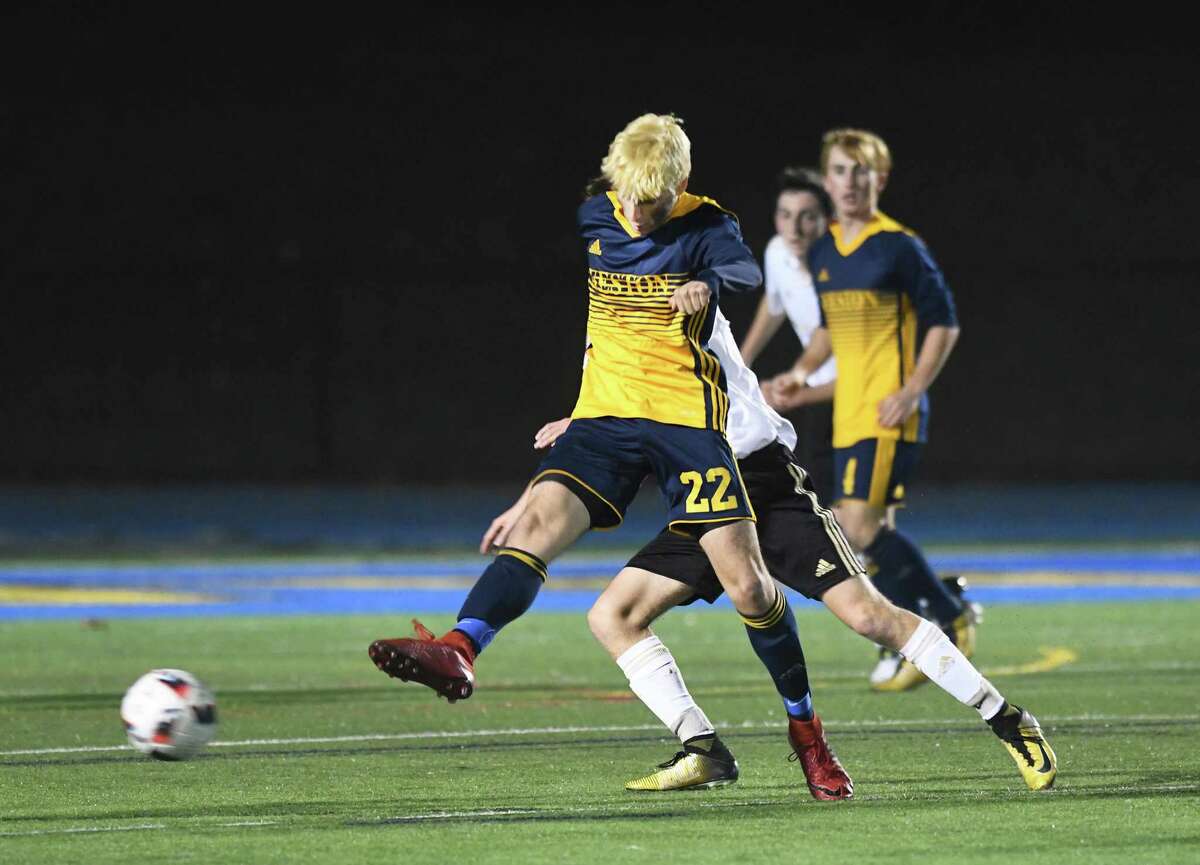 FINE PERFORMANCES
Mason Asphar, Weston: Asphar had three goals last week in a 1-0 win over Bethel and a 3-2 victory against New Milford.
Myzel Cervera, Amity: The sophomore scored with five minutes left in the game, giving the Spartans a 2-1 win over Notre Dame-West Haven.
Matias Lew, Greenwich: The Cardinals got one goal and had two assists from the junior forward in a 6-0 romp over St. Joseph.
Phil Platek, St. Luke's: Platek scored five goals in three games this week for the Storm including three against Canterbury. St. Luke's won all three games.
Nick Washington, Ledyard: The sophomore scored four times with an assist in the Colonels 6-0 win over Windham. Washington now has eight goals and five assists through the team's first five games.
Emmanuel Ofori, East Hartford: The midfielder scored two goals and added an assist in as East Hartford beat Southington 4-0.
Denys Fuentes, Cheshire: The senior has five goals in the Rams' first five games with his last coming in a 1-0 win over Guilford.
Ryan Tetreault, Old Lyme: Tetreault preserved a 1-1 tie against Old Saybrook with a diving save with 4 seconds remaining in the game. One of his 12 saves in the game.
Jack O'Brien, Pomperaug: O'Brien recorded a hat trick and picked up an assist as Pomperaug remained undefeated with a 7-1 win over Notre Dame-Fairfield.
Lucas Calhoun, Housatonic Regional: The senior led the Mountaineers with two goals in a 3-2 Berkshire League victory over Gilbert.
Grady Kelly, Granby Memorial: Kelly was in on five goals, scoring three an assisting on two as part of Granby's 6-0 over East Granby
Dustin Garrison, Windham Tech: The junior scored his 41st career goal in Windham Tech's 4-1 win over Goodwin Tech.
GAMES TO WATCH
Glastonbury at Hall, Tuesday, 3:45 p.m.: Rematch of last year's CIAC Class LL championship game won by Tomahawks.
Watertown at Holy Cross, Tuesday, 4 p.m.: The last two unbeaten teams in the NVL. Holy Cross wants to prove it belongs with best in the league.
Greenwich at Staples, Tuesday, 4 p.m.: The best boys soccer rivalry in the FCIAC should meet expectations with both teams in top form.
Cheshire at Hand, Tuesday, 6 p.m.: Rams' defense has been stingy, Tigers' offense is explosive. Something has to give in this matchup of two of the best in the SCC.
Morgan at Old Lyme, Wednesday, 3:30 p.m.: The Shoreline foes have shown a propensity for scoring early in the season, this one may get wild.
Barlow at Weston, Thursday, 7 p.m.: The defending SWC champion Trojans should have a big home crowd when they host rival Falcons under the lights.
Immaculate at Pomperaug, Thursday, 7 p.m.: Another prime-time SWC clash featuring an Immaculate squad which has five shutouts and has only conceded two goals taking on unbeaten Pomperaug.
Fairfield Prep at Branford, Friday, 3:30 p.m.: Do not sleep on Branford in the SCC, the Hornets have already held three teams scoreless, thus far.
Maloney at East Hartford, Friday, 3:45 p.m.: Maloney will have its hands full trying to contain midfielder Emmanuel Ofori and the rest of the East Hartford attack.
Danbury at Wilton, Saturday, 4 p.m.: One of the FCIAC's top strikers, Michael Zizzadoro of Wilton, gets to test his skills against one of the state's top defenders in Danbury's Tyler Warren.