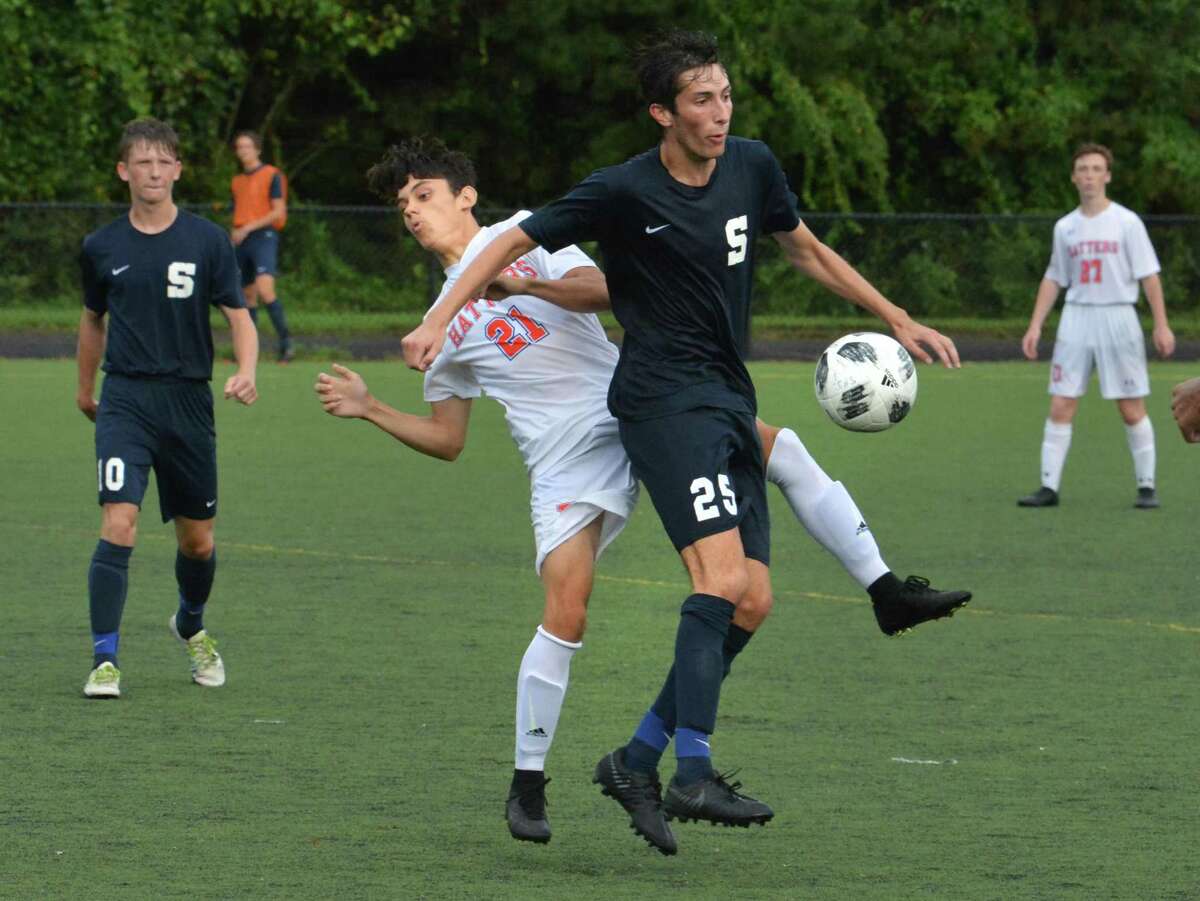 WESTPORT — Whenever the Staples and Danbury boys soccer teams square off, you know it's going to be a close game.
The two sides battled to a scoreless tie a season ago and when they went toe-to-toe on Wednesday, the two FCIAC contenders drew once again, 1-1 on the turf at a rainy Wakeman Field.
"We certainly never like tying, and never like having them tie us, but we got away from our game plan in the second half," Staples head coach Dan Woog said. "We played a pretty good first half then they took it to us in the second."
The Wreckers (1-0-1) came out strong and opened the scoring when senior midfielder Matthew Tanzer found the back of the net off an assist from senior Vaughan Sealey 15:30 into the first half. The Hatters (0-0-2) were quick to answer, however, when senior midfielder/defender Alexander Pane scored off a failed clearance with senior Mallomin Jallow providing the assist 18:23 into the half.
Neither team would light up the scoreboard from there on out.
"I'm not too unhappy with it," Danbury head coach Anthony Howard said of the result. "Getting a point away from home is important and we're showing, with two ties against two very good teams (Staples and Fairfield Ludlowe), that we can compete. We've got a very young team so we've shown we've got a good foundation and we want to build on that."
Staples had a great opportunity to take the lead right before halftime but junior midfielder/forward Sam Liles was denied by Danbury sophomore netminder Matthew Silva, who made a tremendous diving save to keep the Wreckers off the scoreboard.
"He's a young keeper but he's got great hands," Howard said. "It's good to know I have him for two more years."
As Woog said, the Hatters played a more spirited second half and had the majority of the possession but neither team could find the back of the net. Howard credited each team's defense for stepping up to deny any serious scoring opportunities.
PLAYER OF THE GAME
Matthew Silva, Danbury. The sophomore goalie made nine saves in preserving a tie with Staples.
KEY PLAY
With the score tied 1-1 and time winding down in the first half, sophomore goalie Matthew Silva made a diving save to his right off a shot to the far post from junior Sam Liles to keep the Wreckers from going ahead with around four minutes remaining until halftime.
60 YEARS AND COUNTING
Staples is celebrating its 60th anniversary this season. Its first ever game was in 1958, a 3-2 loss to Andrew Warde, but four days later Staples earned its first win, a 4-0 victory over Roger Ludlowe (staplessoccer.com).
QUOTABLE
"It's a dogfight, it's the FCIAC," Woog said of starting 1-0-1. "(Today) we learned that when we play simply we play well, and when we complicate things we don't."
"I think we're a little down because we know we can play better," said Tanzer, a former academy player. "In the first half we had energy in the beginning then our energy dropped down and in the second half we could've picked it up but didn't. We'll come back Friday and be better."
"It was two good teams going at it," Howard said. "It was a really good, even game and I know that they're going to be right there or thereabouts at the end of the season and there's no reason why we can't be with a young team."
"We had momentum (in the second half) and we have a lot of heart on our team, which allowed us to keep the ball more," Pane said. "This is a good result against one of the best teams in the league so this gives us a lot of confidence for the rest of the season."
UP NEXT
Staples plays at Trinity Catholic on Friday; Danbury hosts New Canaan on Friday.
STAPLES 1, DANBURY 1
DANBURY 1 0—1
STAPLES 1 0 —1
Records: Staples 1-0-1, Danbury 0-0-2. Goals: S—Matthew Tanzer; D—Alexander Pane. Assists: S— Vaughan Sealey; D—Mallomin Jallow. Goalies: S—Ry Cohen (4 saves); D—Matthew Silva (9 saves); Corners: S—2, Danbury—3.