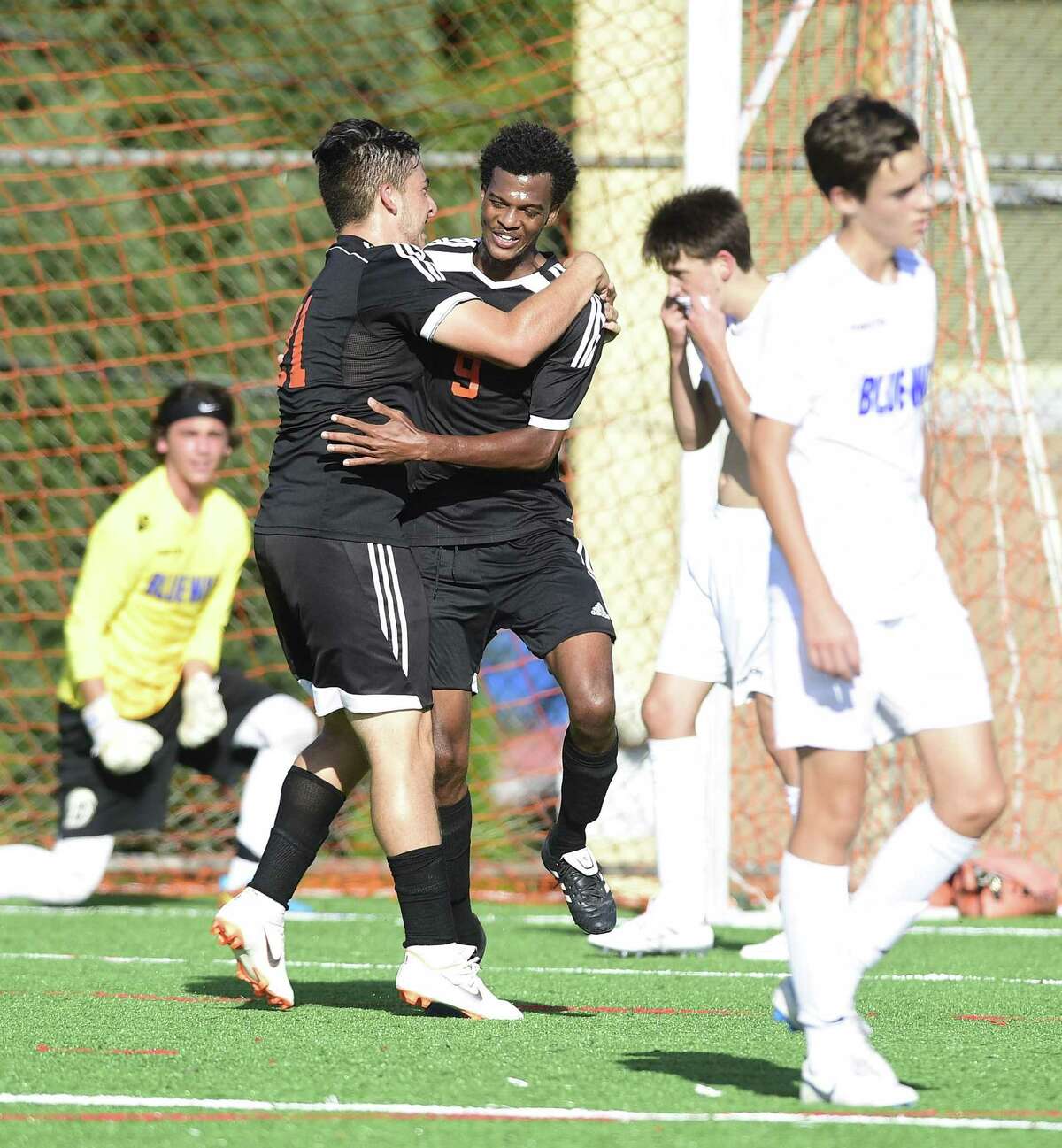 STAMFORD—The Stamford boys soccer team was treading water, down two goals at halftime to Darien.
The life preserver came from an usual place as Stamford took advantage of two miscues by the Darien keeper and defense in the second half, rallying for three goals in the final 40 minutes and a surprising 4-3 win.
Kenly Lalanne scored all four Stamford goals, tallying three in the second half.
"I think this was pretty good. That has been our M.O. from the start of the year, playing much better in the second half," Stamford coach Mario Caminiti said. "Today, we did not start out mentally ready. Our pregame warmup had me very concerned because we were not really focused. We talked about it at halftime and I told them I was depending on their leadership to fix it and they did it."
Trailing 3-1 in the opening minutes of the second half, the Darien keeper dropped a ball that was popped to him, allowing the ball to fall behind him where Lalanne alertly pounced on it and scored.
About 10 minutes later, (the time was being kept on the field by the referees) Matthew Gonda sent in a beautiful cross, which Lalanne jumped for and headed in, tying the game 3-3.
With roughly 11 minutes remaining, Lalanne took advantage of another mistake by the Darien keeper, this time of the mental variety as he and several defenders argued with the referee for a hand ball as play continued and Lalanne put the ball in the net for the go-ahead goal.
It was a second half the likes of which Darien coach Jon Bradley has rarely seen.
"That's just a poor performance," Bradley said. "Poor from coaches, poor from players. They got spoiled and their egos got in the way and we as coaches have to fix that. It was the worst performance I've seen in years of coaching. To make mistake after mistake after mistake is just unacceptable."
Stamford (2-3-1) scored first in the first half on Lalanne's first goal but then Darien caught fire.
The Blue Wave (3-2-2) banged out three-straight goals, two by Connor Olson and one by Elias Vetter, seemingly putting Darien in complete control of the game at the break.
Vetter's goal came on a solid strike from over 30 yards out on a free kick.
PLAYER OF THE GAME
Kenly Lalanne, Stamford. The junior forward, coming off a hat trick last week against New Canaan, scored four goals as he disrupted the Darien defense all afternoon.
QUOTABLE
"We played good in the second half. We passed the ball better and got the goals," Lalanne said through a translator. "(The header) felt crazy. I felt so crazy after that goal and it was so nice."
STAMFORD 4 DARIEN 3
DARIEN 3 0—3
STAMFORD 1 3—4
Records: D 3-2-2; S—2-3-1
Goals: D—Connor Olson 2, Elias Vetter; S—Kenly Lalanne 4. Assists: S—Brian Coronado, Matthew Gonda
Goalies: D Aaron Sears 5 saves, Christian Pllumbi 2 saves; S—David Collazo 11 saves