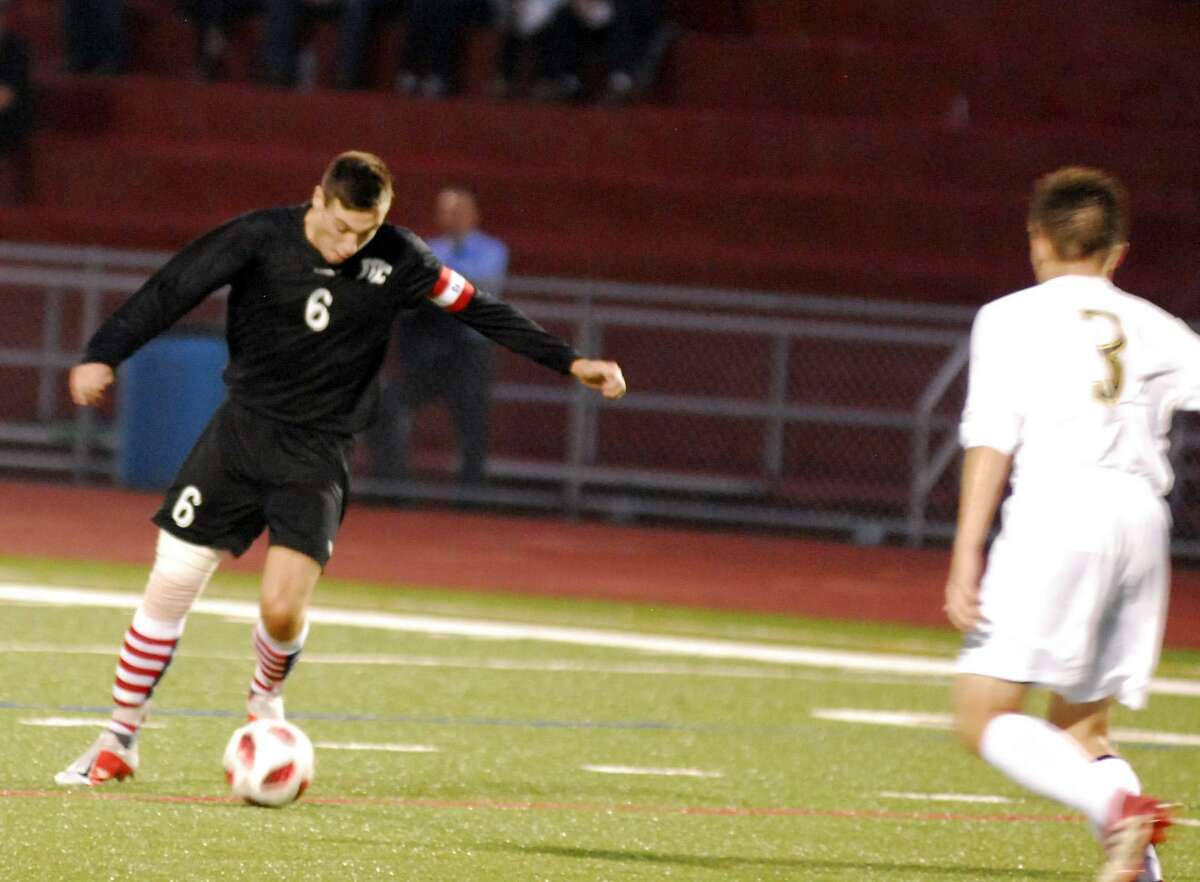 MONROE — Every match between the Barlow and Masuk boys soccer teams has come down to the wire in recent seasons, including their epic 10-round penalty shootout to decide the SWC championship in November.
The teams met in an early-season showdown Tuesday and it was the Falcons who once again edged the meeting.
Ben Goodacre's goal with 18:14 left edged a tight affair and gave Barlow a 1-0 win in its season opener. Goodacre latched onto a pass and finished underneath Masuk goalie Aldan Snajder and into the corner of the net.
"He's probably one of the most gifted soccer athletes I've ever had the privilege of coaching here at Barlow," said coach Paul Winstanley of his sophomore. "He is a super talent and I think I have an opportunity to help him and give him an insight that will expand his game and maybe he does whatever he wants with his game. As a sophomore he's pretty darn dangerous."
Barlow twice edged Masuk (0-2) last year, first coming in a 1-0 win during the regular season on a game that was decided by a penalty kick. A shootout win then gave Barlow its 10th SWC title.
"I don't remember a time that it hasn't been a one-goal game," Masuk coach Antonio Viscuso said. "They have a phenomenal program and there's no way we're going to out-possess their team, so we tried to have a defense shape and hit them on the counter."
The Panthers kept Barlow from even entering their half for most of the first 40 minutes, but space quickly opened up in the second. Snajder made a pair of saves within a few minutes — first on a header that was set to drop in the corner, then on a low shot from Jack Warren — to keep it 0-0 before Goodacre raced to a loose ball.
"We've had that issue all preseason," Winstanley said. "We were much more patient in the second and the whole process of possession is patience."
PLAYER OF THE GAME
Ben Goodacre, Barlow: One finish was all that separated the two talented teams.
FINDING THEIR FEET
The Panthers graduated almost their entire team from last season's run to the conference and state final, and four sophomore starters are taking the field this term. The reward for that were games against Guilford and the Falcons to open the season.
"Guilford was ranked No. 5 and haven't lost anybody, and they were an unbelievable team," Viscuso said. "But if you want to make a run in SWCs or states again you have to beat these teams. Getting them right out the gate gets us ready to go for the other teams in the league and the out-of-league games."
QUOTABLE
"They're always 1-0 battles," Winstanley said. "Masuk is a very tough, physical team that doesn't give up a lot of goals, especially to us. This was very typical; you want more but Masuk is a good, solid club and when they play us they don't give anything away."
BARLOW 1, MASUK 0
BARLOW0 1 — 1
MASUK0 0 — 0
Goals: B—Ben Goodacre. Goalies: B—John Hoeing (2 saves); M—Alden Snajder (5 saves). Records: Barlow 1-0, Masuk 0-2.