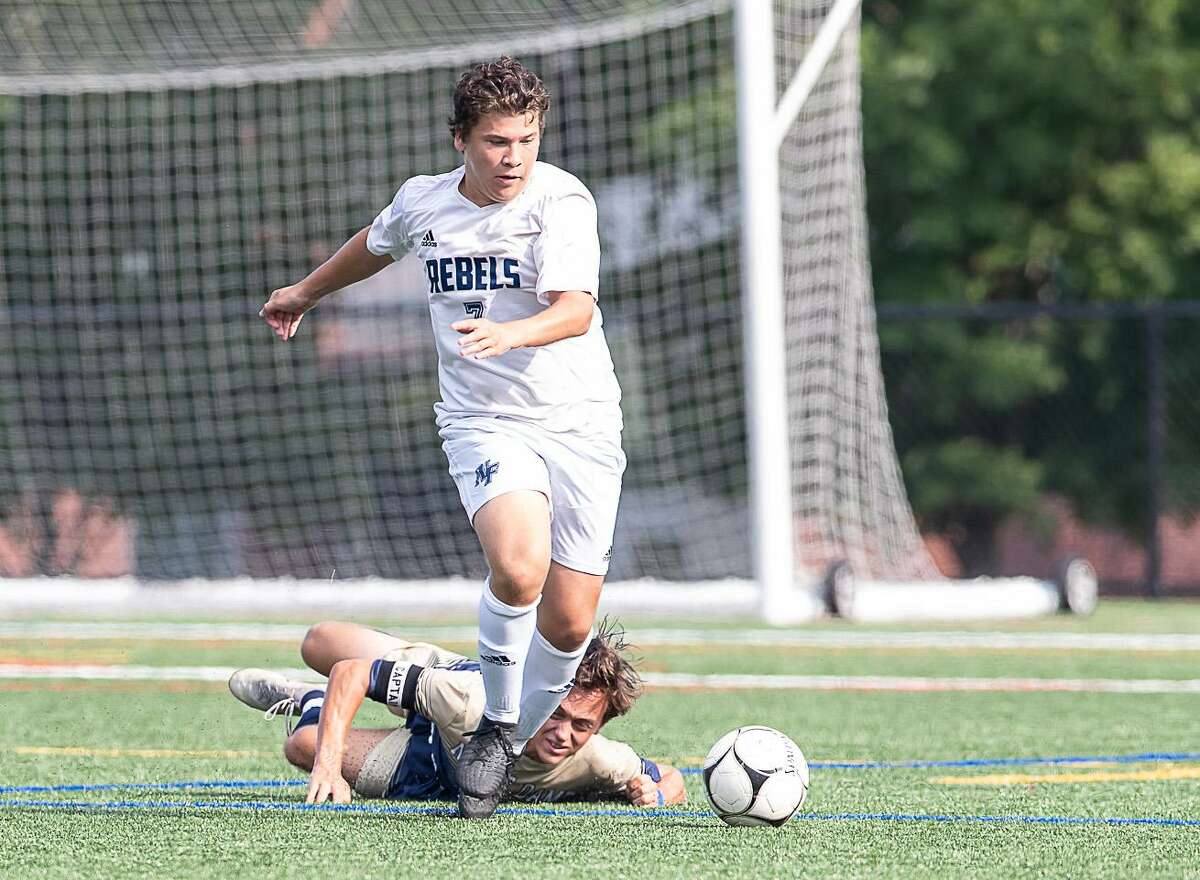 FAIRFIELD — For just a couple of minutes, Whitey Budreckas sat by himself on the Notre Dame-Fairfield bench, a man alone with his thoughts.
His ND squad was headed to the locker room, the New Fairfield team was headed to their bus and the referees were walking toward their cars. Budreckas, however, sat on the bench as rolls of thunder echoed nearby.
Mother Nature had won this one. Notre Dame-Fairfield led New Fairfield 2-1 with just 3:03 left in the first half before the dark clouds gathered and the thunder and lightning started to move in.
With the safety of both teams' being paramount, the referees called the game and ushered both teams off the field.
"I thought we could have finished the half, but I don't blame them at all," Budreckas said of the referee's decision. "I would have done the same thing. But if we could have finished those last three minutes, we would have won 2-1."
Instead, the game will have to be replayed from the beginning at a date and time determined by the two school's athletic directors.
Before Mother Nature got involved, the Lancers used a deep ball, attacking style to try and get their top offensive threat, senior Dylan Wade, behind the defense. And the strategy worked as Wade had two solid scoring chances in the opening five minutes but couldn't convert.
In addition, Michael Mizak and Jason Lopez has good opportunities in the offensive end but were both turned away by New Fairfield keeper Braden Quinn.
"Wade is a good player, we should have scored four goals (in the first half)," Budreckas said. "But things happen. Sometimes you just can't score, no matter what you do."
Matt Nieto found the back of the net to give Notre Dame-Fairfield a 1-0 at 30:29 of the first half. Off a direct kick from Kevin Morataya, the ball was collected in the box by Carlos Alfaro, who crossed to Nieto and he put it past Quinn to put ND ahead.
But New Fairfield tied it on a fluke some eight minutes later, when the horn to signal a substitute went off during play and many of the players stopped — except for Gavin Russo, who took a pass from Braden Reilly and beat ND keeper Marcelo DeSouza at 21:28 to tie matters at 1-1.
"We played a very sloppy game today, different team completely today," Budreckas said. "Before, we had scrimmaged RHAM, Norwalk and McMahon and I thought we looked pretty good, but today … different team. Maybe opening game jitters, I don't know … they just looked different."
ND regained the lead with 11:49 left in the half as Alfaro gained control of the ball and beat Quinn with a blast from in close to make it 2-1.
"That was a nice goal," Budreckas said.
But from there, Mother Nature took over and decided that no one was going to win anything today.
"We'll put this behind us," Budreckas said. "We have another game on Saturday (at Harding) and we'll see what happens, we should be OK."