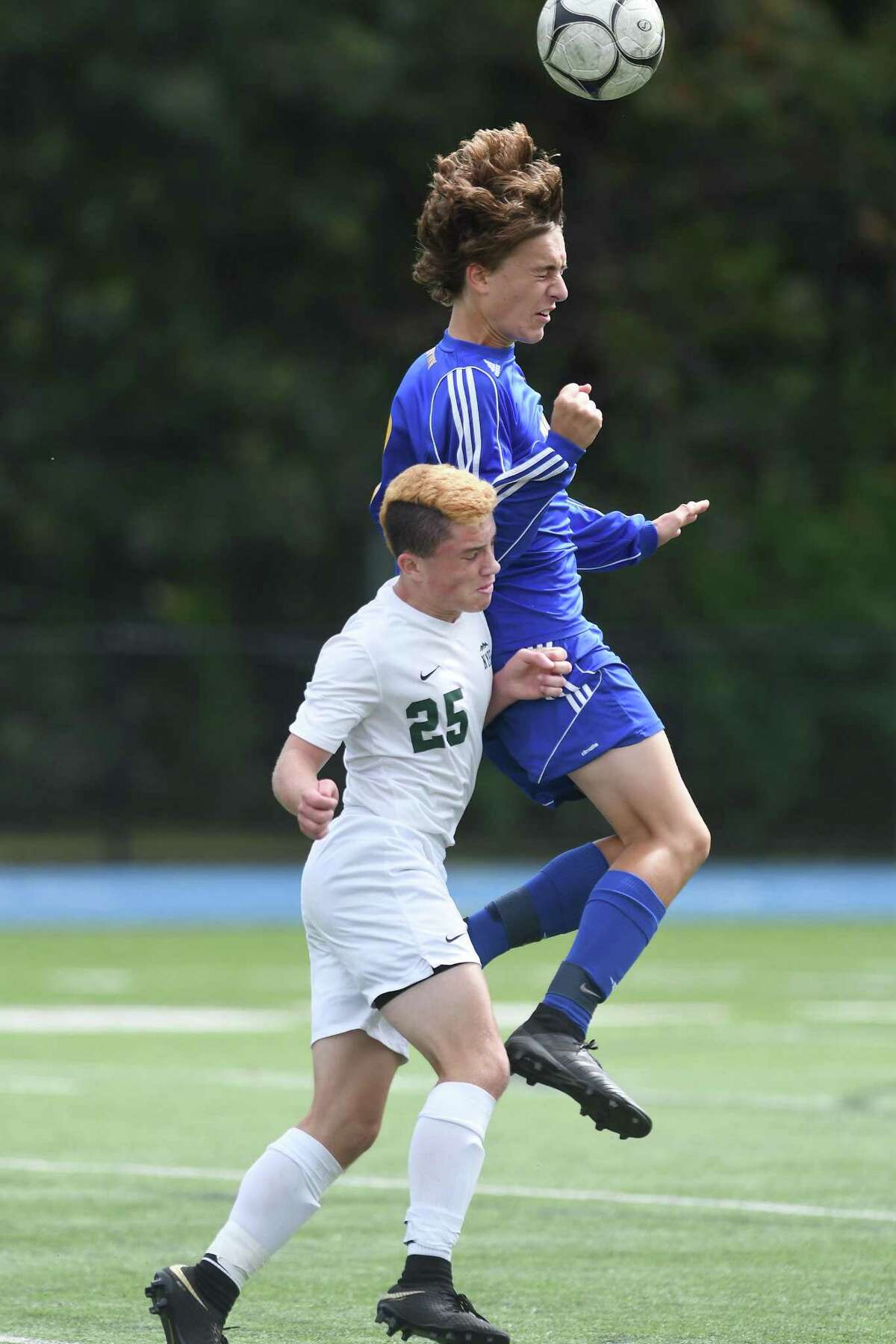 NEWTOWN — The Newtown and New Milford boys soccer teams entered both 2018 and Saturday's matchup in very similar positions.
Trying to close the gap between themselves and the top teams in the SWC while being led by first-year coaches.
Both sides found stellar coaches to lead their respective teams in the huddle as Charley Amblo (Newtown) and Lou Pereira (New Milford) are getting their feet wet early in the season. The Nighthawks (2-2-2) claimed a 2-0 win in a battle between teams that reached the playoffs a year ago.
A book could likely be written of Amblo's coaching exploits as a 39-year career has taken him to more than a dozen countries and back. He's coached across all levels from youth to professional with many championships to his name. He "retired" two years ago from full-time coaching in Poland — where he guided a youth team to a national title — as his wife was placed in Danbury Hospital for her residency.
"I thought I was done," said Amblo, a Vermont native. "I feel like I have hundreds of kids who've moved on to collegiate and professional levels. I got here, and I didn't like what I saw."
It didn't take very long for the itch to return, and Amblo was contributing with the youth system and eventually landing the varsity spot. It's the first high school varsity job in 30 years for Amblo, who led a team to a state championship in Vermont in 1988.
"My philosophy is all about development," Amblo said. "Developing players, developing the game and the competition is something that is simply a byproduct of your own efforts and the efforts of the opponent."
A math major, Amblo applied a seemingly random-yet-specific number to how much progress he feels his Nighthawks have made in the early going.
"We're about 38 percent of where we need to be," Amblo said. "I have charts. I'm very data-oriented and analytical. I'm not very verbose on the sideline. I'd like to be 50 percent, but we're making progress regardless."
For the Nighthawks, a third coach in three years — Brian Neumeyer led the team for almost two decades before Nick Booth took over last season — involved adjustment for several of its key seniors this fall. Most of last year's 13-4-2 squad graduated.
"Sophomore and junior year wasn't that much different," said Nighthawks senior captain Owen Baillargeon. "This year was a lot different, coach Charley is drastically different, plays a different system and asks different things from us every game. … The intensity was 100 miles per hour non-stop every minute but (Amblo) wants us to slow the game down and play more of a European style."
Newtown will find out how far its come Tuesday when defending SWC champion Barlow visits. Regardless of the result there, the lessons will continue throughout the season.
"Professional youth coaches are educators," Amblo said. "They're not rah-rah, run 1,000 miles and all that nonsense — that's military stuff. True coaching is a teacher and mentor and not in kids face and getting cards."
Pereira spent eight years at South Kent — one of the top prep schools in New England — before joining the Green Wave as an assistant last year. His first goal was to transition to a possession-style of game once he gained the head coaching position. Saturday was the first instance of that going awry as connecting on passes became an endeavor.
"It was going great until today," Pereira said. "We've been playing well. We couldn't connect from the back to the midfield today. (Newtown) also wanted it more than we did, they worked hard."
The Green Wave are led by a number of talented juniors, including defender Luke Anderson. Fellow center back Luke Chastain is one of the school's captains while freshman Christian Mendoza and sophomore Luis Chamale are playmakers in midfield.
"We're a good team," Pereira said. "We're a young team. We have a lot of juniors. Today was a learning lesson, that's for sure. It's a learning system for them, we're playing a 3-5-2 which is a little more difficult to play."
Greg LaCava led New Milford for the last two years — including reaching the SWC final in 2016 — having coached the school's girls team prior to that. The last time either school lifted the conference crown came in 2004.
"I have a lot of hope for this season, I think we can go pretty far," Pereira said. "We had a lot of injuries to start but everybody is starting to mend now. We're hard working, they help each other out and they have each other's back all the time."
rlacey@bcnnew.com, twitter.com/ryanlacey11