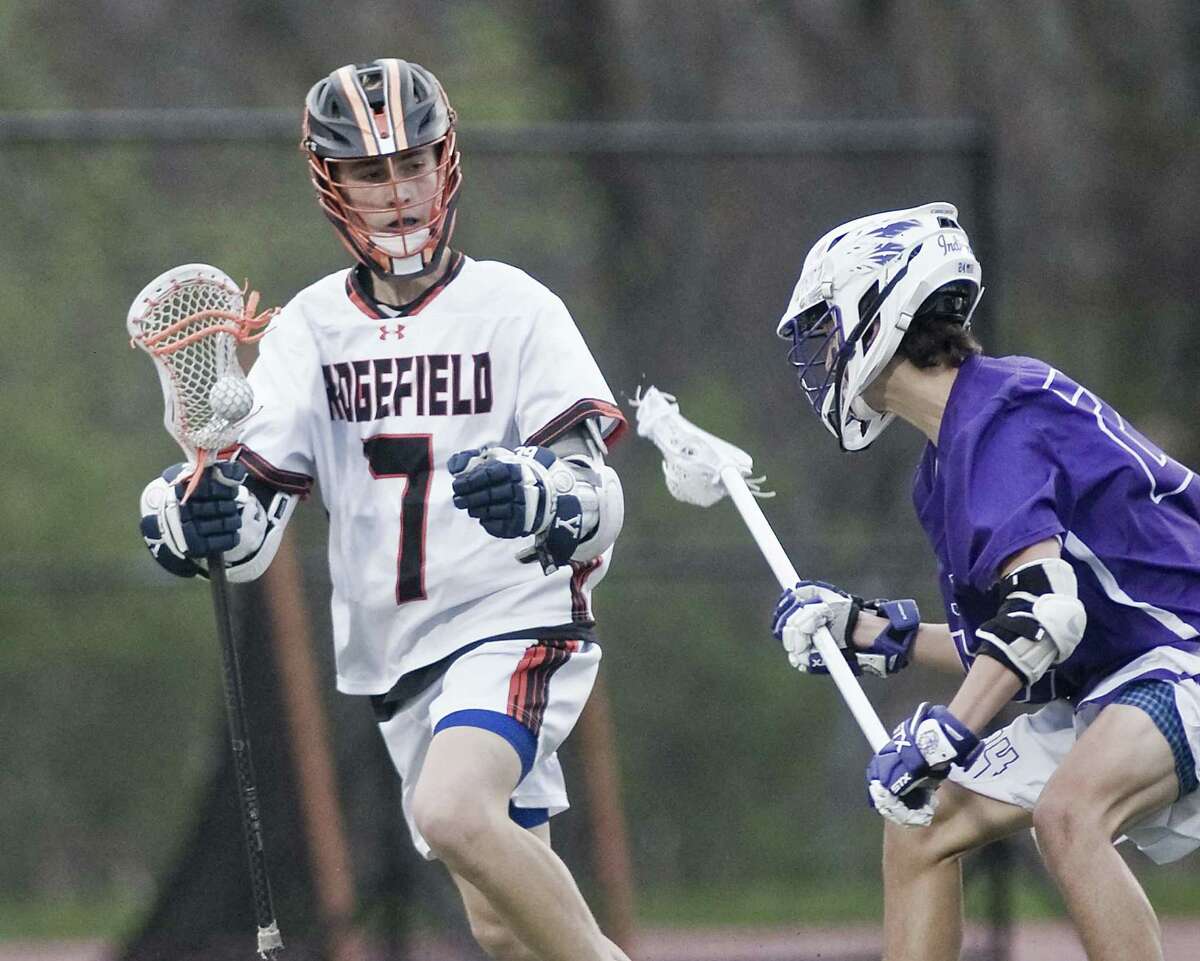 A look back at the week that was and the week ahead for high school boys lacrosse. Those who wish to submit performances for consideration should email Michael Fornabaio at MFornabaio@ctpost.com by Monday, noon.
FINE PERFORMANCES
Jack Broggi, North Haven: Scored four goals, added two assists in a 14-11 win over St. Paul.
Ryan Caldwell, Morgan: Three goals and three assists in a 14-2 win over Old Lyme.
Nick Campagnone, East Catholic: Scored 12 goals in an 18-3 win over Farmington.
Ryan Colsey, Ridgefield: Two goals and two assists in a 5-4 win over Staples.
John DeLucia, Guilford: Hat trick in a 6-3 win over Hand.
Andy Demopoulos, Darien: Sophomore made 13 saves in an 11-9 loss at St. Anthony's (N.Y.).
Jack Feda, Greenwich: Six goals in an 11-9 loss to Bronxville (N.Y.).
Griffin Fitzmaurice, Hand: Made 14 saves in a 10-5 win over Cheshire.
Zach Hochman, Notre Dame-West Haven: Scored seven goals in a 13-8 win over East Lyme. Among them was his 101st career goal, passing Ed Moran's program record.
Preston Kral, St. Joseph: Scored four goals in a 13-7 win over St. Paul.
David Lamb, Norwalk: Scored four goals as the Bears beat Westhill 11-6.
Seth Libby, Woodstock Academy: Scored in overtime to lift the Centaurs past NFA 10-9. Guerin Favreau's fourth goal had tied it late.
Rob Lionetti, Branford: Nine goals and three assists in a 16-7 win over Foran.
Carl Mazabras, New Canaan: Stopped 14 shots in a 12-4 win over Greenwich.
Finn O'Connor, Fairfield Prep: Made 20 saves in a 13-9 loss to Long Island power Chaminade (N.Y.).
Nick Pagliuso, Shelton: A goal and four assists in a 15-6 win over Amity.
Alec Spiers, Old Lyme: Four goals and an assist in a 9-8, comeback win over North Branford.
GAMES TO WATCH
Notre Dame-West Haven at North Haven (North Haven Middle School), Wednesday, 6 p.m.: Just kind of an interesting little matchup, a couple of teams with some interesting results against respectable programs, each with some good players, looking to establish position in the SCC standings.
Weston at Guilford, Saturday, 1 p.m.: A 5-0 start got the Trojans into the GameTimeCT poll, but a couple of losses dropped them out. They'll visit Guilford, which worked its way into the top 10 and secured its spot at No. 8 with a win over Newtown on Saturday.
Darien at Greenwich, Saturday, 2 p.m.: The Cardinals, clinging to the No. 10 spot in the poll, had a fine start but have lost six out of seven. This is probably not the way to get back on track, but they'll welcome in the No. 1 team in the state.
New Canaan at Fairfield Prep (Rafferty Stadium), Saturday, 4:30 p.m.: No. 4 visits No. 3. The Jesuits beat New Canaan in the regular season last year to snap a four-year Rams winning streak, but New Canaan, in its first season in Class L, beat Fairfield Prep in the CIAC quarterfinals.
New Fairfield at Newtown, Saturday, 7 p.m.: No. 5 vs. No. 9, what, the second game of the week? The Rebels, who beat Newtown 20-9 in last year's SWC championship game, haven't lost to a state team since 2017.
—Michael Fornabaio
mfornabaio@ctpost.com; http://twitter.com/fornabaioctp