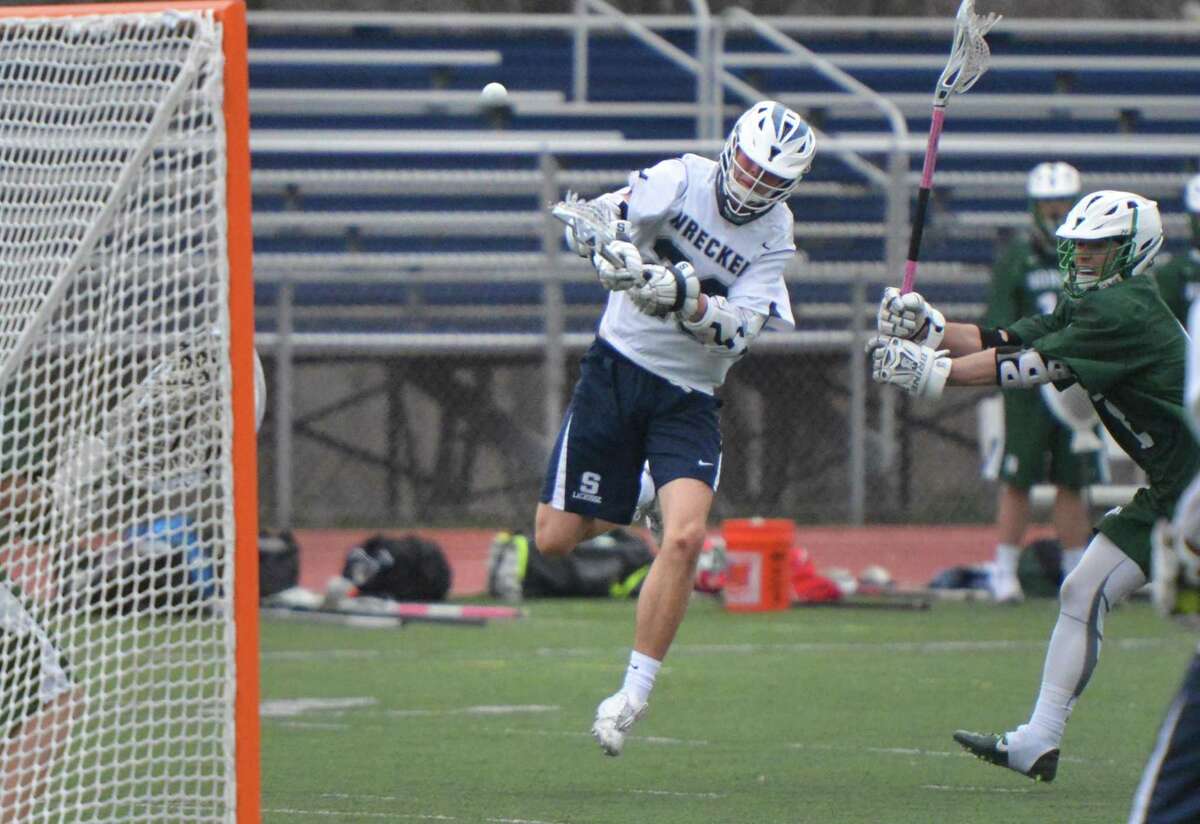 WESTPORT — Staples boys lacrosse continued its scorching hot start to the season with its sixth straight win Thursday evening, an 18-2 victory over Norwalk.
"It's really awesome," senior goalie Matt Garber said. "Last year, we got off to a slow start, lost some close games, this year it feels like we're rolling into our big games coming up soon."
Garber, who kept the Bears offense at bay for the entire first half, also pinched in on the offensive end, scoring one of the Wreckers' 18 goals with a coast-to-coast finish in the first quarter.
"It's something I've kind of been dreaming about for a couple of years now," he said. "It's kind of a goal of mine to get a goal in a varsity game. I saw the groundball after the save and saw it was there for the taking, everyone was really pumped up about it. I think I was probably the most pumped up about it."
Along with the goal from Garber, Staples was able to get two goals each from Dobson Cooper, Max Eigen and Matt Bidgood.
"The team morale is great," Wreckers coach Paul McNulty said. "Last year, we lost some of those tough games, but the team morale was still good. We have to win every practice; if you don't win every practice, you're not going to do well in the game. You have to go out and take control of the game right away and they did that. Play as hard as you can right from the beginning."
Norwalk struggled against the tough defense from the Wreckers, but coach Glenn Adams said the Bears were still able to get several positives from their play.
"There was several things we wanted to work on," he said. "I wouldn't say they took us out of what we wanted to do. Offensively, we did a great job of possessing it when we had it, we wanted to make sure when we got it we had longer offensive possessions and I think we did a good job of that. We got off a lot of quality shots there."
The Bears were at a bit of a disadvantage losing a number of faceoffs that made it difficult throughout the game, Adams said.
With the win, Staples continues to roll as it enters the meat of the schedule with matchups against Ridgefield and Trumbull still looming. McNulty said taking care of the ball is going to be key in keeping the great start going.
"We're going to have to do a little better running our offense with throwing the ball away," he said. "That's what we're going to have to do against the better teams. And also we've got to get that groundball the first time."
DEFENSE LEADING THE WAY
Staples has held opponents to eight goals in its last three games and 21 all season.
STAPLES 18, NORWALK 2
NORWALK0 0 1 1—2
STAPLES9 2 4 3—18
Records: Norwalk 1-3, Staples 6-0. Scoring: N—Dale Donovan 1g, David Lamb 1g; S—Matt Bidgood 2g, Peter Ciquera 1g, Nico Rossi 1g, Dobson Cooper 2g, Max Eigan 2g, Jack Nealon 1g, Matt Garber 1g, TJ Lynch 1g, John Fitzpatrick 1a. Goalies: N—Patrick Ruther (8 saves), Hunter Ricci (1 save); S—Matt Garber (2 saves), Ben Howard (2 saves). Shots: M—7; S—32