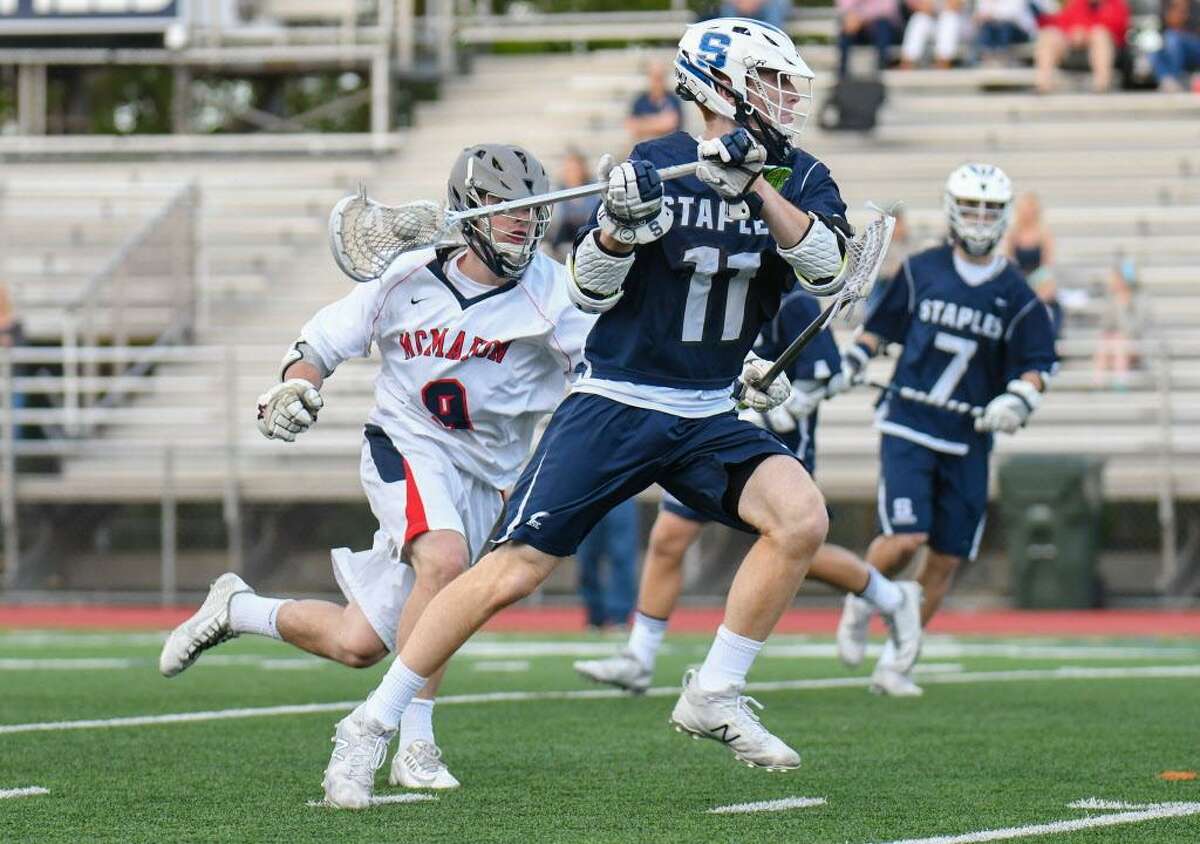 WESTPORT — As the raucous music blasted through the doors of the boys locker room behind Staples Stadium, a great deal of cheering and yelling could also be heard just outside.
An all-too-familiar sound that the Staples boys lacrosse team has become accustomed to since starting the season undefeated. Wreckers coach Paul McNulty said an opening-game scare helped to set his team on this path.
"We started the season out with Bronxville," he said. "(They) beat us last season and we had a comfortable lead headed into the fourth. But they're a good team in Westchester, and they got six goals in the fourth. We held on, but it was a good lesson."
The Wreckers did indeed manage to hold on against the out-of-state opponent, and since getting back home Staples has not missed a beat, outscoring opponents 57-14 with four wins coming into Tuesday night.
It has been a testament to the unselfish play that has become the status quo for the lacrosse program, McNulty said.
"You're playing through the team," he said. "Not yourself. It's a tradition. They know that's the way we want you to play and that's how you're expected to play."
In a conference that boasts some of the toughest teams in the state, having a sound foundation is key, and Staples has managed to do just that.
"That Staples is a tremendous program," said McMahon coach Jon Dana after the Wreckers' 15-2 win over the Senators last week.
The Wreckers have jumped out to early success without their top player.
Senior midfielder Evan Zinn finished last season with a team-high 40 goals and 35 assists en route to being named all-state and all-FCIAC, but has been sidelined with a hand injury and will be out for a couple of weeks.
Coming into the season, the Johns Hopkins commit was set to lead the Wreckers, but they have been able to remain hot even without him, thanks in part to several key players including Matt Bidgood, Matt Garber, Patrick Ciquera and Dobson Cooper.
In doing so, Staples wants to put the rest of the conference on notice of one thing, Bidgood said.
"We're not just one guy," he said. "We have to expose all of our individual skill."
Although the offense has been thriving, and will likely continue to do so once Zinn returns, the Wreckers have also made their mark on the other side of the ball.
"Our defense is just fantastic this year," Bidgood said. "We've got a couple of seniors back there who have been waiting four years for this opportunity to show their stuff. They're all big guys and just fantastic defensemen."
As the season continues, coming to work every day with the same intensity will be key for Staples. Tough workouts have helped to set that tone, McNulty said.
"We have a competition at practice nearly every day," he said. "And for the team that wins, it was like we won the championship. That helps having a positive attitude. We have a group that really like each other."