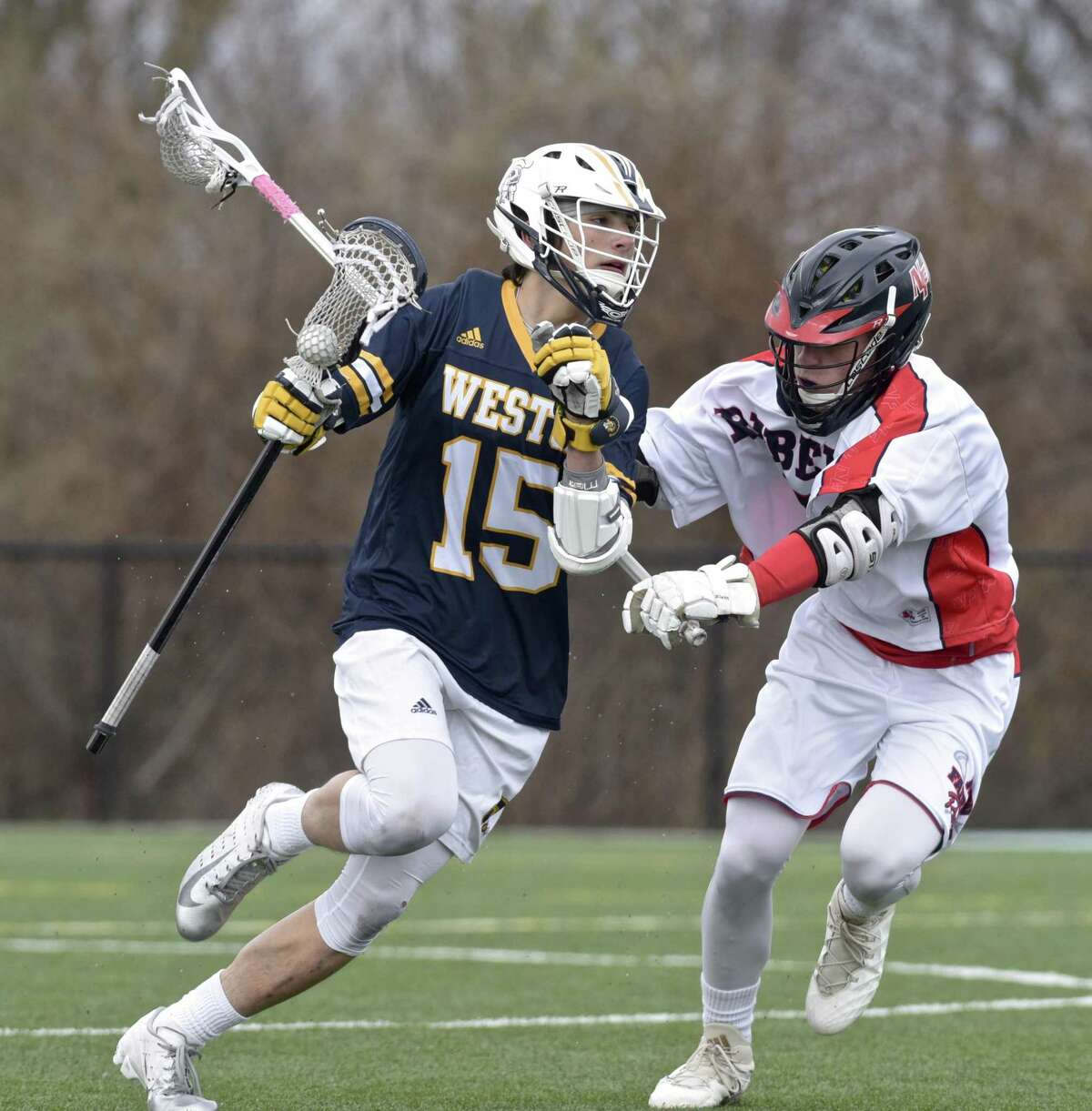 A six-game winning streak, including Saturday's 9-6 win over Guilford, has Weston back in the GameTimeCT Top 10 at No. 8 this week.
The Trojans only graduated a couple of seniors but still had lots of younger players contributing. Still, their seniors have stepped up, coach Josh Thornton said, players like Greyson Collins, Matt Scott and Ryan Werner in assorted roles.
"Looking at the team, we're playing how we should be," Thornton said.
The Trojans are 11-2 going into Thursday's showdown at Barlow, a rivalry game, a game that could set seeding in the SWC and a game at which the teams will honor and raise money for Mary Socci, the Newtown girl battling brain cancer who is the daughter of lacrosse referee Lew Socci.
Weston's losses came back-to-back in mid-April, a 17-4 loss to No. 5 New Fairfield after a penalty-filled 9-5 loss to Newtown. Those are the two teams ahead of the Trojans in the SWC standings.
Since then, they've taken care of their business, including a win over then-No. 8 Guilford, which dropped into a tie for ninth in this week's poll.
"Our D played really solid on their guys," Thornton said, adding that junior Julian Caplan was on Guilford's All-American attackman John DeLucia. "The only goals they got were kind of unsettled situations."
A third-quarter run got the Trojans some breathing room in a game that moved them ahead of Guilford (10-2) in the Class M rankings.
Several players have contributed offensively, Thornton said.
"James Goetz is probably one of the more underrated guys, outside the coaches who play us," Thornton said of the junior midfielder. "He's not the one putting up a lot of points, but he does so much that gets our offense going."
ANGELIC DEVILS
West Haven had hovered around .500 the past few years. In 45 years, coach Patrick Reed said, the Blue Devils' highest win total in a season was nine.
So this 10-2 start, with wins in the past seven, is historic already, though the Westies hope it doesn't stop there.
"In my 12 years, this is the most positive, bought-in group I've had," Reed said.
Some of that comes from senior attackman Niko Kyle.
"He's very calming for us," Reed said. "We were really kind of struggling in the preseason, and we gave him the reins. … He took that leadership role."
Nik Camara and Steve Moran, a couple of big seniors who can handle the ball, anchored the defense in front of junior goalie Kevin Moriarty.
"He's the best goalie that I've seen this season. He's been amazing," Reed said. "He saves us a lot."
The two losses came against the two SCC Division I teams on the Blue Devils' schedule, Xavier (16-1) and Notre Dame-West Haven (14-6). They've got another big test coming Wednesday, when Branford (9-4, five wins in a row), featuring Air Force-bound midfielder Robbie Lionetti, comes to Ken Strong Stadium.
ROAR, LION
Another program record falls: Foran junior Ethan McVoy's eight-point night Monday against Sheehan gave him the school's scoring record.
McVoy has 83 goals and 62 assists for 145 points. Jonathan DePascale, Class of 2015, had 79 goals and 62 assists for 141.
FELT SO GOOD …
Tip of the cap to first-year program Enfield, which earned the program's first varsity win on April 30, beating fellow first-year program Capital Prep 6-5. It worked so well, the Eagles beat Bristol Eastern a day later, 8-2.
Enfield is 2-8 with three games remaining.