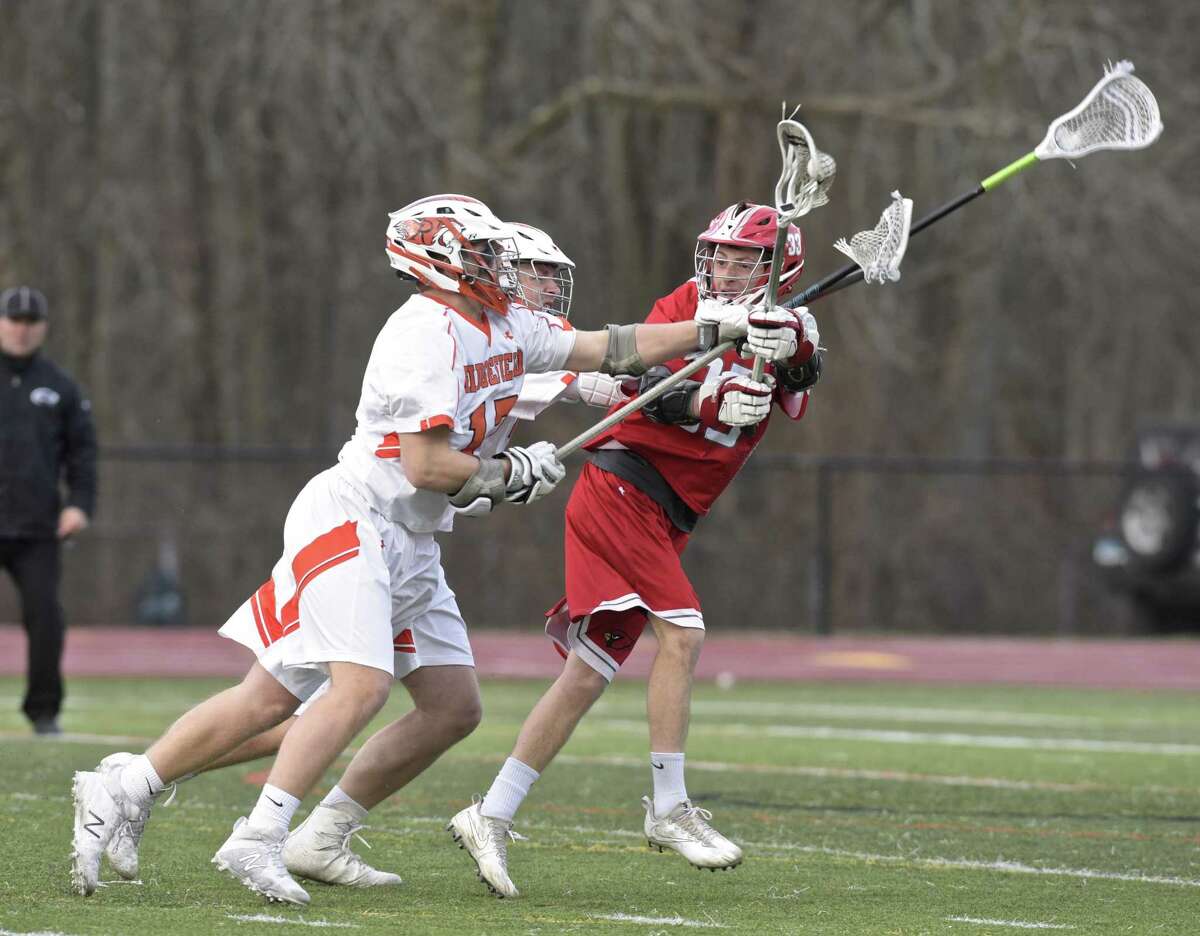 RIDGEFIELD — The Ridgefield High School boys lacrosse team couldn't have scripted a better start to its season.
The Tigers clawed their way back from an early deficit to defeat Greenwich 13-8 in a rematch of last year's FCIAC semifinals, which Ridgefield also won. Ridgefield out-scored Greenwich 8-3 in the second half to pull away.
"Greenwich is a good team, it's a good rivalry, and we're just happy to grind out a hard-fought, defensive win," said Ridgefield senior attackman Reid Kagan, who scored five goals, including an acrobatic tally from close range that put the Tigers ahead by four with 3:14 remaining. "We're really happy, but we've got a lot of work to do, and we're excited to do that."
Dawson Muller added three goals and two assists for Ridgefield (1-0), while Weston Carpenter had three goals and an assist, James Isaacson had two goals and an assist and Noah Gels distributed four assists. Goalie Daniel Parson made 10 saves to secure the win.
"Our defense played great, and Dan Parson stood on his head in goal," Kagan said. "Offensively, we were able to get that chemistry going a little bit. Everyone stepped up and had a great day. We really emphasized toughness for this game, and I thought we came out on the tougher side."
Freshman Leo Johnson led Greenwich with two goals and two assists, while Jack Feda had two goals and one assist, Lance Large scored two goals and Matt Baugher and Matt Davey each scored one goal. Goalie Connor Santry made nine saves.
"It's early in the season, and they're working out some stuff and we're working out some stuff," Greenwich coach Bobby Lutz said. "This early in the season, there are weaknesses that they were able to expose."
TURNING POINT
The Cardinals were flying early on with a 5-2 lead late in the second quarter. However, a three-goal Ridgefield outburst in the final minutes of the half tied the game at 5 at the break. Kagan potted the tying goal off a feed from Carpenter with 15.8 seconds to go — moments after a big save by Parson at the other end.
After trading goals early in the second half, Ridgefield scored four times in less than four minutes to take a 10-6 lead with 1:46 remaining in the third quarter. The Cards never came closer than three the rest of the way.
ALL GUTS, NO GLORY
Possession is critical in lacrosse, obviously, because only the team with the ball can score and can dictate the tempo. So, faceoffs are an important — yet sometimes overlooked — aspect of the game. Ridgefield senior defenseman Chris D'Entrone has embraced the thankless job of mucking it up in the trenches on faceoffs, and did quite well at it Tuesday, winning the majority of the draws.
"He's a wrestler, so he knows what the man-to-man matchup is all about," said Ridgefield coach Roy Colsey, who noted that the addition of assistant coach Jim Philbin, whose sons were both faceoff specialists for the Tigers, has helped in that department. "I was proud of him. It was nice to see the hard work he's been putting in pay off tonight."
RIDGEFIELD 13, GREENWICH 8
GREENWICH 2 3 2 1 — 8
RIDGEFIELD 1 4 5 3 — 13
Records: Greenwich 1-3; Ridgefield 1-0. Scoring: G—Leo Johnson 2 goals, 2 assists; Jack Feda 2g, 1a; Lance Large 2g; Matt Baugher 1g; Matt Davey 1g. R—Reid Kagan 5g; Noah Gels 4a; James Isaacson 2g, 1a; Dawson Muller 3g, 2a; Weston Carpenter 3g, 1a. Goalies: G—Connor Santry (9 saves); R—Daniel Parson (10 saves). Shots: G—32; R—31.