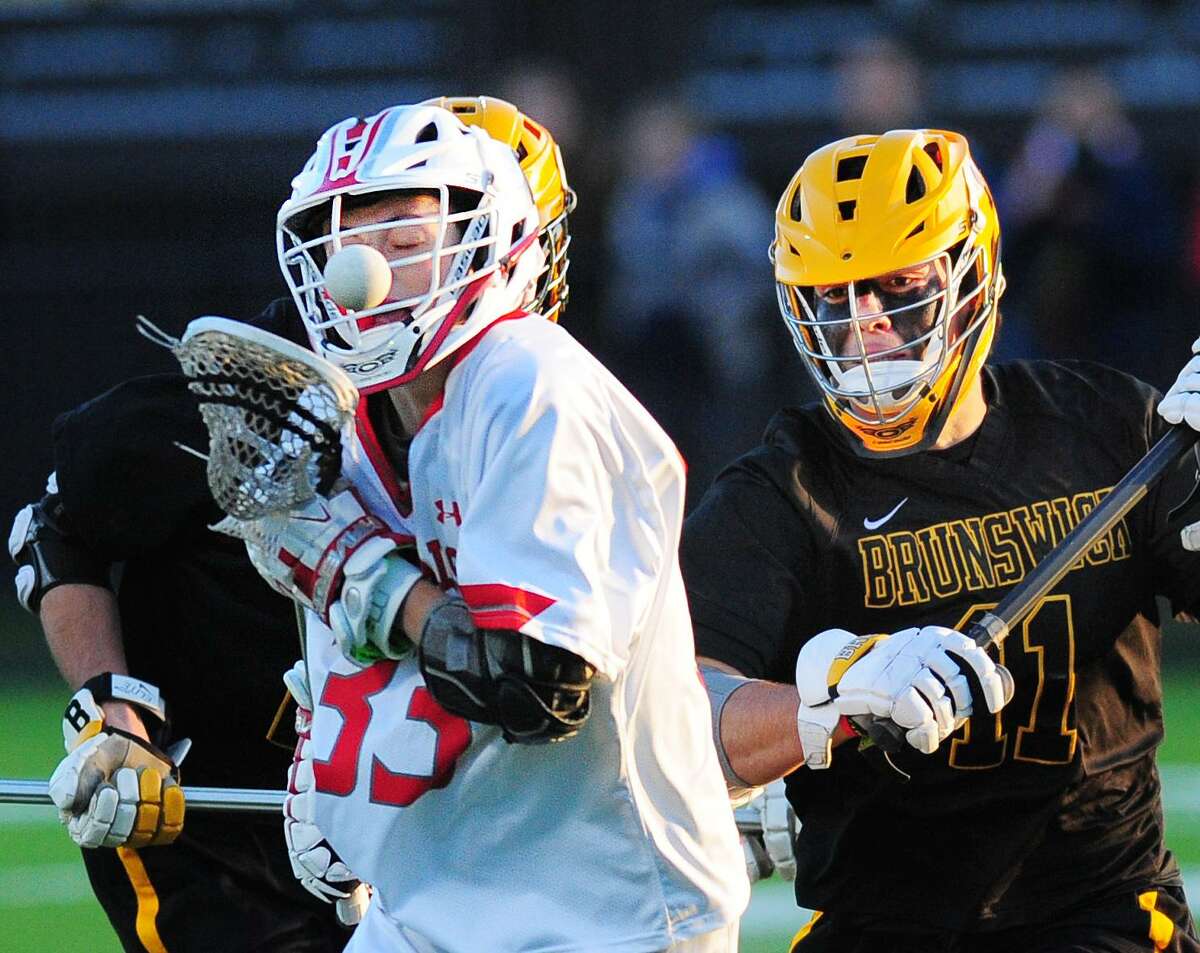 GREENWICH — Opponents of the Brunswick School lacrosse team learn quickly that their possessions will be few and far between with Jordan Ginder manning the faceoff-X.
Such was the case during Friday night's long-awaited showdown between the Bruins and Greenwich High School, as the Cardinals barely had possession, thanks to Ginder — a faceoff specialist who is rarely denied.
And when the Bruins enjoy such a big possession advantage, they will make you pay.
Senior attackman Xander Dickson recorded a hat trick with one assist and junior attack Christian Ronda scored three goals to pace Brunswick in its convincing 17-5 win over Greenwich at blustery Cosby Field in the first meeting of the teams since 2010.
The victory was the Bruins' sixth by double digits and raised their record to a perfect 8-0. Jack Montinaro and Jack Ocken, both senior midfielders, each tallied twice for the Bruins, the third ranked team in the nation.
"It's a great rivalry that should happen year after year," Bruins coach David Bruce said. "We are winning games because of our ball movement, our ability to win faceoffs and getting to a lot of those 50/50 ground balls."
Ginder won 18 of his 19 faceoff attempts and Brunswick won all but five faceoffs, overall.
"You can't score if you don't have the ball and they just dominated the faceoffs," Cardinals coach Bobby Lutz said. "The third quarter we may have had the ball one minute the whole quarter. They scored four goals, which is fine, but you can't score if you don't have possession."
Freshman attack Leo Johnson had two goals and two assists, while senior attackman Matt Baugher scored twice for the Cardinals (5-4), who trailed 4-1 after the first quarter and 9-3 at halftime.
Brunswick Scores 17 Aagainst Greenwich High 4/20/18 from LocalLive Networks on Vimeo.
FIRST HALF
The Bruins scored the game's first four goals, with junior midfielder AJ Delgado, Dickson, Ocken and Ronda each tallying. Delgado's goal came 53 seconds into the first quarter. Johnson cut Brunswick's lead to 4-1 when he scored at the 1:11 mark of the opening quarter.
Dodging from behind the net, Dickson snapped a shot past GHS senior goalie Connor Santry, making it 5-1 with 9:57 to go in the second quarter. After Ginder won the ensuing faceoff, the home team struck again, as Michael Gottlieb scored off a dodge, putting Greenwich in a 6-1 hole.
Making the Cardinals play defense throughout, Brunswick finished a long possession with a goal off the stick of sophomore Michael Mauricio to seize a comfortable 7-1 advantage with 7:47 remaining in the second quarter. Ronda and Montinaro also converted shots during the second quarter, while Baugher and Johnson scored for the Cards.
"We came out and played well, scoring the first four goals," Bruce said. "Then we got a little sloppy and they put a couple in. We were nervous at halftime, because a couple more bad passes on our side, would help them crawl back into it."
SECOND HALF
The Cardinals weren't able to get back into this matchup, as the Bruins had the ball practically the entire third quarter. They outscored Greenwich, 4-0, in the third stanza to open a 13-3 lead.
When Greenwich did have possession, Brunswick's defenders and goalie Patrick Burkinshaw were up to the task. A senior, Burkinshaw made four saves, before being replaced by Will Prout in the final quarter.
"Their goalie is so good, so if a team like that has a guy in every spot, you can't expose weaknesses," Lutz said. "You play games like this so you can play at a much faster pace and a higher level. It was like playing a college team — you've got to learn from it."
PLAYERS OF THE GAME
Ginder was once again, brilliant at the faceoff-X.
"He (Ginder) allows us to take risks and be confident with our passes, because we know we have Ginder there to get us the ball back 90 percent of the time," Dickson said.
Senior Greyson Wolfram assisted on two goals and helped anchor the Bruins' solid midfield play.
"As a senior, Greyson has really come into his own," Bruce said. "He is one of a bunch of seniors that is playing a big role for us."
Santry hung in there in goal for GHS, making 12 saves. Senior long stick midfielder JT Lawrence made his presence felt throughout.
"Their transition goals and their ability to get to ground balls is what made the difference," Lawrence said. "Their shot selection was good and you have to give it to Ginder — he is the best faceoff man in the country. It was definitely a learning lesson for us against the top three team in the nation."
QUOTABLE
"It is a fun rivalry, we know everyone and it's nice to come out and play different jerseys," Wolfram said. "Offensively, the first quarter we were sloppy and we were not playing our game, but the second half, we really focused and we started to play our game."
BRUNSWICK 17, GREENWICH 5
GREENWICH 1 2 0 2 — 5
BRUNSWICK 4 5 4 4 — 17
Records: Greenwich 5-4; Brunswick 8-0. Scoring: G — Leo Johnson 2 g, 2 a; Matt Baugher 2 g; Jack Feda 1g; Matt Davey 1 a; B — Xander Dickson 3 g, 1 a; Christian Ronda 3 g; Jack Montinaro 2 g 1 a; Jack Ocken 2 g; AJ Delgado 1 g, 1 a; Lucas Delgado 1 g 1 a; Coulter Mackesy 1 g, 1 a; Greyson Wolfram 2 a; Michael Mauricio 1 g; Michael Gottlieb 1 g; Brody Firestein 1 g, Owen Matthews 1 g; Harrison Caponiti 1 a; Brennan Troy 1 a; Goalies: G — Connor Santry (12 saves); B — Patrick Burkinshaw (4 saves), Will Prout (3 saves.