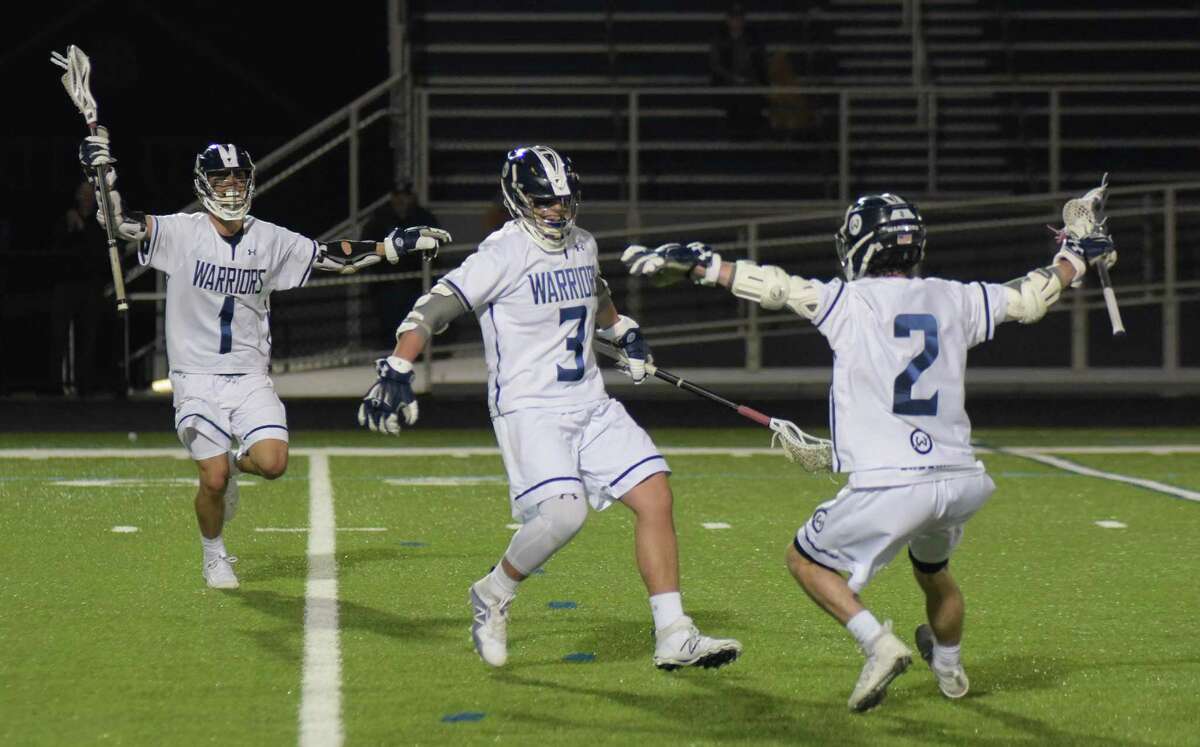 WILTON—The Wilton boys lacrosse team has had some issues playing a full game this season.
On Saturday night while hosting Staples, though, the Warriors put together perhaps their best 48 minutes of the season, defeating the Wreckers by an 11-6 score at Fujitani Field.
"Obviously, they're jacked up, but a win is a win is a win," Wilton coach John Wiseman said. "We're just trying to build and get better every day and that's what we're finally doing."
Brian Calabrese (3 assists), Dean DiNanno (1 assist) and Nolan Quinn scored two goals each to pace a balanced attack for the Warriors.
Joe Murtha added a goal and two assists while Connor Drake and Ryan McDermott had one goal and one assist each.
Chris Sweeney and Liam Sullivan tallied solo goals while Gaston Acosta Rua had an assist.
Goalie Andrew Calabrese made eight saves.
Wiseman and his coaching staff have been trying to get his team play a full 48-minute game after some early season inconsistency, and following up the Warriors' win over John Jay earlier in the week, the team did it again against the Wreckers.
"We had some frustration early in the season," Wiseman said. "We know what we're capable of and we've only shown it for 36 minutes in a lot of cases. What we've been focused on is 48. Everything we do is 48. We played 48 minutes tonight. We played really, really good."
The Warriors improved to 6-4 on the season with its third straight win.
KEY MOMENT
Wilton jumped out to a 3-1 first quarter lead and increased the advantage to 7-3 at halftime .
Staples—courtesy of goals from Cole Brockwell and Evan Zinn—cut the lead down to 8-5 with 4:48 left to play, but Wilton went for the jugular.
Ryan McDermott scored off a Joe Murtha assist withi 4:22 to play and, six seconds after winning the faceoff, Wilton's Chris Sweeney scored to push the Warriors lead to 10-5.
WRECKERS DIDN'T CLICK
Staples might not have played their best game against the Warriors, but coach Paul McNulty wasn't overly worried about the bump in the road.
"Our first goal is to get a home playoff game and we also want to win our division and we're still on track to have a shot at that," McNulty said. "Our guys played hard. Things went wrong that were our fault, but it was Wilton's fault, too, because they're that good."
For Staples, Zinn potted four goals. Max Lonergan and Brockwell added single goals while Nico Rossi and Matt Bigood had assists. Matt Garber made 14 saves for Staples, which slipped to 9-2.
PLAYERS OF THE GAME
Wilton's defense. The Wreckers came into the game averaging 12 goals a game, but was limited to half their output by the Warriors.
"We were all working together and it's a really strong unit," Wiseman said. "And we didn't have a man-down situation at all today."