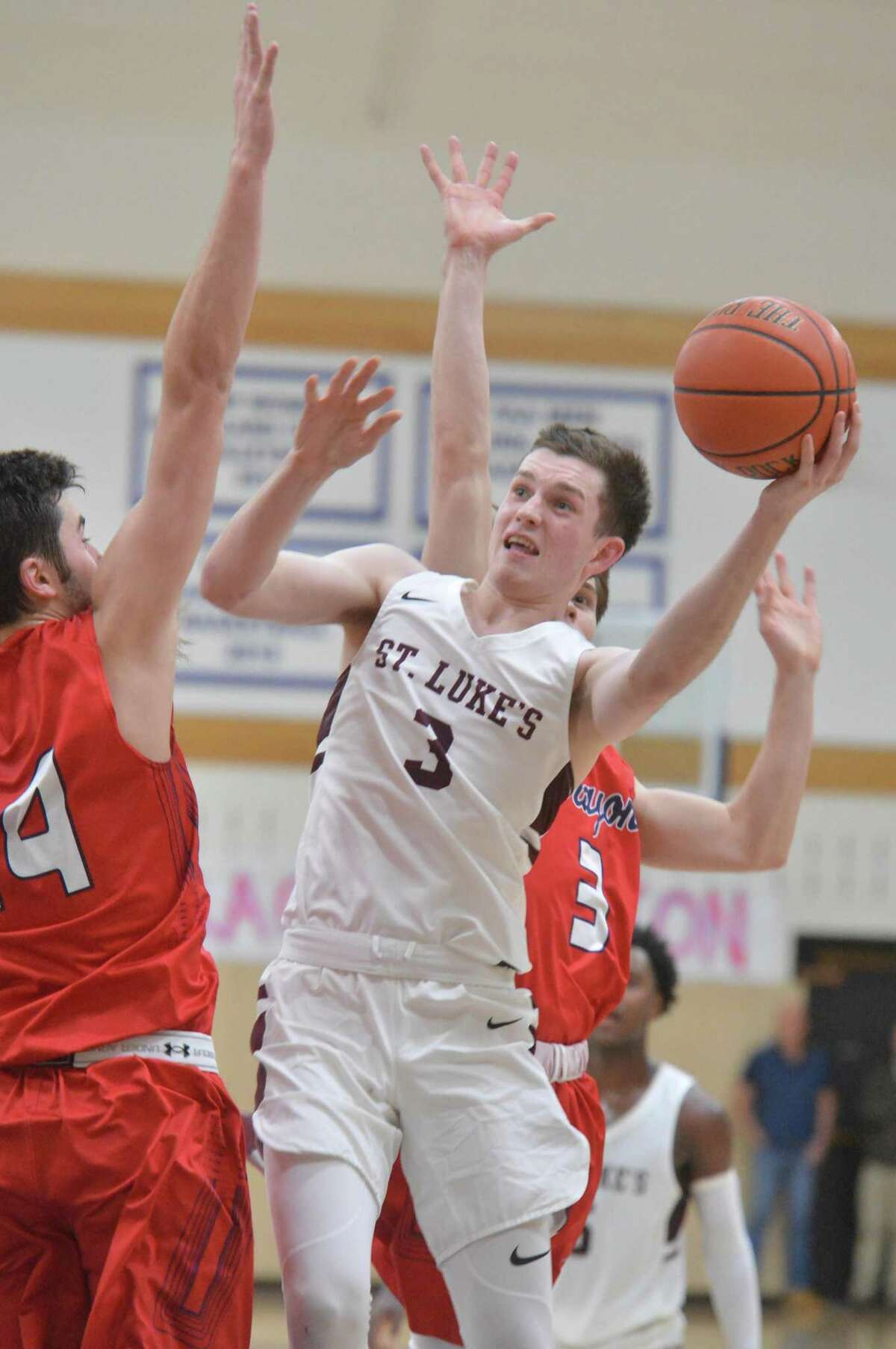 WESTPORT — The matchup between St. Luke's and Greens Farms Academy was tightly contested throughout, but the Storm would pull away from the Dragons en route to a 81-69 win.
"All we've really been talking about (is) defending," St. Luke's coach Tony Newsom said. "Making sure that we're playing great defense and guys are making contested two-point shots."
The Storm hounded the GFA guards and interior making it difficult for the Dragons to get into any offensive rhythm, especially in the second half.
"I probably screwed up and left my guys in and they got a little tired," GFA coach Doug Scott said. "Then it became not crisp. There were some things we intended to run and we just didn't"
Cole Prowitt-Smith led the way for the Dragons with a team-high 21 points, but each shot the Dragons made was more difficult than the last.
While the St. Luke's defense made things hard, the offensive side of the ball was led by Jonas Harper.
Harper slashed through the defense, finishing with a game-high 27 points.
"They play hard everyday," Harper said. "We had to match their intensity and just come together on free throws and timeouts. And just stay composed when they go on the runs."
PLAYER OF THE GAME
Harper. The guard sliced through the GFA defense like a hot knife through butter all game long to set up both himself and his teammates.
QUOTABLE
"We just tried to key in on those special players and try and get them to make tough twos." — St. Luke's guard Jonas Harper said after the Storm's 81-69 win over Greens Farms Academy on Thursday night.
ST. LUKE'S 81, GREENS FARMS ACADEMY 69
ST. LUKE'S 35 46—81
GREENS FARMS ACADEMY 33 36—69
ST. LUKE'S (13-5)
Jonas Harper 10 5-6 27 Jah'khi Washington 3 2-4 10 Jackson Ryan 3 9-10 17 Andrew Varoli 2 2-2 7 Scott Volmer 0 2-2 2 Cole Bryant 5 1-1 13 John Wisdom 0 1-2 1 Jackson Selvala 1 2-3 4 Totals: 24 24-30 81.
GREENS FARMS ACADEMY (12-8)
Cole Prowitt-Smith 7 3-5 21 Greg Lawrence 6 5-9 19 Henry Holzinger 7 2-2 21 Bennett Close 1 0-0 2 Teddy Brown 1 0-0 2 Max Mitchell 0 0-0 0 David Basich 0 2-2 2 Jack Seegers 0 2-2 2 TJ Holloway 0 0-1 0 Totals: 4-11 92.
3-pointers: STL—Harper 2, Washington 2, Ryan 2, Bryant 2, Varoli ; GFA—Prowitt-Smith 4, Holzinger 5
Technical Foul: GFA— Prowitt-Smith