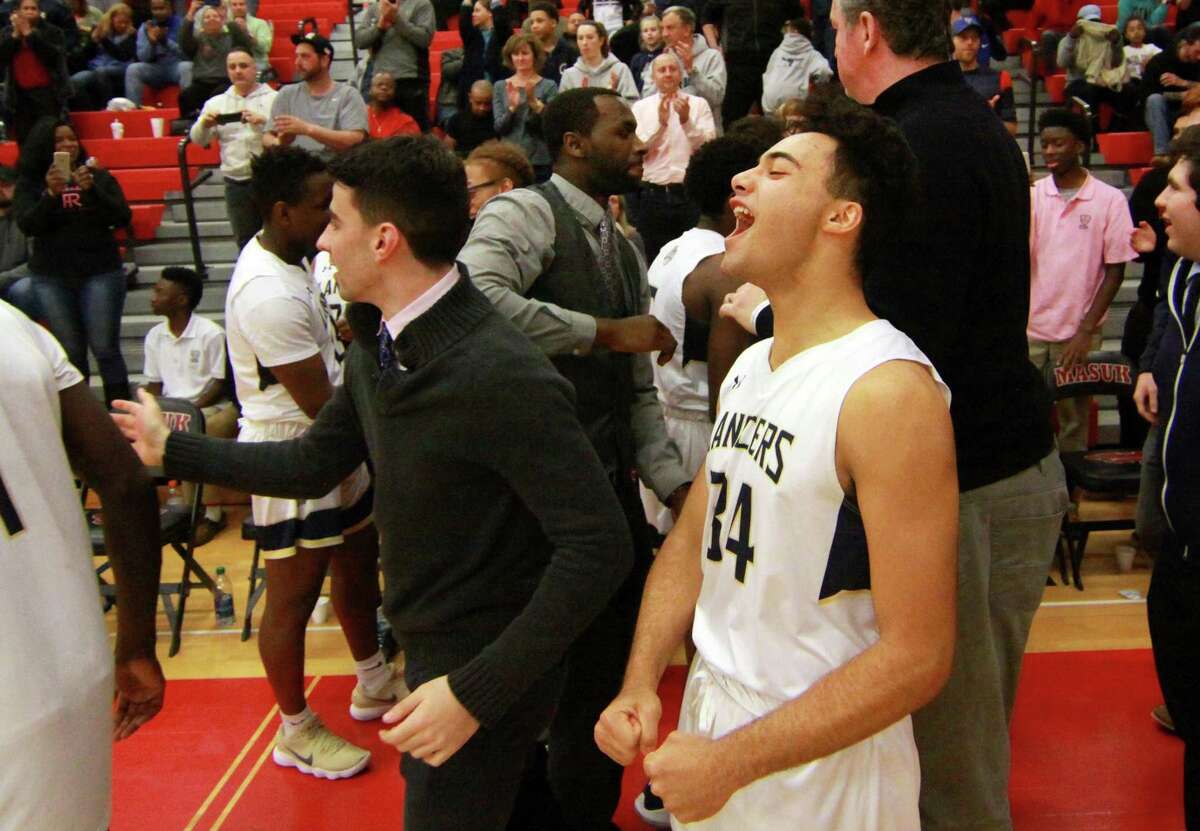 MONROE — After an admittedly poor defensive effort in the SWC tournament semifinals Tuesday against Brookfield, Notre Dame-Fairfield was determined to bring back the intensity in Thursday night's championship game against Immaculate.
And like they've done throughout this perfect season, the Lancers brought the pressure. They dominated the backboards, controlled the momentum and led wire-to-wire in a 72-61 victory for its third straight SWC championship.
"We knew we had to pick the defense up," junior guard Josh Reaves said. "Immaculate is a good team. They drive, they can shoot the ball and we knew if we didn't play defense, they were going to give us a game."
Racing out of the blocks, the Lancers never let the Mustangs get even a sniff of any positive vibes. Notre Dame took a double-digit lead after the first quarter, pushed that to 17 at halftime and 18 after three quarters as the Lancers improved to 23-0 and will play next on Wednesday in the second round of the Division I tournament. It was the Lancers fourth SWC title.
"It's a great feeling especially with what the team went through, with what I went through, I went through a lot," said Notre Dame's Noreaga Davis, who scored 18 points and was named the tournament's Most Valuable Player. "I lost my cousin in December. This one was for him. I've dedicated this season to him."
Back in December, Davis' cousin Khalil Davis was fatally shot and despite the hardship, Davis was determined to play as hard as he could over the rest of the season to honor his cousin's memory.
"It was a tough time for me and my family but I knew he wouldn't want to see me struggling." Davis said.
The All-SWC tournament team consisted of ND's Reaves and Tyler Bourne, Immaculate's Ronan Doherty and Mike Basile, Kolbe Cathedral's Anthony Senior and Brookfield's Connor Gruda.
With Davis getting on track offensively in the first quarter with six points and the Lancers controlling the glass, ND opened a 10-point lead after the opening eight minutes. With five different Lancers finding the scoring column in the second quarter, the lead grew to 35-18.
In the third quarter, it was Reaves' time to shine, scoring 11 points as ND went into the fourth leading 56-38.
"We wanted to slow it down but they got a nice lead on us and we had to change our focus, go to Plan B and that wasn't where we wanted to be and they took advantage of it," Immaculate coach Nelson Mingachos said. "They're so fast, the way they jump in the first half, the majority of their points came inside the paint. You can only do so much, you try and box out but they can jump so high."
Reaves scored 22, Woodley Monnexant had 11 points and 11 rebounds, Damion Medwinter had nine points and 10 rebounds, Rodney Medor added five blocks. Bourne scored just five points but handed out 10 assists, had five steals and defensively, held Immaculate's Basile to just four points.
"The guy Baslile is probably one of the best guards in the league and so Tyler sacrificed his points for defense," ND coach Chris Watts said. "Tyler did a great job on him. And on offense, he got people involved, he was talking a lot on the floor. He was just a leader on the floor."
PLAYER OF THE GAME
Josh Reaves. The junior scored 11 of his game-high 22 points in the third quarter as ND took control, opening an 18-point cushion heading into the fourth quarter and coasting to its third straight SWC tournament title.
QUOTABLE
"This game meant a lot. We were slow against Brookfield but after the game we got together as a team and talked about what we needed to do and we did it. We had to get good start because once we get going, it's hard to stop us." – ND-Fairfield forward Noreaga Davis
NOTRE DAME-FAIRFIELD 72, IMMACULATE 61
IMMACULATE (18-5)
Isaiah Payton 7 2-4 18, Michael Basile 1 2-3 4, Jack Woods 6 0-0 14, Partick Iannetta 0 0-0 0, Quinn Guth 5 4-5 15, Joseph Rios 1 0-0 2, Sean Guiry 0 1-2 1, Ronan Doherty 2 0-0 4, Christian Johnson 0 0-0 0, Jack Guiry 0 0-0 0. Totals: 22 9-14 61
ND-FAIRFIELD (23-0)
Damion Medwinter 4 1-2 9, Woodley Monnexant 4 3-4 11, Xavier Giddens 0 0-0 0, Micah Brantley 1 0-0 3, Mubarack Soluemane 0 0-0 0, Noreaga Davis 7 3-4 18, Rodney Medor 0 0-0 0, Josh Reaves 8 6-7 22, Tyler Bourne 2 1-2 5. Totals: 26 14-19 72
IMMACULATE 10 8 20 23—61
ND-FAIRFIELD 20 15 21 16—72
3-pointers: I – Payton 2, Woods 2, Guth, Echavarria; ND-F – Davis, Brantley
Updates every minute –
View full tournament