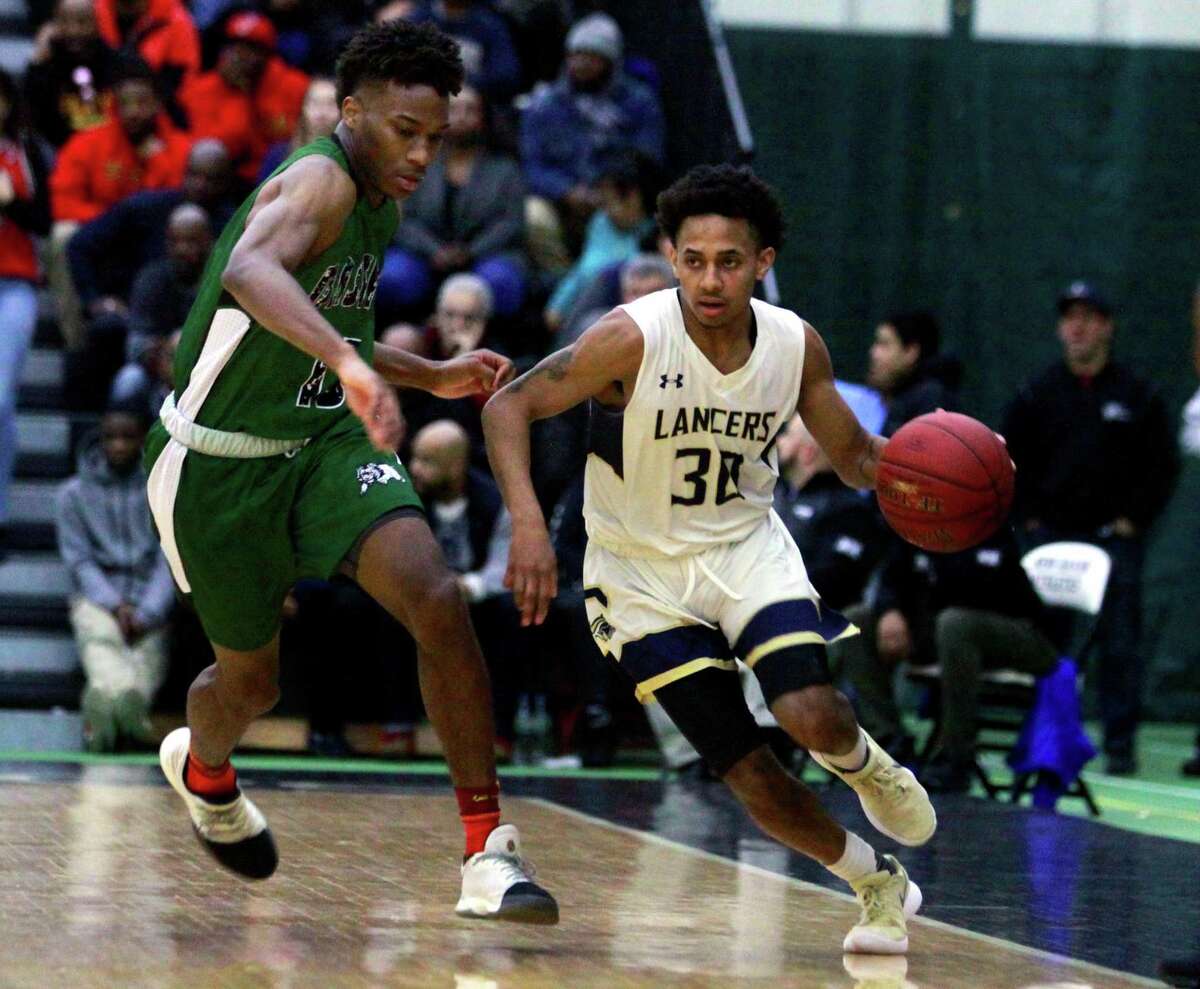 NEW HAVEN — Micah Brantley took his hand and cleaned off the pre-game instructions that had been written on the white board that hung in the Notre Dame-Fairfield locker room. Then, he took a marker and wrote three words:
Sunday. One Mission.
Notre Dame-Fairfield coach Chris Watts has said all season long that the Lancers are writing a book, each game being a chapter. Taking pen to hand, ND finished chapter 26 with an artistic flourish, rolling past Bassick 71-56 Thursday night at the Floyd Little Athletic Center to punch its ticket to the Division I championship game Sunday at 6 p.m. at the Mohegan Sun Arena.
"Leading up to this, we're letting the kids know that they're writing history," Watts said. "The simple fact that they've been so successful throughout the season, being able to defeat every opponent. Every single game has been a chapter. Now, we're going to be able to write the last page and the guys are going to be able to write it any way they want."
The Lancers, 26-0, will take on a familiar foe — Sacred Heart — the same team that defeated ND in the championship game the last two seasons, once in Class L and once in Class M. Sacred Heart rallied to defeat Windsor 59-58 to get back to the title game.
"They're a good team, we know that, but we're trying to win," senior forward Noreaga Davis said. "That's the goal."
Who will win the Division I Boys Basketball Championship?
Notre Dame-Fairfield 26-0

Sacred Heart (24-2)
Total Response: 434 Votes
Loading ...
Notre Dame-Fairfield will be making its fourth straight trip to the CIAC state championship game — looking to win for the first time — after breaking away from a tight halftime encounter with Bassick. The Lancers led just 30-24 at halftime but opened the third quarter in a pressing 2-3 zone — totally disrupting the Lions offense, holding them to just nine points — as ND-Fairfield scored 23 to open a commanding 53-33 lead after three.
"I think our zone disrupted them. We didn't show a zone in any game so they didn't have a chance to scout the zone," Watts said. "We talked to a couple of guys and we felt that the zone would disrupt them and their shooting. We would rather have them beat us over the top than down in the paint."
After surviving in the quarterfinals, @NDFFLD brought their A game tonight against Bassick, defeating the Lions 71-56 in the @ciacbbb division 1 semifinals. #ctbb pic.twitter.com/OalxVc5Xwf

— CT Sports Now (@CT_Sports_Now) March 16, 2018
"We preach defense all year, that is what gets us going," said Davis, who hauled down 16 rebounds and had five steals. "We knew we had to lock down and we did. We just executed. That's what tonight was all about, execution, and we did it on the defensive end."
As Bassick stayed close throughout the first half, it was Josh Reaves that did his best to keep the Lions at arm's length, scoring 13 first-half points en route to a game-high 24.
"I just do whatever I have to do," Reaves said. "Try to find my spots and attack and be in attack mode at all ends."
Along with Reaves, Tyler Bourne had 14 points and eight assists and Woodley Monnexant had six rebounds and three assists. For Bassick, who's season ends at 21-2, Kevin Crawford had 19 points and Emery Linton added 13.
"It was one of those night's where nothing went right," Bassick coach Bernie Lofton said.
In that third quarter, as Notre Dame was taking command, that Lancers zone held Bassick to just four field goals as the lead jumped from six to 20.
"We've worked on the zone all season long in practice," Watts said. "We would play four against five and finally, last week, I put Tyler at the top of the zone and I told the guys, 'This is what's going to get us to Mohegan.' "
And it did.
"That has been the goal all year and we're going to try and finish that goal on Sunday," Reaves said. "I told the guys, this will be sweet revenge. We want revenge and we want to finish it off."
Notre Dame's final chapter will be written on Sunday.
"We want to go out and make it a good ending," Watts said.
PLAYER OF THE GAME
ND's Josh Reaves. The junior scored 13 points in the first half, keeping Bassick at bay, and added 11 in the second to finish with 24, helping to punch the Lancers' ticket to the state championship game for the fourth straight year.
QUOTABLE
"The seniors should be the most hungriest kids in the entire state because they've gone there (to the finals) three times, they haven't been successful and now we want the ring." – ND coach Chris Watts.
Notre Dame-Fairfield 71, Bassick 56
BASSICK
Kevin Crawford 4 11-15 19, Giovanni Santiago 0 0-2 0, Teron Griffin 2 1-3 6, Jace Darby 2 1-2 5, Qualon Wilkes 1 1-4 3, Emery Linton 3 6-8 13, Julio De Los Santos 0 0-0 0, Jaelin Gallimore 0 0-2 0, Jordan Gallimore 1 0-0 2, Isaiah Sullivan 0 0-0 0, Emanuel Rivera 3 0-0 8. Totals: 16 20-36 56
ND-FAIRFIELD (26-0)
Damion Medwinter 2 2-5 6, Dylan Wade 0 0-0 0, Woodley Monnexant 0 2-4 2, Xavier Giddens 0 4-4 4, Mubarack Soulemane 0 0-0 0, Micah Brantley 0 0-2 0, Noreaga Davis 3 1-1 7, Rodney Medor 2 0-0 4, Josh Reaves 9 5-7 24, Stone Appleberg 0 1-2 1, Tyler Bourne 4 5-6 14, Philip Conner 1 0-0 2. Totals: 24 20-33 71
BASSICK11 13 9 23 — 56
ND-FAIRFIELD15 15 23 18 — 71
3-pointers: B – Linton, Rivera 2; ND-F – Bourne, Reaves
The 2018 CIAC Winter Championship Weekend Schedule / Scoreboard