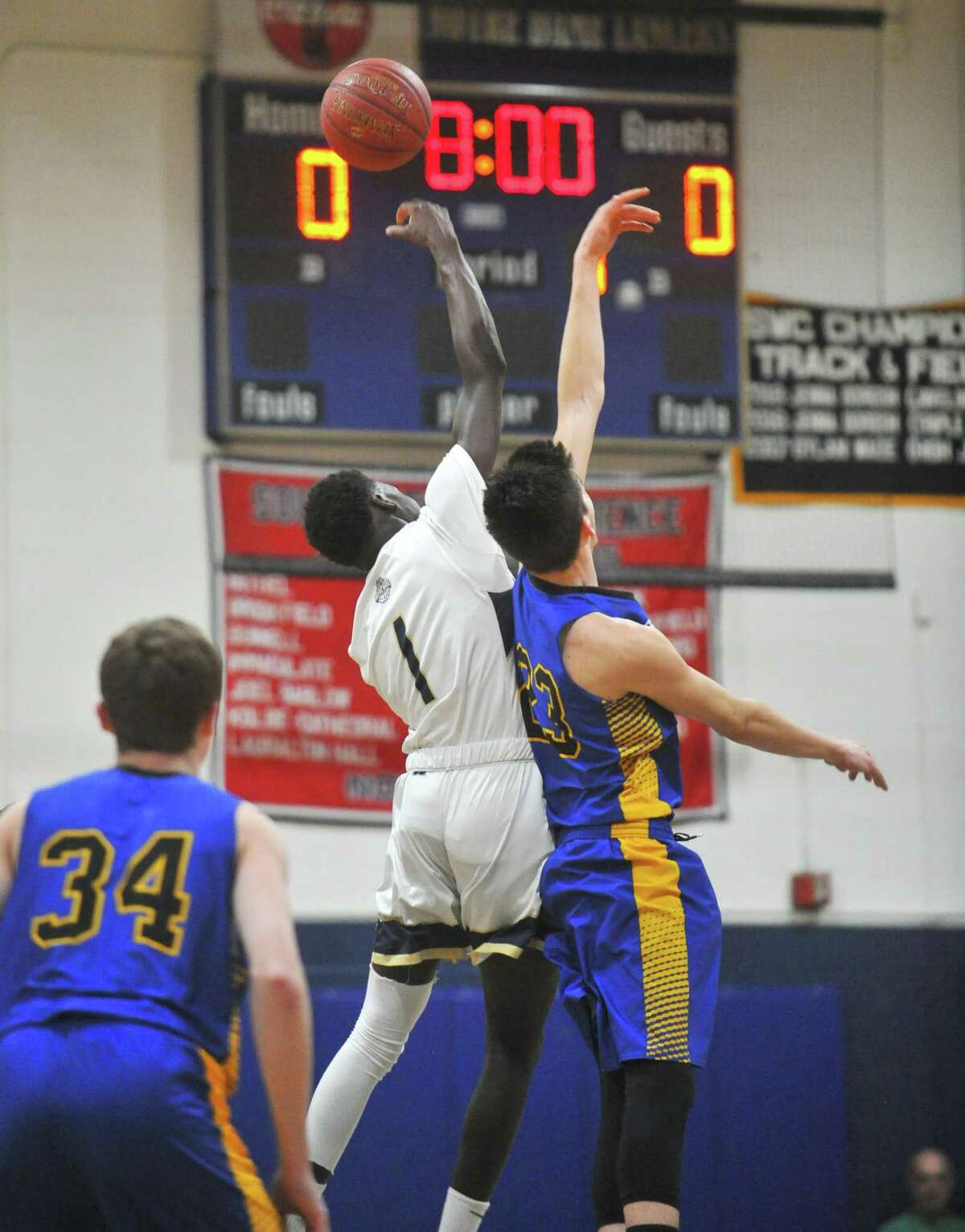 FAIRFIELD — The door to the Notre Dame-Fairfield locker room stayed closed for a long time. It's not every day that the coach of an undefeated team keeps his players behind locked doors but that's just what Lancers coach Chris Watts did.
Yes, they won but there was a message that needed to be sent. ND-Fairfield was literally one mistake from losing its first game of the season. On this night, Brookfield wasn't going anywhere. Just over a week ago, ND hammered the Bobcats by 34 but with the final seconds ticking down, Brookfield had two chances to send the game to overtime. They both missed.
So, Notre Dame-Fairfield survived and posted a 59-56 decision over Brookfield Tuesday night, putting them in the SWC tournament championship game for the third straight year. The Lancers, now 22-0, will face Immaculate on Thursday at 7 p.m. at Masuk High for the SWC tournament title.
But that championship appearance almost didn't happen.
"We wanted to have a certain intensity level but some guys got into early foul trouble because they were reaching, they weren't moving their feet, they weren't moving period," Watts said. "We got into foul trouble and then they started playing lax and that's when they (Brookfield) was able to do what they wanted to do."
After Josh Reaves (21 points) made two free throws with 12.4 seconds left, Brookfield had a chance at sending the game into overtime. Make that two chances but Kenny Blick's 3-pointer missed and then as the buzzer sounded Joseph Brown's 3-pointer also misfired.
"For the most part, the game went every way we wanted it too, except for the final score," Brookfield coach John Fleming said. "We weren't able to convert at the free throw line, that was the difference. We had a real hard time keeping them off the boards. They're so big and strong. We gave a great effort."
The Bobcats didn't even arrive at the ND gym until 20 minutes before tipoff because the bus driver was going to ND-West Haven before changing his direction. And while Brookfield might have been feeling some effects from 'bus lag' in the first quarter, ND-Fairfield was just as lackluster, leading just 11-7 after one and if it wasn't for Reaves making four 3-pointers and scoring 14 points, the Lancers six-point halftime lead (27-21) might not have been that big.
"We knew that last game, we didn't play very well and that we definitely needed to change the pace a little," Fleming said. "We knew we couldn't play those guys in the 80's, so the game plan coming in was try and take some time off the clock, try to control the pace and for the most part we did a really good job of that."
Brookfield led 41-40 after three quarters.
"I thought they did a good job of making us play defense," Watts said. "They waited for a good shot and when that opportunity was there, they took it and capitalized on it."
With the Lancers leading 51-50 with just over three minutes left, Damion Medwinter grabbed an offensive rebound and made the conventional 3-point play to give ND a 54-50 lead with 2:04 left.
"Damion and Woodley (Monnexant) got us over the hump tonight," Watts said. "Their rebounding and their aggressiveness … (assistant coach Marty Conlon) said that if everyone played as hard as Damion Medwinter plays all the time, we'd be in good shape. He's relentless every night. He does everything hard."
Along with Reaves' 21, Noreaga Davis had 11 and Medwinter and Tyler Bourne had 10. For Brookfield, Connor Gruda 16, Joseph Brown had 14 and David Walker had 11.
Now its on to the SWC championship. Notre Dame won the title in 2011, 2016 and 2017 and was runner-up in 2009, 2012 and 2015. Immaculate (18-4) won SWC titles in 1997 and 2012 and was runners-up in 2001 and 2016.
PLAYER OF THE GAME
ND's Damion Medwinter. Not only did he score 10 points but he grabbed 12 rebounds, including a huge offensive rebound for a put-back and a 3-point play with 2:07 left that gave the Lancers just enough breathing room.
QUOTABLE
"They were aggressive, that's all I can say. They come out and play hard that's what we needed and they stepped up big tonight. – ND's Josh Reaves on the play of Monnexant and Medwinter
ND-FAIRFIELD 59, BROOKFIELD 56
BROOKFIELD (14-8)
Zachary Ballard 1 0-0 2, Connor Gruda 6 3-5 16, David Walker 4 2-3 11, Jaichi Levi 0 0-0 0, Joseph Brown 7 0-3 14, Billy Oldham 1 0-0 3, Gavin Borges 0 0-0 0, Cameron Gleichauf 3 0-0 6, Kenny Blick 2 0-0 4. Totals: 24 5 -12 56
ND-FAIRFIELD (22-0)
Damion Medwinter 2 6-9 10, Woodley Monnexant 3 1-3 7, Xavier Giddens 0 0-0 0, Tyler Bourne 4 1-2 10, Josh Reaves 5 7-8 21, Noreaga Davis 5 1-3 11, Rodney Medor 0 0-0 0, Stone Appleberg 0 0-0 0. Totals: 19 12-15 59
BROOKFIELD 7 14 20 15—56
ND-FAIRFIELD 11 16 13 19—59
3-pointers: B – Walker, Oldham, Gruda; ND-F – Reaves 4, Bourne
Updates every minute –
View full tournament