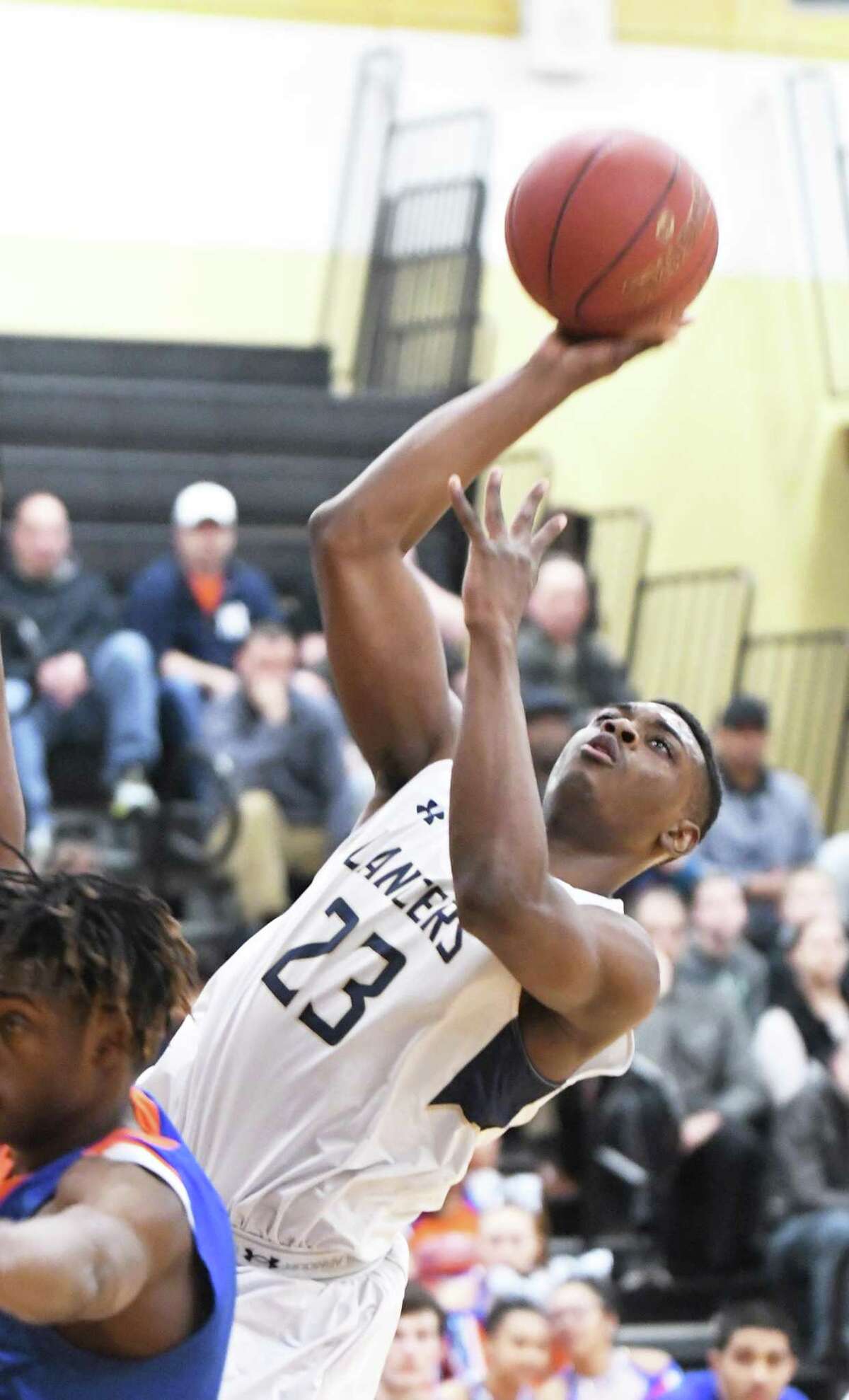 TRUMBULL — At the start of the fourth quarter with just eight minutes remaining in what was about to become a perfect season gone terribly wrong, Notre Dame-Fairfield guard Tyler Bourne gathered his teammates together and spoke from the heart.
The Lancers were losing. Losing big. Danbury's zone defense had given ND fits over the first three quarters and the Hatters had done everything right, leading by 21 points. On the other hand, nothing had gone right for Notre Dame.
In eight minutes, if things stayed the same, it would all be over.
Things didn't stay the same.
"There wasn't much to say," Bourne said. "We had to dig down and the tougher team was going to win."
Call it a comeback for the ages. Notre Dame, its season on the line, started fighting back. The Lancers, especially Bourne, started attacking the basket. It took four minutes to cut the 21-point deficit to single digits. Two minutes later, the margin was just three. A minute after that, the score was tied.
Notre Dame-Fairfield scored 37 points in the fourth quarter and 14 in overtime, and the Lancers somehow, someway pulled victory from the jaws of defeat, beating Danbury 76-70 in overtime Monday night at a sold-out Trumbull High School.
All of the action from NDs win over Danbury part two #ctbb pic.twitter.com/TSXt7tKJCu

— Ryan Lacey (@RyanLacey11) March 13, 2018
"Huge heart. No one quit. We had kids vowing to kids that they weren't going to lose," ND-Fairfield coach Chris Watts said. "We had a point guard who's battling a sprained ankle step up big tonight. Guys just kept stepping up for each other."
The Lancers (25-0) advance into Thursday's semifinal round against Bassick at a time and site to be determined.
"I'm just so happy that my guys came out and played hard," Watts said. "I believe in my guys. This is one of the best teams in the state and we've been proving it every single night."
Josh Reaves and Bourne each scored 32 points — 26 for Bourne coming in the fourth quarter and overtime — for the Lancers. Bourne also had five assists and three steals, while Reaves grabbed 10 rebounds. For Danbury, the FCIAC tournament champion, Denali Burton scored 24 and Jordan Brown had 21. The Hatters end with a 21-4 record.
"I thought we played a great three quarters, unfortunately, we didn't play that well in the fourth," Hatters coach Casey Bock said. "We let the game slip away."
Switching back and forth from a 2-3 zone to a 1-2-2 zone, Danbury pressured Notre Dame on the perimeter, forcing them to take bad shots and keep them from getting into a rhythm. The Hatters led at halftime 27-16 and increased that to 46-25 heading into the final eight minutes.
But that's when everything changed.
All of the action from NDs win over Danbury part one #ctbb pic.twitter.com/KyLsIY8qJF

— Ryan Lacey (@RyanLacey11) March 13, 2018
"We knew we had to stay together throughout that fourth quarter," Reaves said. "We fought. We had to fight and we fought. I'm so proud of these guys."
Bourne and Reaves each had 11 points in a 26-8 surge, cutting the Danbury lead to 54-51 with 2:17 to play. And then Bourne scored the last 11 Lancers points — nine coming on a trio of 3-pointers as the game went into overtime.
"To be honest, I never felt the game was over," Bourne said. "Their run just lasted a little bit longer than expected. We've been in these kinds of games before, losing, hostile environment. We knew what we had to do."
Bourne's 3 with 2:37 to play in overtime gave ND a 67-66 lead and a Reaves basket made it 69-66 with 2:11 left. Danbury cut to back to one, but the Lancers ended the OT with a 7-2 burst, punching their ticket to the Division I semifinals.
"Early on, (Danbury's) zone gave us a problem," Watts said. "But once we started going straight at them, going straight downhill, Tyler got hot and started making big shots."
"We started to turn the ball over and they started penetrating and Bourne hit some really tough shots," Bock said. "They made some big 3s that killed us."
PLAYER OF THE GAME
ND-Fairfield's Tyler Bourne. He scored 32 points, 26 coming in the fourth quarter and overtime, to ignite the Lancers' miracle comeback. Enough said.
QUOTABLE
"This is going to stick with us for a while, but hopefully, once this settles down, the kids put a banner (FCIAC championship) up that hasn't been put up in 26 years," — Danbury coach Casey Bock
ND-FAIRFIELD 76, DANBURY 70
DANBURY (21-4)
Diante Vines 3 0-0 7, Denali Burton 7 10-14 24, Jordan Brown 9 2-2 21, Keyon Moore 0 1-3 1, Javon Hernandez 1 6-6 8, Connor Goodwin 0 0-0 0, Cameron Snow 4 1-2 10. Totals: 24 20-27 70
ND-FAIRFIELD (25-0)
Damion Medwinter 0 2-2 2, Woodley Monnexant 1 2-2 4, Noreaga Davis 2 0-5 4, Josh Reaves 12 7-9 32, Tyler Bourne 9 9-13 32, Rodney Medor 1 0-0 2. Micah Brantley 0 0-0 0, Phillip Conner 0 0-0 0. Totals: 25- 20-31 76
DANBURY 11 16 19 16 8 — 70
ND-FAIRFIELD 9 7 9 37 14 — 76
3-pointers: D — Vines, Brown 2, Snow; ND-F — Reaves, Bourne 5