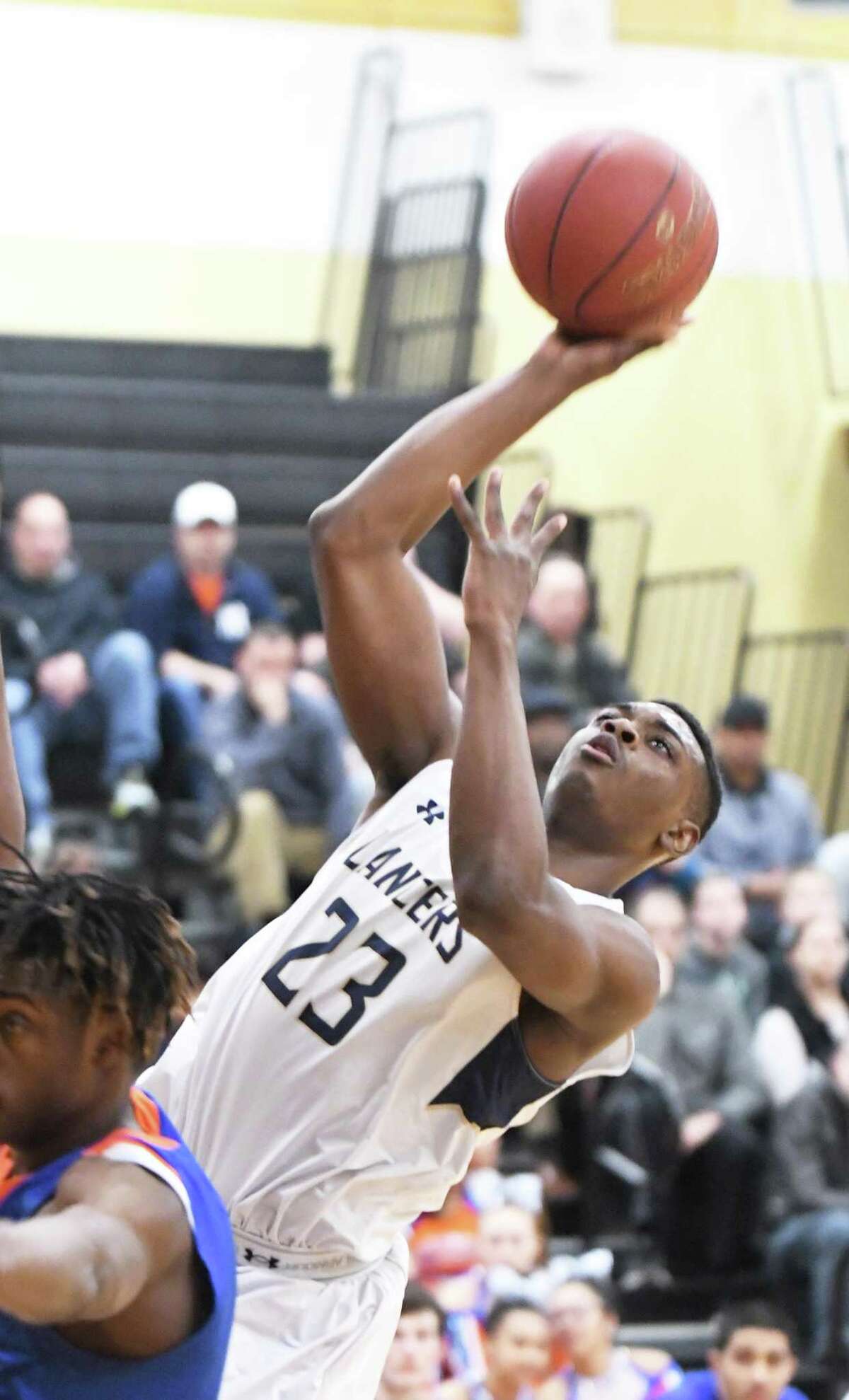 FAIRFIELD — Three times Noreaga Davis has felt that awful pain of disappointment stab at his stomach. Three times Woodley Monnexant had endured sleepless nights with that same ache gnawing at his insides.
Twice, Stone Appleberg, Micah Brantley, Damion Medwinter and Xavier Giddens have had to deal with the heartbreak of a championship lost and the frustration that went with it.
Last year, it was Tyler Bourne and Josh Reaves, Rodney Medor and Philip Conner that learned what having a dream stolen away felt like.
It felt terrible.
Tonight, in the spotlight of the Mohegan Sun Arena, the Notre Dame-Fairfield Lancers will get a fourth chance to erase that ache and realize the dream of a championship as they take on Sacred Heart-Waterbury in the Division I title game at 6 p.m., the final act of a nine-game CIAC state tournament show.
ND opens up a 12 point lead on Bassick, capped by this Gallimore 3 #ctbb pic.twitter.com/3UHLKwFNyb

— GameTimeCT (@GameTimeCT) March 16, 2018
"It hurt bad. It wasn't a good feeling. We definitely don't want to have that feeling again," Davis said Friday before practice at Sacred Heart University. "The past three years we just came up short and it hurt."
"It was tough because you work so hard all year to get there and to have that (losing) outcome, it feels like there's a hole in your stomach," Appleberg said.
Three years ago, when Davis and Monnexant were freshmen, it was Weaver that dashed the dream in the Class M final. And over these last two years, it was Sacred Heart, first in the Class M final and then in the Class L championship, that took the title that Notre Dame had so dearly wanted.
Will the fourth time be the charm?
"We have to play defense, defense wins championships," Monnexant said. "The scoring's going to come, we're a scoring team but if we play defense and can stop the other team from scoring, we'll win. This is our last chance."
This has been a season to remember for the Lancers, racking up 26 victories in 26 games, including a memorable 76-70 overtime win against Danbury in these Division I quarterfinals, a game in which ND was down 21 points heading into the fourth quarter but putting on a comeback for the ages, thanks to 32 points each from Reaves and Bourne.
"We're all mentally prepared and ready to work every time we walk on the court, we know what has to be done," Appleberg said. "We respect Sacred Heart. If they come with intensity, we have to match it."
In the Lancers six post-season games, Reaves has been remarkable. He averaged 22 points a game as ND captured the SWC title for a third straight season and in the three state tournament games, is scoring at a 22.3 per game clip. Bourne – who scored 26 of those 32 points against Danbury in the fourth quarter and overtime – is averaging 23.7 points in the Division I tournament.
"We know what we need to do," Appleberg said. "We know who our opponent is, we know we have to play the best basketball we can play and if we do that then we could be unstoppable."
This will be Watts' second consecutive trip to the finals. The Lancers went in 2015 and 2016 under Vin Laczkoski's watch and Watts, the former St. Joseph head coach and assistant under Vito Montelli, would like nothing more than to experience that championship feeling like his former Cadets boss did.
"This is the last chapter," Watts said after the win over Bassick in the semifinals. "We have the pen in hand and its time to write the outcome we want."
And that outcome does not include another runner-up medal.
"I'm going to have to do some digging to find those," Appleberg said. "They have to be somewhere."
"I have them, but I don't like showing them off," Damion Medwinter said. "I know where they are, they're out of sight, out of mind."
"Mine are hanging up in my room," Monnexant said. "It's a motivation that I lost three times and this is my last chance. I want that ring."
The 2018 CIAC Winter Championship Weekend Schedule / Scoreboard