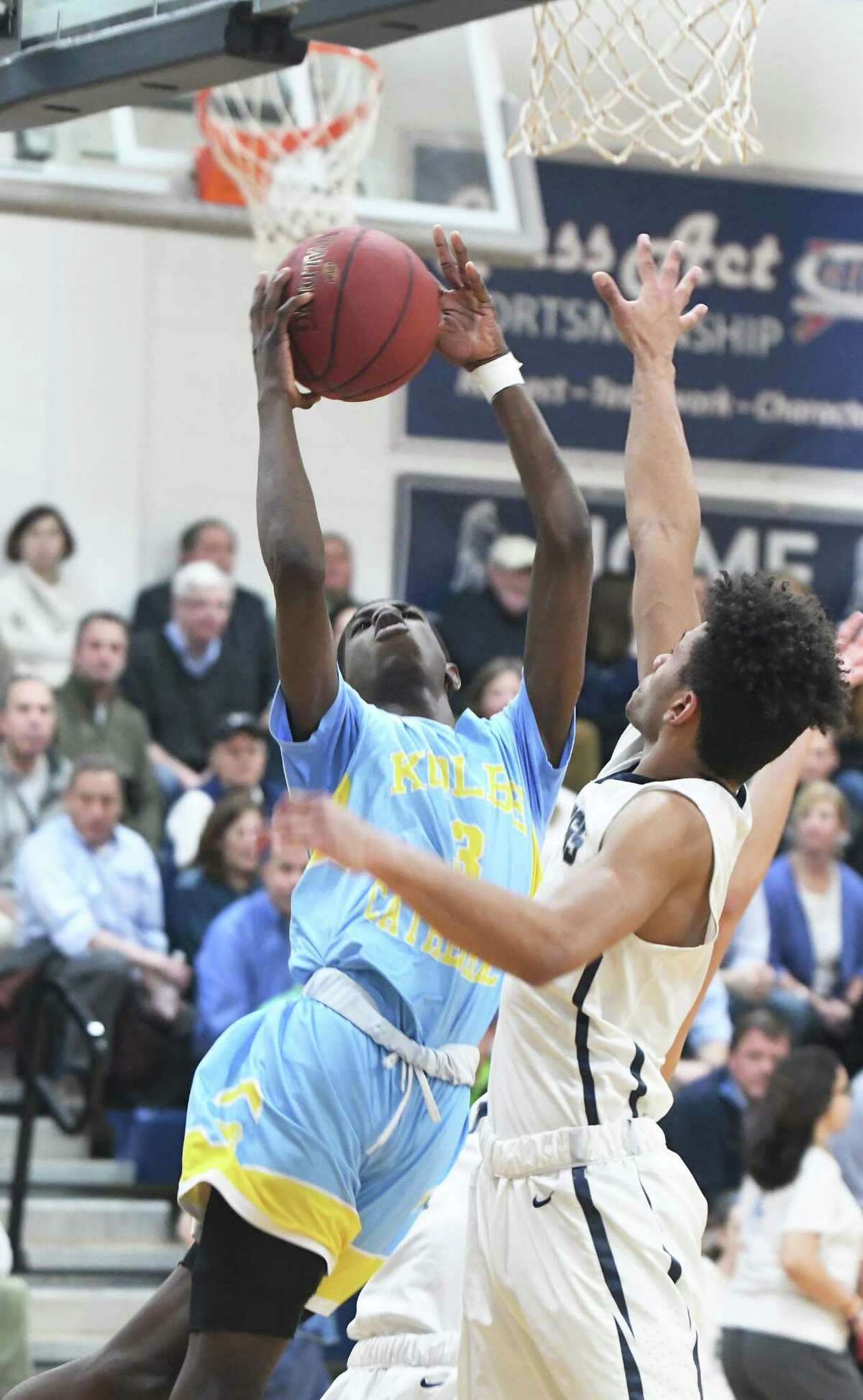 DANBURY — There are few teams that play better with the lead than the Immaculate boys basketball team.
And when the Mustangs seized the lead for the first time late in the third quarter of their SWC semifinal against Kolbe Cathedral, they weren't about to give it up.
After overcoming a double-digit deficit, a 21-8 run to end the game gave No. 2 Immaculate a 51-37 win over the Cougars Monday night and a spot in the SWC championship game. The Mustangs will face No. 1 Notre Dame-Fairfield or No. 5 Brookfield — who are set to play Tuesday night — in Thursday's final at a site to be determined.
Immaculate beats Kolbe 51-37 reaches SWC final #ctbb pic.twitter.com/oOnz30uSBs

— Ryan Lacey (@RyanLacey11) February 27, 2018
The tempo changed almost instantly once Mike Basile hit a 3-pointer to give Immaculate a 30-29 lead with three minutes left in the third. Long possessions that eventually converted into baskets with the defense stretched over the entire half court allowed the Mustangs to seize momentum and frustrate the visitors.
"You're comfortable with the lead," Immaculate coach Nelson Mingachos said. "We feel a lot more comfortable with the lead; we take control of the game, we decide the pace of the game, if it's going to be quick or slowed down. It was a terrible first quarter; I told the boys at halftime we're going to get the lead by the end of the third by two or three and we did."
Basile, a junior, caught fire during the second-half surge, scoring 18 of his 20 points after the break. An element of pick your poison exists with Immaculate's five-guard attack, which finally gained steam late in the second to erase an 11-point deficit.
"Mike is a great leader," Mingachos said. "He's matured a lot since his junior year. We always tell everyone get the ball in his hand, let him create, and if someone takes him away we have four other guards who can control the game."
Doherty hits a 3 Kolbe lead down to 25-18 at halftime #ctbb pic.twitter.com/CEndEWudth

— Ryan Lacey (@RyanLacey11) February 27, 2018
A jumper by Basile gave Immaculate a 33-29 lead with six minutes left, and his three with 5:20 remaining made it 38-30. Kolbe could only close it to 42-35 with 1:41 left before a series of free throws extended the lead.
"We got a little cold," Kolbe Cathedral coach John Pfohl said. "We got good shots, but nothing was falling for us. To be honest, to be holding them to 51 points I think we're winning this game; we missed so many layups tonight and we gave them some uncontested 3s. That's how the game shifts."
MISSED OPPORTUNITIES
Long period of tough defense leads to layup, KC leads Immaculte 6-0 mid first #ctbb pic.twitter.com/tDYdRqmFdH

— Ryan Lacey (@RyanLacey11) February 27, 2018
One missed layup after another thwarted a Cougars rally when it seemed like the spot in the final would be theirs. A layup by Anthony Senior put Kolbe up 22-11 late in the second quarter, but the Cougars would only score 15 points for the rest of the game.
Senior and Nezire Vereen each scored 10 for Kolbe, which is in a favorable position heading into the state tournament being placed in Division IV.
"I thought we had control," Pfohl said. "Where we probably should have extended the game a little bit more in the first half, that was maybe what caught up to us. We had our chances, but credit to them, they outplayed us in the second half."
Kolbe starting to throw ball away, lead is down to 25-24 early third #ctbb pic.twitter.com/pgKq3ld4bZ

— Ryan Lacey (@RyanLacey11) February 27, 2018
QUOTABLE
"We just controlled the game, stopped our turnovers and made some shots," Basile said. "When we control the ball and stretch the defense out no one can stop us; it's a lot easier."