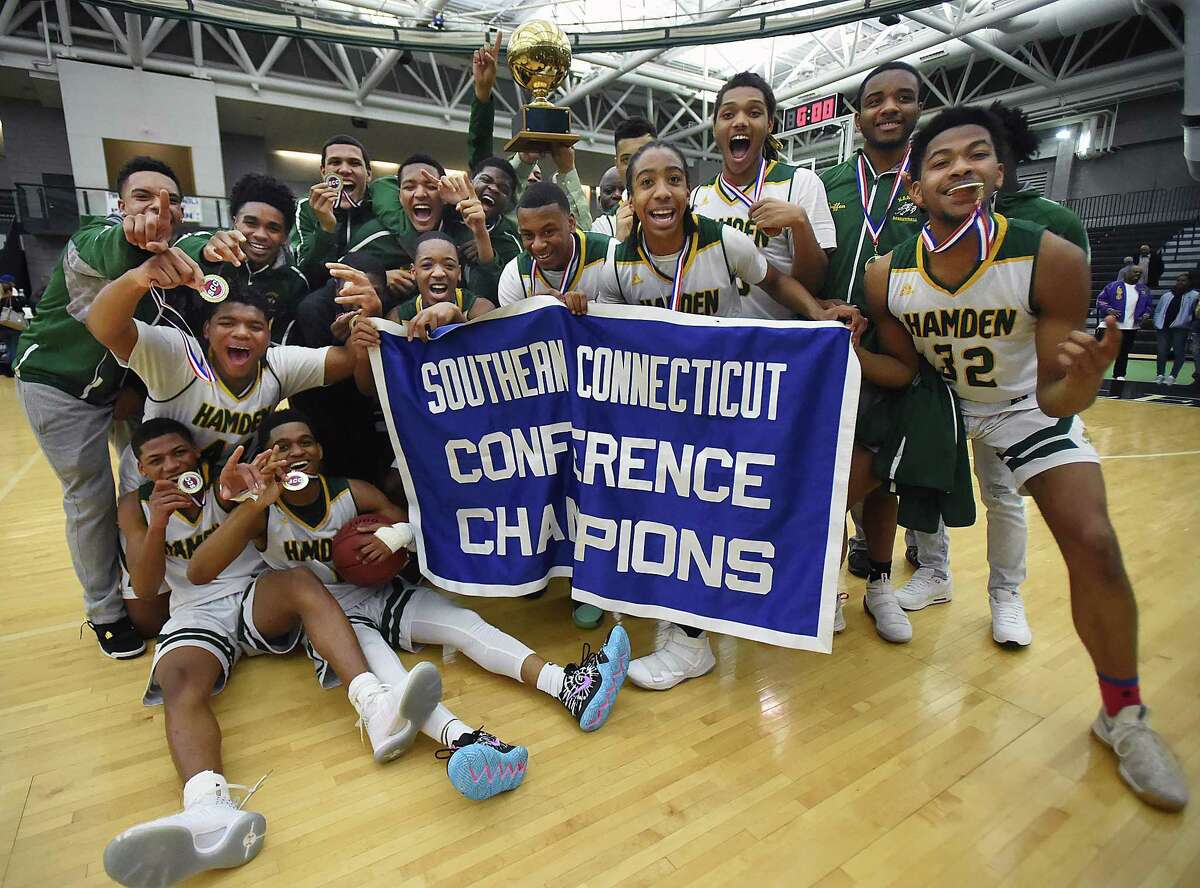 NEW HAVEN — Jaylen Ricks encouraged the Hamden faithful to rise up from their seats at the Floyd Little Athletic Center. Victor Rosario pumped his fist several times.
Time still remained on the clock, but the Green Dragons had begun the celebration. They had beaten everyone they faced in the Southern Connecticut Conference all season long — except for the defending champions.
Consider that one glaring omission taken care of. No. 3 seed Hamden defeated No. 4 Hillhouse 67-49 before 1,811 at the Floyd Little Athletic Center Wednesday night. It's the first SCC title for Hamden (21-3) in its third trip to the title game.
"It means a lot to Coach (Jarrad) Beck. He hasn't won in a long time," Rosario, a junior guard, said. "We wanted to get the win for him."
Said Beck: We worked hard, we won so these kids can feel good about themselves. It's validated. We beat a great program."
Hamden coach Jarred Beck a pretty happy camper after cutting down the net to celebrate SCC #ctbb title. pic.twitter.com/T1gFG4YyXH

— Joe Morelli (@nhrJoeMorelli) March 1, 2018
Hamden's last championship of any kind was the 1993 District League title.
As Rosario indicated, the win carries special meaning for the head coach. A former player and assistant under Clem Batchelder, Beck has been in charge of the Green Dragons' program since 2009.
"There are a lot of boys' and girls' sports (at Hamden) that haven't been able to taste this," Beck said. "This is more than an SCC basketball championship. This is a Hamden program championship. Coach (Rich) Kalizewski, coach Clem to all the greats who have played there, to all the kids who decided to stay who were leaving, this is for them."
Beck is also a special education teacher at Hillhouse and has watched Hillhouse win plenty of hardware from both the SCC and Class LL in the CIAC.
Hamden celebrates first SCC #ctbb title. pic.twitter.com/zadYnFFSxQ

— Joe Morelli (@nhrJoeMorelli) March 1, 2018
"From 8 (a.m.) to 2 (p.m.) I have to bleed blue for those kids. I'm an educator first," Beck said. "I educate with the books here (at Hillhouse), then I educate with the basketball there. I'm for the kids regardless."
Said Hillhouse coach Renard Sutton: "I've said pretty much the entire off-season that this season, if not next season, would be their year. (Hamden's) a good basketball program. They came in wanting to win it more."
For Hillhouse (17-7), which had won both regular-season meetings, it was one step short of the ultimate goal.
"Turnovers right from the jump ball, you're not going to win a game like that," Sutton said. "They had some extraordinary shooting. It's been a long time since I've seen a team shoot the basketball like that (against Hillhouse). The Rosario kid did an excellent job tonight."
Rosario, the game's Most Outstanding Player, finished with a game-high 23 points. He hit five threes in the opening quarter to finish the first 8 minutes with 15 points.
After loosing twice to @HillhouseBBall during the regular season, @HamdenHoops is able to hold off the Academics in the SCC Championship game. #ctbb @HillhouseSports @HamdenHigh @SCCcommissioner pic.twitter.com/kY6I3urobv

— CT Sports Now (@CT_Sports_Now) March 1, 2018
Hamden jumped out 6-0, Hillhouse tied it, then the Green Dragons scored the next nine and maintained the lead throughout the rest of the game.
"Everyone was doubting us because we lost twice to them," Rosario said.
After both teams shot over 50 percent from the floor in the opening quarter (Hamden 9 of 14, Hillhouse 8 of 12), the pace was not nearly as quick. Hillhouse fell behind by as many as 12 in the period, but the Academics closed to within eight at halftime, then scored the first basket of the third quarter.
But it was all Hamden the rest of the third quarter. The Green Dragons outscored the Academics 21-8. Ricks and Ronnie Ellis added 15 and 14 points, respectively, for Hamden.
Turone Kelley was the only player to score for Hillhouse in the third quarter and finished with 10 points. Rayshawn Brewer had 11 points and 13 rebounds. Davon Warner had just six points.
Hamden 67, Hillhouse 49
HILLHOUSE16 13 10 10—49
HAMDEN26 11 21 9—67
HILLHOUSE (17-7)
Rayshawn Brewer 3 5-6 11, Jacari Douglas 1 0-0 2, Davon Warner 3 0-0 6, Aiden Rountree 1 0-0 2, Ta'zhon Daniels 3 0-0 6, Khalel Francis 3 0-0 8, Dalgory Adames-Flete 1 0-0 2, Turone Kelley 4 0-0 10, Desmond Claude 1 0-2 2. Totals 20 5-8 4 49.
HAMDEN (21-3)
Jaylen Ricks 7 1-2 15, Doug Daniels 2 0-2 4, Ronnie Ellis 6 0-0 14, Jaykuawn Bromell 4 0-0 8, Victor Rosario 8 1-2 23, Fabian Cox 0 0-0 0, Justice Washington 1 1-2 3. Totals: 28 3-8 67.
3-pointers: Hamden: Rosario 6, Ellis 2; Hillhouse: Francis 2, Kelley 2.
Updates every minute –
View full tournament