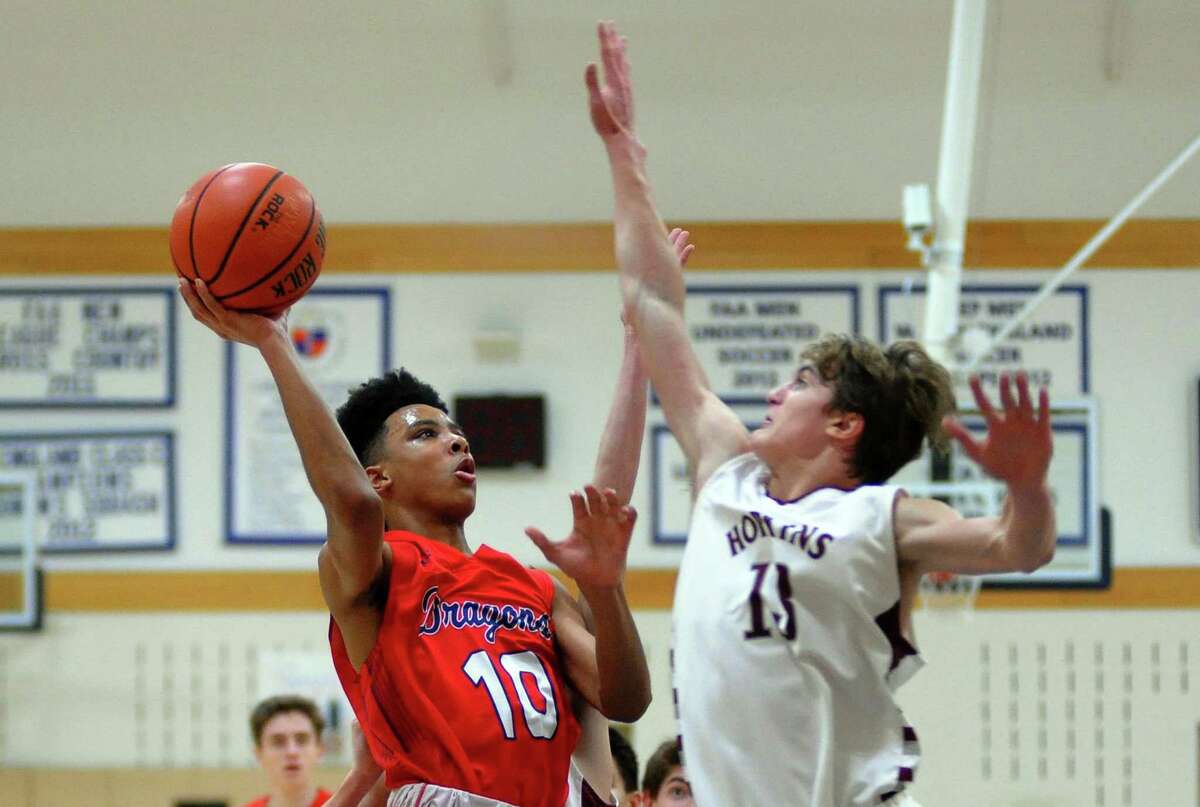 WESTPORT — After dominating the first half, Greens Farms Academy cruised to a 70-51 win over Hopkins on Tuesday evening to advance to the FAA semifinals.
The Dragons forced 15 turnovers from the Hilltoppers while imposing their will on the defensive end — holding Hopkins to just 19 points at the end of the first half.
"(Defense) is always on our wishlist," GFA coach Doug Scott said. "They have a couple guys and it's kind of a little Bobby Knight trick, 'Let's take away their favorite toys and then see what the guys can do,' and that takes effort from the guys that helped doing it."
On the offensive end, GFA received huge nights from Cole Prowitt-Smith and Henry Holzinger to pace the scoring while the defense kept Hopkins at bay.
Prowitt-Smith, who finished with 23 points, six assists, and four rebounds, said having the confidence to keep shooting comes from Holzinger, who finished with 20 points, seven rebounds, and six assists.
"(Henry) is a great captain," Prowitt-Smith said. "He said to me that we've got to step it up. This whole season, we feel as if we play our best when we shoot a high-volume amount of shots. We just find success, and when we're on, we're on."
After falling behind by more than 20 at the half, the Hilltoppers clawed their way back, cutting the lead to 14 midway through the second half — led by Noah Delorme's 11 points and three rebounds — but that would be as close as Hopkins would get.
"We weren't hitting any outside shots," Hopkins coach Rocco DeMaio said. "We didn't go to the basket. We needed to make some stops on defense, but they got hot."
Coming into the game, the message was to not let the season end, Scott said. The Dragons played like they got the message.
"It's 'Win or go home' time," he said. "Like we said in the huddle, one of these teams is going home and I expected two teams to be playing like that."
PLAY OF THE GAME
GFA ran an out-of-bounds alley-oop play to perfection for one of Holzinger's six assists. The senior guard found Prowitt-Smith cutting to the hoop before tossing a pass up for the junior to slam home.
"That's only my second dunk of the season," Prowitt-Smith said. "(Henry) kind of looked at me and winked at me. So I stepped back thinking I was popping out then I ran in and he put a perfect pass up. And I went up and got it, surprisingly."
REMATCH WITH THE STORM
With the win, Greens Farms Academy will travel to play top-seeded St. Luke's in the FAA semifinals matchup. The Storm knocked off GFA on Feb. 8 with an 81-69 victory.
ajohnson@hearstmedia
ct.com; Twitter: @aronJohnson_
HOPKINS 51,
GREENS FARMS ACADEMY 70
HOPKINS 19 32—51
GREENS FARMS ACADEMY 42 28—70
HOPKINS
Noah Delorme 2 6-6 11 Michael Lau 2 1-2 5 Jack Atkins 1 0-0 2 Colin Gernhardt 4 0-0 9 Jack Potash 0 2-4 2 Oliver Zane 2 0-0 6 David Burton 0 0-0 0 Jason Chung 1 1-2 4 Lionel Louis 1 0-0 2 Hamza Islam 1 0-0 3 Cameron Delcristo 2 0-0 5 Robinson Brown 1 0-1 2 Totals: 15 10-15 51.
GREENS FARMS ACADEMY
Cole Prowitt-Smith 8 5-6 23 Henry Holzinger 8 0-0 20 Teddy Brown 1 0-0 2 Max Mitchell 2 4-4 8 David Basich 1 0-0 2 Jack Seegers 0 0-0 0 TJ Holloway 2 1-1 6 Brady Reynolds 3 1-2 7 Kobi Agard 0 0-0 0 Jack Ramsay 0 0-0 0 Jackson Bolbool 0 0-0 0 Bennett Close 1 0-0 2 Totals: 26 11-13 70.
3-pointers: H—Delorme, Gernhardt, Islam, Chung, Zane 2, ; GFA—Prowitt-Smith, Holloway, Holzinger 4