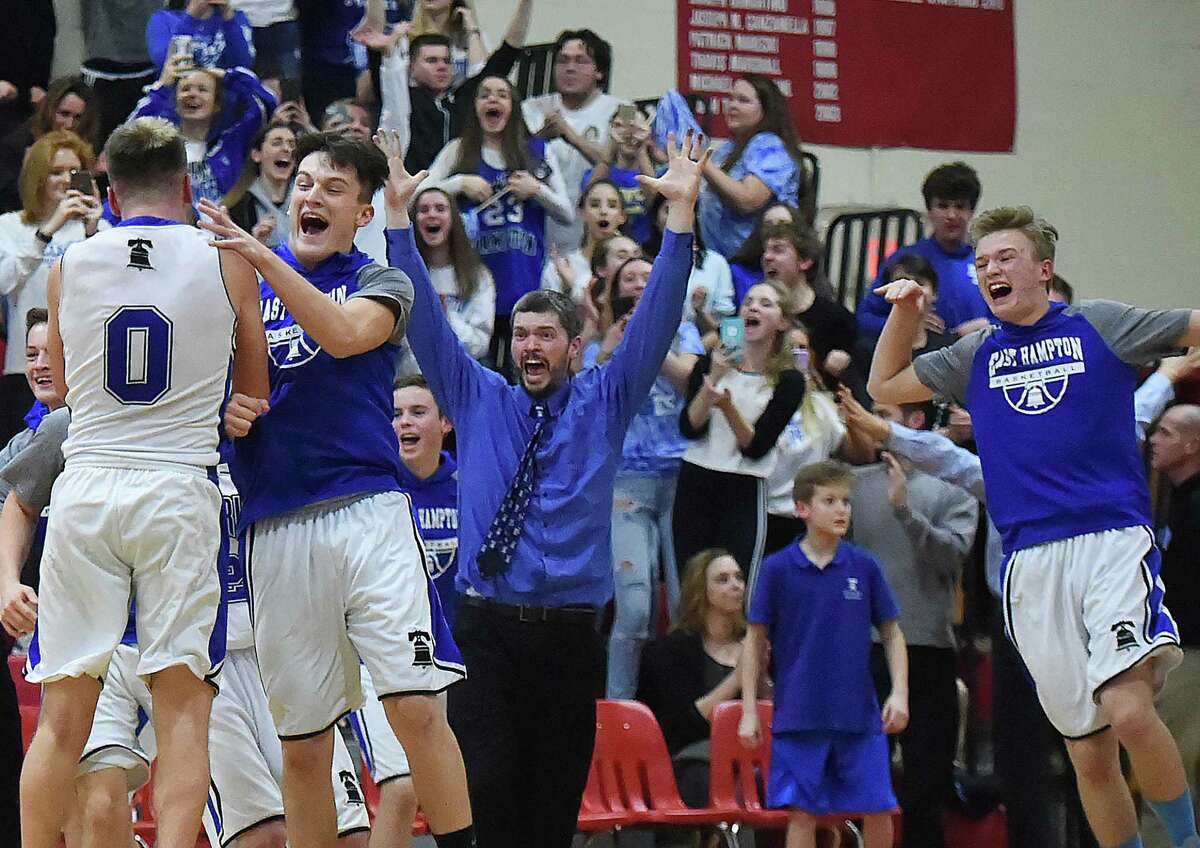 NEW HAVEN — Tom Close wasn't going to let his brothers lose.
No they aren't true siblings, but the members of the East Hampton boys basketball team are a close-knit group, having played together for years and hoping for a moment like Saturday night at Wilbur Cross High.
And no, Close wasn't going to fold in a close game. He had six points down the stretch, including two free throws in the final seconds to help seal the 58-54 win over Cromwell to bring home the school's first Shoreline Conference championship.
"Last year we lost to Westbrook in a hard one (in the Shoreline final). I wasn't trying to think of the situation at all. I just wanted to seal the game," said Close, the Shoreline Player of the Year. "These are my brothers. We've been together since elementary school. This means the world to me, winning with them especially."
Close led a balanced scoring effort with 17 points while Zach Webber added 14 points and seven rebounds for the Bellringers (23-0), one of three undefeated teams still remaining. East Hampton is the top seed in the Division V state tournament.
East Hampton wins first Shoreline #ctbb title. pic.twitter.com/lxOuJuP5Yj

— Joe Morelli (@nhrJoeMorelli) March 4, 2018
"The kids put in years of work. It didn't just magically happen," East Hampton coach Parker Strong said. "They worked years in AAU and during the off-season. These kids have grown up together. They have been playing together for 12 years. It is really rewarding. You can't expect to go undefeated."
East Hampton's last conference championship was in 1997 when the team was a member of the Charter Oak Conference.
Cromwell (19-4) had won 14 straight games coming into Saturday's final. That last loss? To East Hampton on Jan. 15, 56-41.
"When you have a guy like Close out there who can control the entire game pretty much, not so much just getting the ball to people but also scoring, that's what makes it tough to beat a team like that. He is probably their best scorer, too."
Close's 3-pointer midway through the final quarter put the Bellringers up 48-38. But the Panthers kept coming. They cut it to a single possession three different times with under a minute left, the last at 56-54 on a three-pointer from Noah Budzik (game-high 21 points).
"We were down 10, we could have folded," Cromwell coach John Pinone said. "Are you talking about moral victories? We do not believe in moral victories. We play hard, that's what we are supposed to do."
After Cromwell called for timeout, Close was fouled. He came down the court, stepped to the free-throw line and made the most important two free throws he has ever taken.
"He has that determination. It makes coaching easier when you have the best player in the league, especially at point guard, such a huge spot where you touch the ball more than anyone else, he sees the floor so well," Strong said about Close.
Sean Vick and Nic DiStefano added 13 and 12 points, respectively, for East Hampton.
Cromwell's only lead came early in the third quarter, 26-25, but East Hampton grabbed it right back.