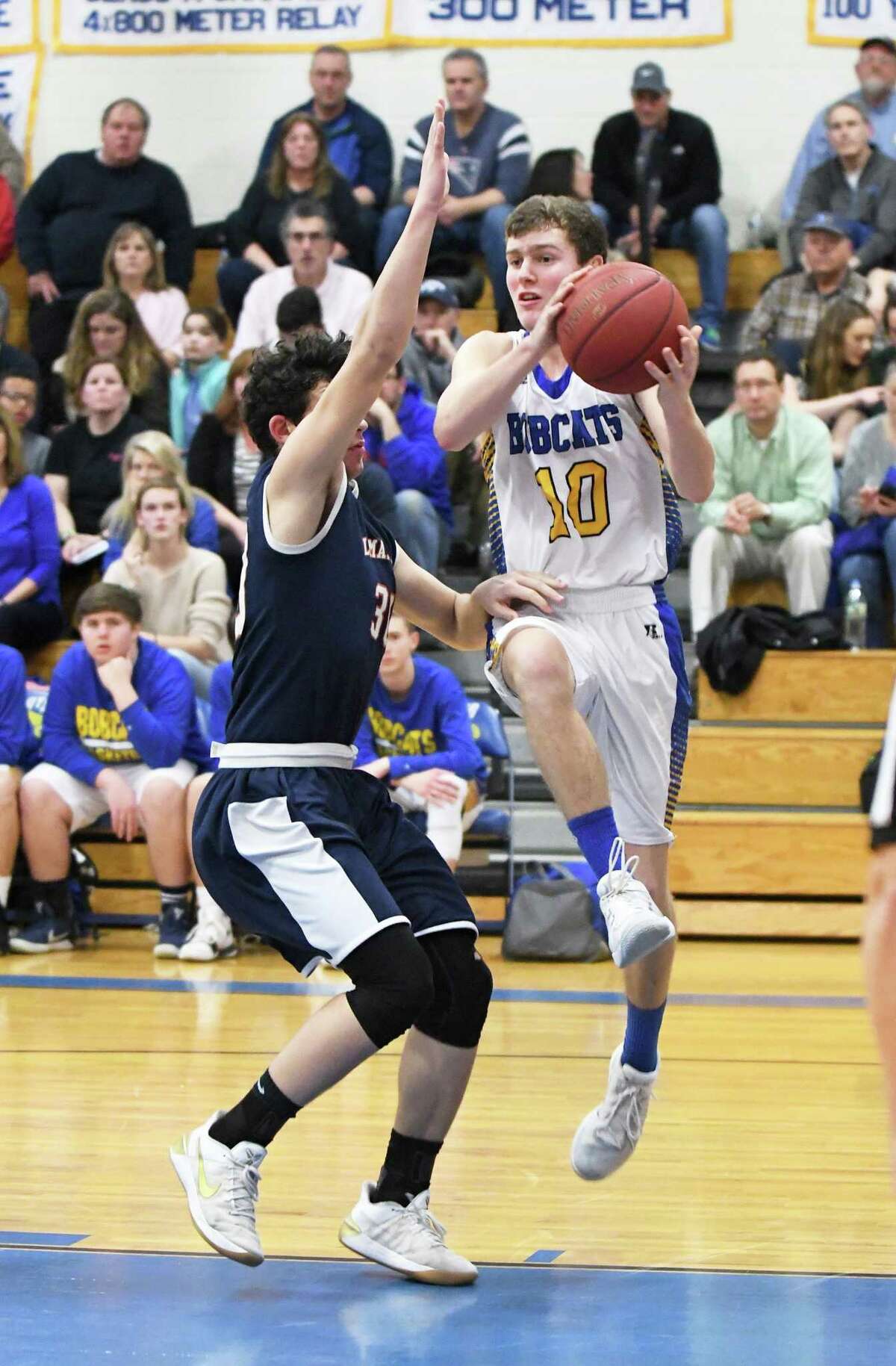 BROOKFIELD — Momentum after a defeat is a rare feeling, but the way the Brookfield boys basketball team played in its last contest, it could only head into the Division III state tournament feeling another March Madness chapter is about to begin.
It certainly carried over into the first round of states Monday as the No. 8 Bobcats nearly led wire-to-wire in a 64-51 win over Lyman Hall. Brookfield will host No. 9 Avon — a 62-44 winner over Wolcott — in the round of 16.
Missed free throws were what separated Brookfield from a possible stunning upset of ND-Fairfield in the SWC semifinals, but the performance showed last year's Class M champions are capable of another run.
"Even though we lost that game I thought we played well," Brookfield coach John Fleming said. "I said to them if we can play with Notre Dame right down to the wire, we can play with anybody. You have to execute; that was definitely a confidence booster."
Good response from Bobcats, Walker 3 makes it 12-5 mid first #ctbb pic.twitter.com/tGAPqNJzxU

— Ryan Lacey (@RyanLacey11) March 6, 2018
David Walker (16 points) set the tone for the Bobcats, sinking four 3-pointers in the first half to give the hosts a double-digit advantage. Brookfield only trailed 2-0 before immediately taking control with a 12-3 run. The Bobcats sunk seven 3-pointers for the game and were never caught after a brief spell in the second half.
The Trojans had one run in them as a 9-2 spurt to start the third quarter pulled them to within 29-26. Brookfield converted several straight layups as part of an 11-1 run to seize control of the contest.
"We decided about halfway through the third quarter that we decided to go to a 2-1-2 zone," Fleming said. "I think that helped us a little and settled us down."
Brookfield takes 14-9 lead in second #ctbb pic.twitter.com/H8lHaye5OE

— Ryan Lacey (@RyanLacey11) March 6, 2018
Connor Gruda did most of his damage after halftime for Brookfield, scoring 15 of his 18 in the second half.
The Trojans won their last two games just to qualify for states, including a 39-37 win over Branford Feb. 14. Austin Ruiz and Kevin Ransom each scored 12 for Lyman Hall (8-13).
"(Brookfield) just knocked down shots, they have great shooters," Lyman Hall coach Rob Ruys said. "We competed all year and I'm proud of my kids."
PLAYER OF THE GAME
Cam Gleichauf, Brookfield: Though the Bobcats shooting fluctuated, Gleichauf consistently got the rim, finishing with a game-high 21 points.
QUOTABLE
"You just have to take it — sometimes it's one minute at a time," Fleming said. "We're not looking past Wednesday or Thursday, whatever the weather tells us."
BROOKFIELD 64, LYMAN HALL 51
LYMAN HALL (8-13)
Jack Vegliante 1 0-0 2 Austin Ruiz 5 2-4 12 Kevin Ransom 6 1-1 12 Jake Ranney 4 1-2 9 Pat Doherty 2 0-1 4 Sam Ryan 5 1-4 11. Totals: 22 4-11 51.
BROOKFIELD (13-7)
Matt Waddell 1 1-2 3 Connor Gruda 5 5-12 18 David Walker 6 0-0 16 Jaichi Levi 0 1-2 1 Joseph Brown 2 0-0 4 Cameron Gleichauf 8 5-9 21 Kenny Blick 0 1-2 1. Totals: 22 13-27 64.
LYMAN HALL9 8 12 22 — 51
BROOKFIELD12 17 15 20 — 64
3-pointers: B—Walker 4, Gruda 3.