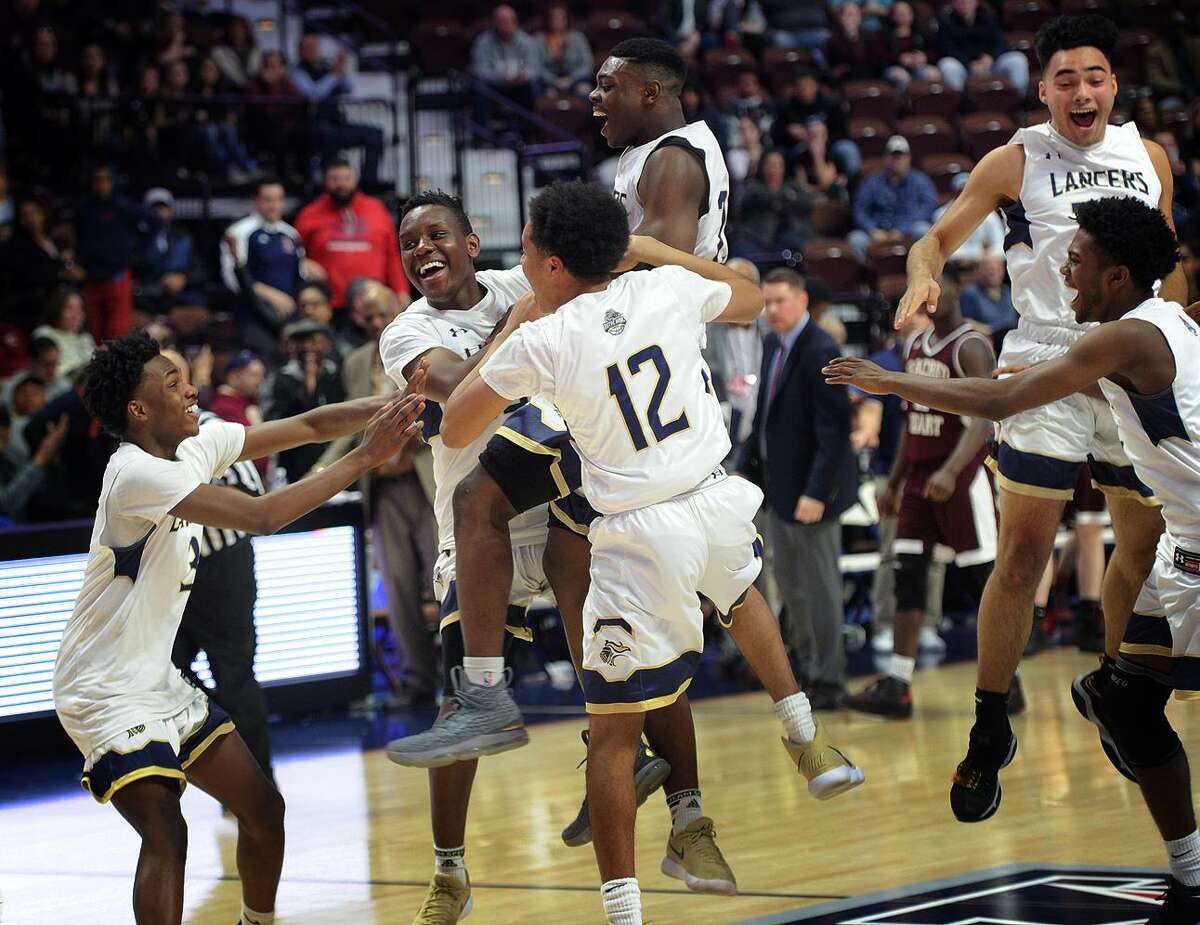 UNCASVILLE – As the final buzzer sounded, coach Chris Watts turned to face the crowd and thrust his arms into the sky.
Behind him on the court, his Notre Dame-Fairfield players were jumping and hugging and crying and laughing in celebration, a celebration four years in the making.
The Lancers had done it. Finally. The Lancers were state champions.
Say it out loud, ND fans. State Champions. For the first time in school history, Notre Dame has won the CIAC title. And they did so in historic fashion, ending with an undefeated season and ending Sacred Heart's amazing 107-game winning streak against in-state competition with a 65-60 victory in the Division I championship game Sunday night at the Mohegan Sun Arena.
"I'm just so happy for the kids. It's unbelievable," Watts said, his eyes red from crying. "It's great. I'm happy for the seniors, the guys that have been here the longest. Three times they hadn't been able to experience this and now, we've won a game against a great program, we were able to pay them back for what they did to us last year. It's just great."
"It was a great high school basketball game, they were just a little more poised than us," Sacred Heart coach Jonathan Carroll said. "There were a couple of second shots that we gave up and a couple of chippies that we missed and that was really the difference."
Tyler Bourne scored 30 points and seven assists to lead Notre Dame, who finishes 27-0 for the first time in program history. Noreaga Davis added 14 points and 12 rebounds and Josh Reaves had 11.
"I didn't expect it to feel like this … I'm just happy we won," said Bourne, who was also surprisingly emotional after the game. "It feels good to win, especially here and especially going undefeated the whole season."
The Lancers were playing in their fourth consecutive CIAC championship game. In 2015, ND lost to Weaver in Class M and in 2016 and 2017 to Sacred Heart, first in Class M and then in Class L. Overall, they had been 0-5 in championship appearances, also losing to Pomperaug in 1980 and to Hillhouse in 1965.
"The kids lived in the present every day. They didn't look ahead, they didn't look back and that's why I think we're 27-0," Watts said. "They believed in every minute of every day and they took it seriously."
With ND's big three of Bourne, Davis and Reaves scoring 13 of the Lancers 15 points in the first quarter, ND was able to stay even with Sacred Heart as the four-time defending state champions were bothered by early foul trouble to Isiah Gaiter and shooting woes from Raheem Solomon who missed 11 of his first 13 shots. Still, at halftime, the Hearts held a 26-25 lead.
Solomon found his shooting touch in the second half – boy, did he – as the senior guard scored 19 straight points (finishing with 33) in the third and fourth quarters as Sacred Heart took a 55-54 lead with 3:20 to play.
But the Hearts never were able to pull away, thanks to Bourne, who answered Solomon at every call, scoring 21 points in the second half. His free throw with 1:59 left, gave the Lancers a 59-57 lead and two more free throws with 33.5 seconds to play inched the margin out to 63-57.
"We knew we had to stick to the game plan and not get frustrated when they got the lead," Bourne said.
"Tyler's a warrior, he didn't want to lose the game and he has the ability to control that with his play," Watts said. "He can make things happen."
A 3-pointer from Solomon with 16.1 seconds left cut the ND lead to 63-60 but two more free throws from Bourne made it a five-point Lancers lead and when Sacred Heart was guilty of a turnover with 10 seconds left, it was all over but the shouting.
And celebrating.
"I'm speechless. It feels good. It's a weight lifted off my shoulders," Davis said. "I couldn't go out like that, I couldn't. if we had lost, four years in a row, I would have been hurt. I needed this one."
Said Reaves: "It feels great. It's something that I've been waiting for since eighth grade. Losing last year that just brought anger and hunger to me and I'm glad that we got the victory."
Solomon had 33 points and 12 rebounds for the Hearts and Gaiter had 10 points.
PLAYER OF THE GAME
Tyler Bourne. The ND senior guard scored 30 points on the game's biggest stage, and added seven assists as the Lancers won the state title for the first time in school history.
QUOTABLE
"If you had told me in December that we would end our season here (at Mohegan Sun), I probably would have laughed at you because I didn't have those expectations for this group. But Isiah and Raheem really carried us and set the example for the other guys. We have nothing to hang our heads about. We'll come back." – Sacred Heart coach Jonathan Carroll
ND-FAIRFIELD 65, SACRED HEART 60
SACRED HEART (24-3)
Connor Tierney 3 0-0 6, Isiah Gaiter 4 2-2 10, Andre Anderson 1 0-0 3, Raheem Solomon 10 9-9 33, Zachary Francisco 3 0-0 7, Noah Francisco 1 0-0 2, Caleb Sampson 0 0-0 0, Francis Barton 0 0-0 0. Totals: 22 11-11 60
ND-FAIRFIELD (27-0)
Damion Medwinter 2 2-2 6, Woodley Monnexant 1 0-2 2, Noreaga Davis 6 2-4 14, Josh Reaves 3 5-6 11, Tyler Bourne 9 9-14 30, Micah Brantley 0 0-0 0, Rodney Medor 1 0-1 2, Philip Conner 0 0-0 0. Totals: 22 18-29 65
SACRED HEART 15 11 19 15 — 60
ND-FAIRFIELD 15 10 18 22 — 65
3-pointers: SH – Solomon 4, Anderson; ND-F – Bourne 3
The 2018 CIAC Winter Championship Weekend Schedule / Scoreboard