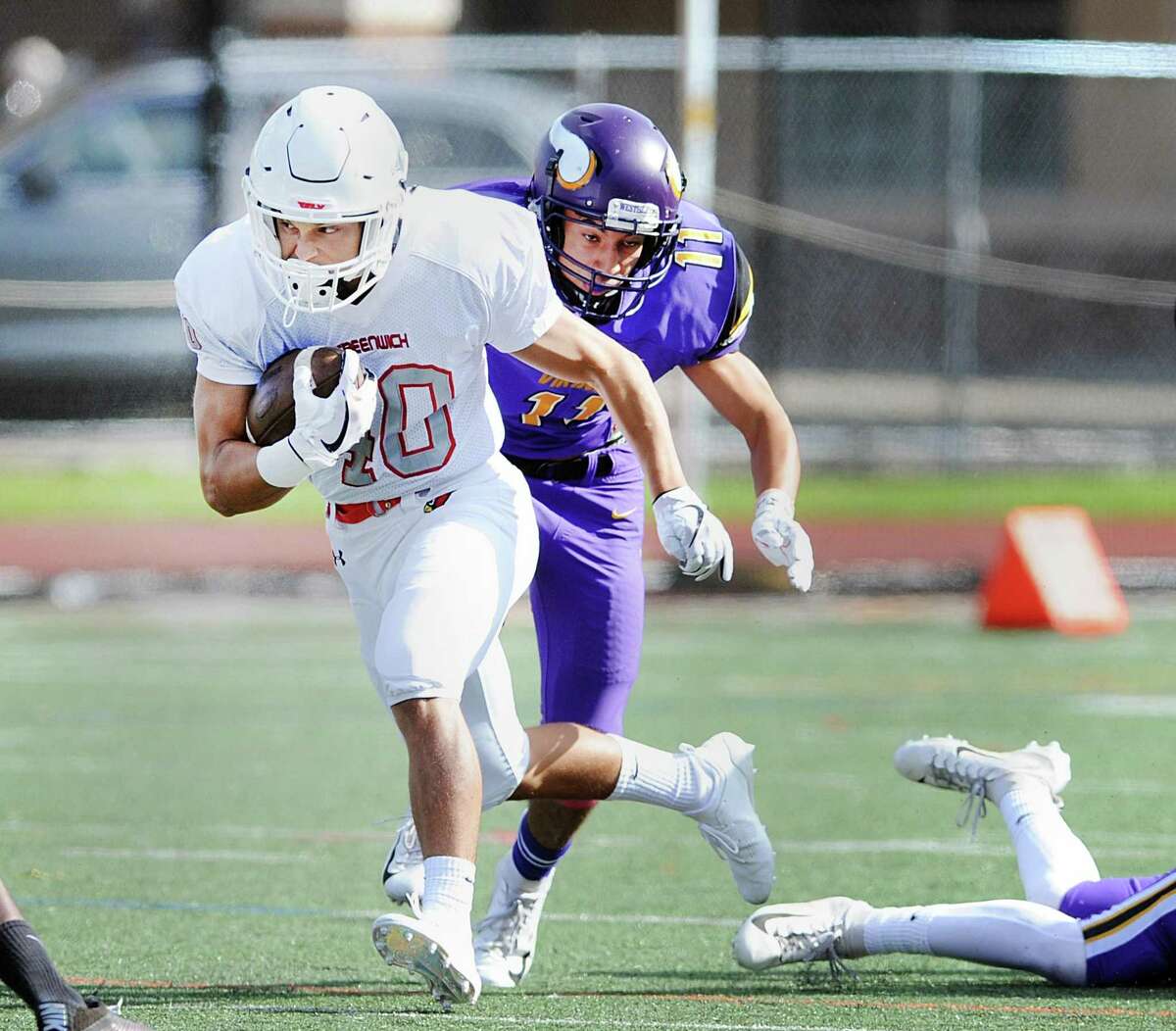 STAMFORD—On Westhill's first play from scrimmage on its 5-yard line, Greenwich linebacker Mozi Bici knew what play Westhill was going to run as it broke the huddle.
His anticipation was spot on with Bici blasting through the line, pouncing on the Westhill running back as soon as he got the ball, tackling him for a safety.
That play by Bici set the tone for the day as the Greenwich defense dominated Westhill, leading to a 53-0 win at J. Walter Kennedy Stadium.
"We have been practicing that play all week," Bici said. "They run a zone read and (the Westhill quarterback) reads me and if he sees me go to the running back, he would normally keep it but he didn't read me well enough and saw it get handed off and I just blew up the play. It felt really good. I kind of wish we could have stayed on a little longer first drive because we were hyped up but one play, then we were out, we scored, felt good."
Greenwich scored in every way imaginable.
Along with the safety, Greenwich's defense scored on a pick six by Lawrence DeLuca and kicker Ben Howarth nailed a 25-yard field goal.
The only one not getting on the scoresheet for the Cardinals was the mascot as they spread it around Saturday afternoon.
Running back Tysen Comizio scored three touchdowns on the ground, John Warren scored once by air and once on a running play and Matt Pilc scored on a 70-yard pass play from backup quarterback James Rinello.
The story on this day though was the Greenwich defense which barely allowed Westhill across midfield until the starters were out in the fourth quarter.
"Their offense gets lot of credit but their defense is so fast. They are big and strong but what kills you is how fast they are," Westhill coach Joe DeVellis said. "(Bici) is a beast. They line him up everywhere and they move him so much, it's confusing. The DBs know you only get a couple of second s to throw, so, they can sit on everything underneath. We battled but they are that good. That is a legit No. 2 team in the state."
PLAYER OF THE GAME
Mozi Bici. His safety set the tone and the linebacker found himself in the Westhill backfield as much as the Westhill running backs during the game.
QUOTABLE
"I would say two phases of the game, defense and special teams were really good today," Greenwich coach John Marinelli said. "Offensively, it wasn't bad, it was just felt like there was no rhythm. We turned the ball over four times. We can take this, we can work on it and correct it moving forward."
GREENWICH 53 WESTHILL 0
GREENWICH 15 24 7 7– 53
WESTHILL 0 0 0 0–0
G—Safety Mozi Bici
G—Tysen Comizio 1 run (pass failed)
G—Comizio 18 run (Ben Howarth kick)
G—Comizio 23 run (Howarth kick)
G—John Warren 5 run (Howarth kick)
G—Lawrence DeLuca 25 interception return (Howarth kick)
G—Howarth 25 field goal
G—Warren 30 pass Gavin Muir (Howarth kick)
G—Matt Pilc 70 pass James Rinello (Howarth kick)
Records: G—5-0; W—1-5