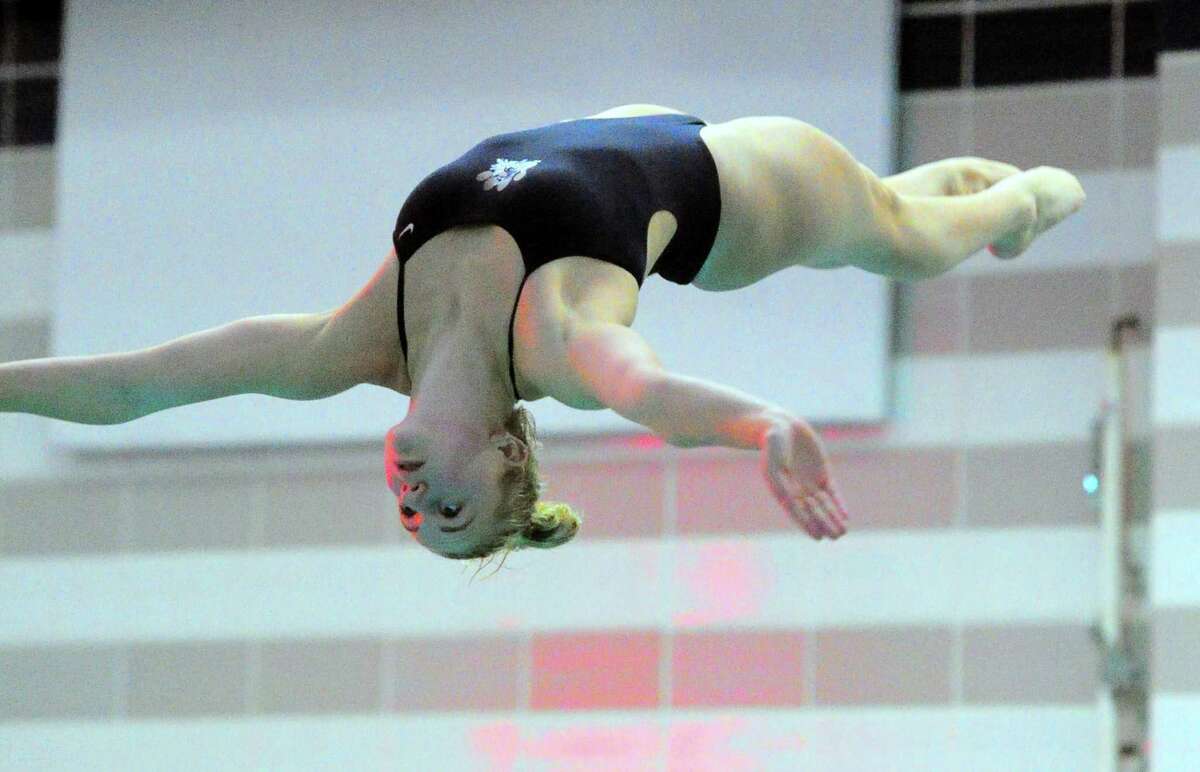 Desperate for a change from a demanding-yet-successful gymnastics career, Farrah Volpintesta — then a freshman at Bethel High — wanted to try something new. She had a friend who started diving the year before, and decided to give it a shot too and go to tryouts at New Fairfield High despite never standing on a board.
Turns out she was good. Like really good. As in finish fifth in the boys Class M meet — despite missing on a dive and getting zero points — with less than three months of experience good. That was only the beginning.
"That gave me some confidence," recalled Volpintesta. "If I can excel in one season for just a couple of months, how much can I excel if I devote as much time as I did when I was doing gymnastics?"
Turns out a lot. Fast forward two years and the junior is not only the best diver in the state, but clearly possesses boundless potential to excel at the next level. Elite athleticism with an unmatched drive combined to unleash this hidden trait in Volpintesta.
A state all-around gymnastics champion in her middle school years, Volpintesta was used to training 35 hours per week for most of her life. She soon discovered being wired to commit 100 percent to something didn't change with a new sport, one of many lessons that carried from the gym floor.
"Farrah is one of the most talented athletes you'll ever come across," said Brian Bakalar, who coached Volpintesta for eight years at Gymnastics Revolution in Danbury. "She is a really unique kid in that in her younger years we'd push her and she was more of the relaxed type and not as intense. As time went on that gradually got a little more intense and at her best that is when her intensity and he relaxed mind-set coincided."
A STAR IS BORN
Elite school diving programs are rare here, so Volpintesta quickly looked for a club team. That came in the form of the New Canaan YMCA's Whirlwind program. Forty-five minute drives became the new lifestyle for Volpintesta and her family. Daily and double practices — which starts as early as 5:30 a.m., before school — tested her will to push on.
"I feel like everyone has those days where it's coming down on you and you start overthinking everything," Volpintesta said. "But in the end I think about how I'm doing this for a reason; this is what I love."
Her skill set improved exponentially under New Canaan coach Joe Somma, a former All-American diver who is one of the top coaches in the state with 20 years of experience coaching the region's best.
In her first season competing with the girls co-op team with Immaculate, Volpintesta finished second in both Class M and the State Open. She is the lone diver at the school; Bethel-Immaculate does not have a diving coach so Volpintesta trains exclusively in New Canaan.
"I could see I was catching on fast," Volpintesta said. "When I am into something and I know I want to be committed, that's all I do. Diving is my No. 1 thing right now. I'm strict with my schedule and realize if I want to achieve my goals I need to devote my time to it."
HER NIGHT
Less than two years after standing on the board at New Fairfield for the first time, Volpintesta made her loudest statement. One leap after another added up to an insurmountable lead, and by the end the title was hers. Volpintesta won the State Open as the best diver in the state with a score of 530.55, the highest point total in her career.
"I'm a very competitive person, which I think is a reason why I've taken this so far in two years," Volpintesta said. "I've done it because when I do something I take it to the extreme. If I have a chance to win something, I'm not going to let it go. I tried not to think about competitive part but of course I want to win."
With the gold medal around her neck, her score was a handful of points off the state record. The week before she had set a Class L mark in the event.
"I was relieved," Volpintesta said. "It made me realize what I'm doing was paying off. It gave me that boost of energy you get if you give it your all and don't quit. You know it's going to help you and you're going to succeed in the end. I was proud. Bethel doesn't have all the titles and everything. Being able to bring one home for the home town was exciting."
MULI-TALENTED
Volpintesta's eyes light up when her other passion is brought up. Her parents Rob and Erin — who each have a background in music and make a living teaching the art — have a studio in their home and a stage in the backyard. She had about every vocal warm-up memorized in elementary school and has performed in a variety of shows.
"She's at least as good as a singer as she is a diver," Rob said. "She's amazingly gifted. We don't push in her into music and it doesn't make a difference because she sings all day, every day. She's done some great recordings and she'll always have that."
If a diving board isn't available, she'll escape to the studio and burn her lungs for hours at a time. Tunes are always in her ear right up until it is her turn to jump off the board.
"It takes my mind away from thinking about what could go wrong," Volpintesta said. "I do that a lot; music definitely calms me and it's very therapeutic."
UP NEXT
Volpintesta has a bigger pond to leap into after conquering the state. The quest to qualify for the national circuit with her club team is underway. Last season Volpintesta qualified for the Zone A Championships, the final step before reaching nationals.
"She's got the potential to do a lot of great things," Somma said. "You can work hard and have the skills to be one of best in the country, but you have to perform at the right time. I do see her being a national contender in one of these circuits, but again she's got to do her part to continue."
First up is YMCA nationals in April. Reaching the pinnacle stage in the sport in the next year is one goal for Volpintesta and Somma, but she has her eyes on goals beyond that.
Volpintesta hopes to land at a Division I college and is along that track despite many of her competitors having more experience. The recruiting process has just begun.
And of course there's daydreaming of what would come next.
"A lot of people joke around about the Olympics," Volpintesta said. "It would be an awesome opportunity. Once I get to college I'm going to work that hard and that's clearly an end goal, that's what I want to do. Of course, that's what I'm going to work towards."