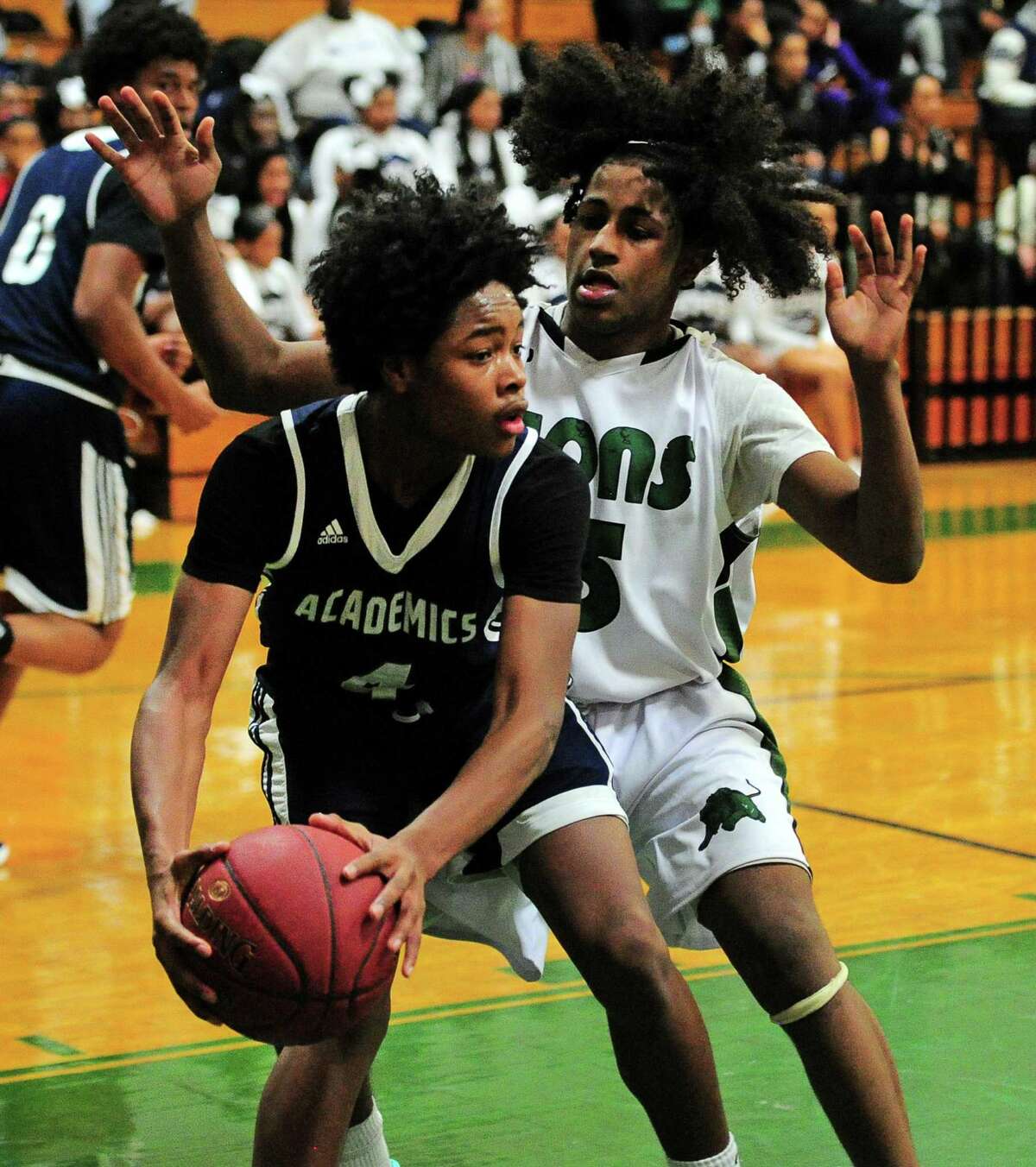 BRIDGEPORT — One cannot miss the banner behind one of the baskets inside the Bassick High School gym: "1989 Boys Basketball State Champions."
Yes, it has been that long.
But after their decisive 66-41 victory over a talented Hillhouse team Wednesday, it seems quite possible that the surprising streak could finally end for the Lions.
"It's our time," Bassick coach Bernie Lofton said after his team, led by Kevin Crawford's 32 points, improved to 9-0. "We want respect. We've been the No. 3 team in Bridgeport long enough. It's time we earn some respect."
The Lions, currently fourth in the state, certainly got that from Wednesday's opponent. Hillhouse was a top 10 team in the state in a preseason poll. Wednesday's loss dropped them to 5-3 but considering the opponent, none of the Academic players or coach Renard Sutton were hanging their heads.
"Bassick is a very good team," Sutton said. "I think they are definitely one of the better teams in the state."
The sometimes rambunctious Lions committed 23 turnovers, many unforced, and yet still beat a strong team by 25 points. Besides Crawford's big night, Jordan Gallimore had 12 points and 12 rebounds while EJ Linton and Isaiah Sullivan each added nine rebounds.
The most impressive aspect of Bassick's performance was the 30 turnovers they forced against a Hillhouse team filled with ballhandlers.
"Their defensive pressure rattled us," Sutton said. "And we weren't too good rebounding, and missed a lot of layups. Do that and you don't expect to win."
Yes, especially against a team with state championship aspirations.
"We have three keys to get to Mohegan Sun (for the state finals)," Crawford said. "Play great defense, share the ball, and rebound. I think we can get there if we keep playing like a team."
Bassick jumped out to a 10-1 lead and never led by fewer than 10 the entire second half. The Lions' 22-9 effort in the fourth quarter put an exclamation mark on the victory.
"Hillhouse is a heck of a team," Lofton said. "I don't think it really was a 25-point game but we played really well. Most of our turnovers were unforced so we can clean that up. But we did a great job putting pressure on the ball and taking charges."
Bassick took a dozen charges during the game as the Acs stubbornly continued to try to drive the lane against Gallimore, Linton and Sullivan. The Lions filled the lane so well that Todd Gurley would've been stopped for no gain.
"I'm proud of the team," Crawford said. "Hillhouse was playing here for the first time in (25 years) so we were excited."
Hillhouse, which previously lost to East Catholic and Cheshire, were led by Tazhon Daniels, who had eight of team-high 10 points in the first quarter. Jalen Satchell had nine rebounds and Gregorio Chambers and Tyrone Kelley each had six boards.
PLAYER OF THE GAME
While Jordan Gallimore was a force inside for the Lions (12 points, 12 rebounds), it was Kevin Crawford again who stole the show again with 32 points.
QUOTABLE:
"(Bassick's Kevin) Crawford was unstoppable; I thought we could slow him down but we couldn't" — Hillhouse coach Renard Sutton
BASSICK 66, HILLHOUSE 41
HILLHOUSE (5-3)
Aiden Roundtree 2 0-1 4; Jacari Douglas 1 4-6 7; Tazhon Daniels 3 3-4 10; Cinceree Lash 1 0-0 3; Jalen Satchell 0 0-0 0; Evan Alexander Scott 3 0-2 7; Tyrone Kelley 0 1-2 1; Khalel Francis 1 0-0 2; Gregorio Chambers 3 1-2 7; Kenard Fuller 0 0-1 0. TOTALS: 14-56 9-17 41
BASSICK (9-0)
EJ Linton 1 2-2 4 ; Jordan Gallimore 2 8-12 12; Isaiah Sullivan 2 0-0 4; Kevin Crawford 11 10-15; 32 Julio De Los Santos 2 0-0 6; Joe Torres 0 0-0 0; Javier Hernandez 1 3-4 5; Jason Marrero 1 1-2 3; Ricky Irby 0 0-0 0; Jermaine Grant 0 0-0 0. TOTALS: 20-53 24-33 66
HILLHOUSE 13 10 9 9—41
BASSICK 18 14 12 22—66
3-pointers: H – Douglas, Daniels, Lash, Alexander-Scott. B – De Los Santos 2.