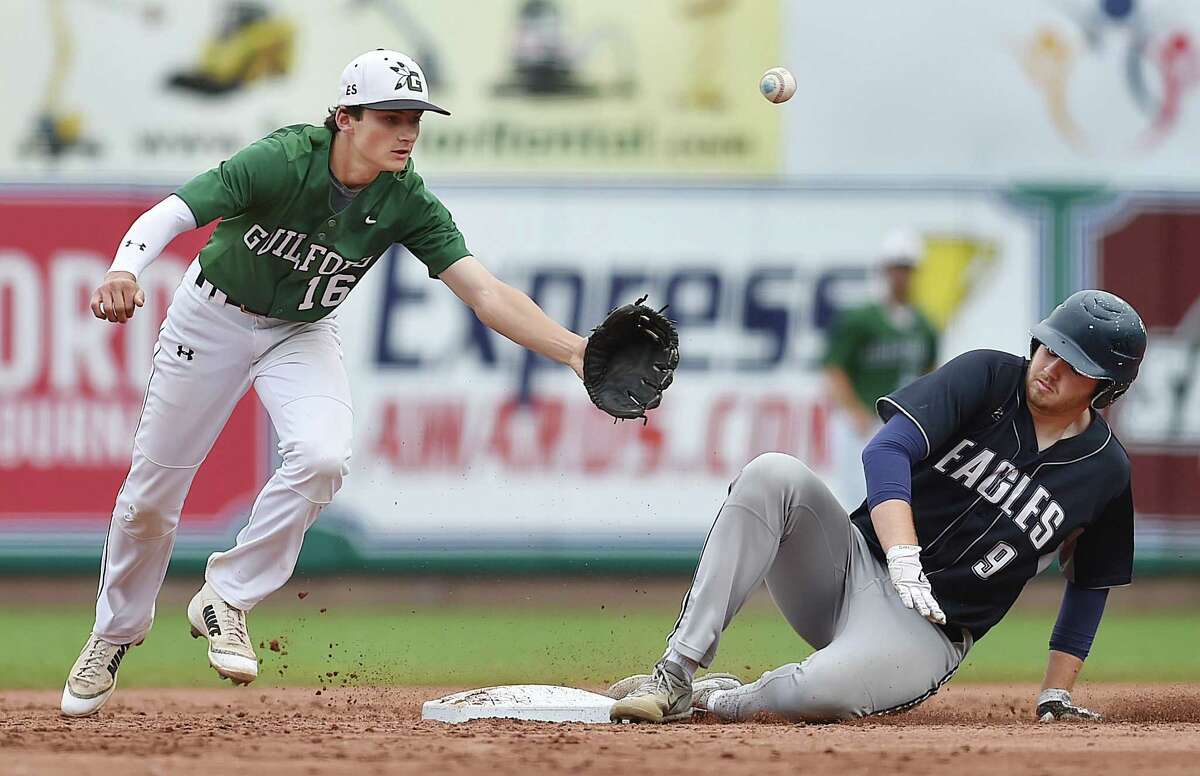 HARTFORD — The Guilford baseball team had been down this road before, trailing in the late innings with the season on the line.
In the quarterfinals, the Guilford Indians fought back from a three-run deficit, forced extra innings, then went on to beat the North Haven Indians in a 10-inning, two-day affair over the weekend.
No. 11 seed Guilford faced the same exact three-run deficit in Wednesday's semifinals. But No. 10 Wethersfield wasn't about to give up its advantage.
Kyle Burkowski and Tim Blaisdell combined on a four-hitter for Wethersfield in a 4-1 win over Guilford at Dunkin' Donuts Park.
"We put guys on, but we didn't get the big hit," Guilford coach Brian Hayden said. "That's how it has gone for us this year, when we got the big hit, we won the ballgame."
Weathersfield's Jimmy Sullivan gets a celebratory ice bath while talking to reporters. His 3-run triple in 2nd essentially delivered the Eagles to the Class L final #ctbase

(Fun to watch this develop behind him, like something out of Airplane!) pic.twitter.com/tjc5jRDdU4

— Sean Patrick Bowley (@SPBowley) June 6, 2018
Wethersfield (17-7) will be seeking its first state championship on Friday night at Palmer Field in Middletown. It will be an all-Central Connecticut Conference final as the 11th seeded Eagles will battle No. 1 Windsor. Game time is 7 p.m.
CIAC BASEBALL TOURNAMENT SCOREBOARD
"Our message all year was, 'We didn't have to win our first game, but try to win our last game,'" Wethersfield coach Mark Bagdasarian said. "Look at Foran last year (7-13, No. 32 seed, won the state title). We can do it, you have to get hot at the right time."
Jimmy Sullivan smacks a bases-loaded triple to right-center, Wethersfield strikes for 3 in top 2. Leads Guilford 3-0 #ctbase pic.twitter.com/FlGMY4oyt9

— Sean Patrick Bowley (@SPBowley) June 6, 2018
Wethersfield's only appearance in a final came in 2005 where it fell to Berlin in Class L.
"You know when you have a special group and we knew we had talent here to make a run," Bagdasarian said.
Guilford (16-9) was playing in its first state semifinal in a decade and fell one step short of advancing to its first final since winning its lone state championship in 2007.
"I love these guys. Thinking about losing them (11 seniors), you get choked up," Hayden said. "At the end of the day, wins and losses are great, but you can't measure what's in their heart. They are champions in my mind."
The big blow came in the top of the second inning off the bat of center fielder Jimmy Sullivan. The leadoff hitter bound for the University of Virginia in the fall, Sullivan tattooed an offering from Guilford's Tom Cattaneo into the right-center field gap for a three-run triple in a scoreless game.
"It's been our goal this year to get to the state finals," Sullivan said. "We knew we had a good team and had a good shot at getting (to the final)."
Wethersfield punches its tickets to the Class L baseball final, 4-1 over Guilford #ctbase pic.twitter.com/r4AnWKaaQp

— GameTimeCT (@GameTimeCT) June 6, 2018
Cattaneo walked both Michael Mercado-Ortiz and Tim Blaisdell to lead off the top of the second inning. After he struck out Sam Tenney, Cattaneo got Ryan Skelly to ground one to shortstop Kevin Cargos.
But Guilford second baseman John Petonito couldn't handle the relay throw, loading the bases. Then Sullivan cleared them with the triple.
"I saw his curveball the pitch before so I was expecting it. It was over the plate, a good pitch to hit," Sullivan said.
Said Hayden: "We fell behind good hitter 2-0, tried to work our way back into the count, but give him credit, he put a good swing on it and that's why they are moving on."
Guilford coach Brian Hayden on his team's season-ending, 4-1 loss to Wethersfield in the Class L baseball semis #ctbase pic.twitter.com/1NByUIHY65

— GameTimeCT (@GameTimeCT) June 6, 2018
Wethersfield added an insurance tally in the fourth on Mark Bagdasarian Jr.'s sacrifice fly.
Guilford scored its lone run in the second. Ben Panagoulias led off with a single and moved to second on a passed ball. A single by John Petonito moved Panagoulias to third.
Petonito took off for second base before Bukowski even began his windup, then intentionally got hung up between bases. It took a few throws before took off, the last on a throw to third. He slid in to home place before the tag was applied.
Wethersfield coach Mark Bagdasarian on his team's 4-1 victory over Guilford and reaching the Class L title game #ctbase pic.twitter.com/N6UgPm51lY

— GameTimeCT (@GameTimeCT) June 6, 2018
WETHERSFIELD 4, GUILFORD 1
(at Hartford)
WETHERSFIELD 030 100 0 — 4 5 1
GUILFORD 010 000 0 — 1 4 1
Records: W 17-7; G 16-9. Batteries: G—Tom Cattaneo, Jack Strand (6), Matt McGrath (7) and Matt Donlan; W—Kyle Bukowski (W), Tim Blaisdell (S) and Hunter Dombal. 3B: Jimmy Sullivan (W).