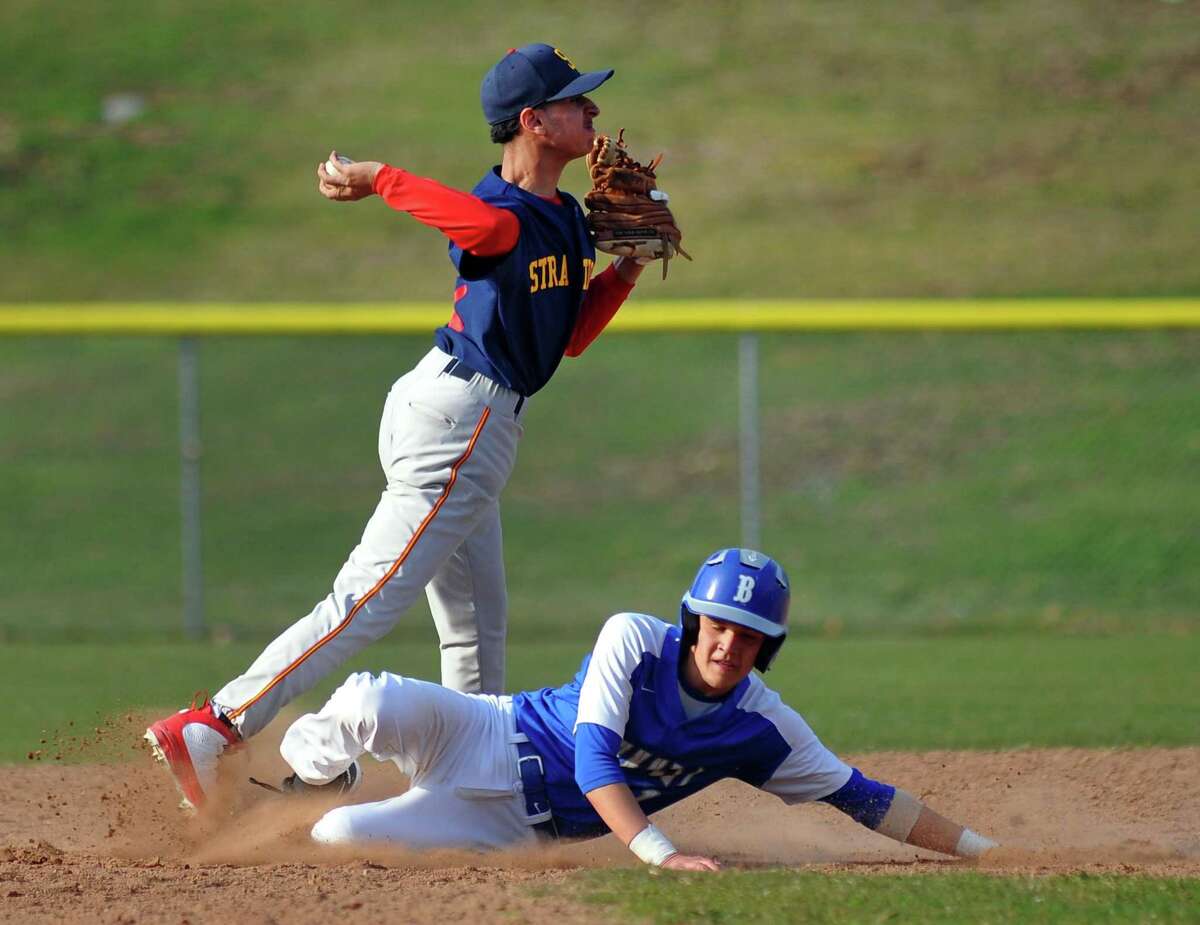 STRATFORD — What Stratford coach Mick Buckmir liked about Friday was that temperatures rose above 70 degrees for the first time this spring for baseball.
As for his team's game against town rival Bunnell, that, too, brought a smile to Buckmir's face.
Stratford had its ace, Brendan Duffy, on the hill, and the right-hander stymied Bunnell's bats, twirling a one-hit shutout in an 8-0 victory.
"The best part about it is the weather broke. We had baseball weather for once," Buckmir said. "I just told the kids we played a complete game of baseball. I always stress to them that it's won by pitching, defense and timely hitting. We certainly got the pitching."
Bunnell's only damage against Duffy was a clean single by catcher Justin Herrera to lead off the bottom of the fourth inning. Duffy struck out 12 and walked only one to improve the Red Devils' record to 5-1.
"I tried to do the best I could to get a win," said Duffy, a senior.
Ryan Duffy plates Stratford a 1-0 lead #ctbase pic.twitter.com/7YWAYtQoSo

— Doug Bonjour (@DougBonjour) April 13, 2018
The Red Devils certainly helped out Duffy at the plate, piecing together 12 hits off a trio of Bunnell hurlers. Five different players drove in runs, including Duffy's brother, Ryan, who opened the scoring in the second inning with a one-out single off Tyler Vancho to make it 1-0.
Center fielder Braydon Seaburg doubled in a run in the fourth to put Stratford up 3-0, and four more runs crossed the plate in sixth to break things open.
With a sizable lead in hand, Duffy cruised to the finish line, retiring the final 12 batters he faced, seven by strikeouts.
"Look, it's the same old story," said Bunnell coach Juan Lopez, whose team fell to 1-3 on the season. "We don't hit enough. What did we get today? One hit with a bunch of strikeouts and pop ups and weak fly balls."
Since their 4-3 victory over Jonathan Law to open the season, the Bulldogs have scored only four runs in three games.
RBI infield hit for Burlone. 4-0 Stratford #ctbase pic.twitter.com/ZdSV91SWuz

— Doug Bonjour (@DougBonjour) April 13, 2018
"We'll go back at it on Monday (at Joel Barlow)," Lopez said. "It's a process. For the juniors and seniors, they've been doing it one way for the last couple years. I can be a little abrasive. They're going to have to grow up. It's the nature of the beast. This is not freshman baseball."
Things fell apart for the Bulldogs in the sixth inning. Singles by RJ Burlone and Logan Zezima off Tyler Cartagena made it 6-0. The final run of the inning scored on a balk.
PLAYER OF THE GAME
Brendan Duffy, Stratford, P: The right-hander was simply dominant on the mound, allowing just one hit while striking out 12 in seven innings. Only two batters reached safely for Bunnell.
QUOTABLE
"What I was most impressed about were our timely hits. Most of them came with two strikes and two outs, some with two outs and two strikes. They were really locked in today." — Stratford coach Mick Buckmir
STAYING HOT
Through their first five games, the Red Devils have scored a whopping 70 runs. In four of those games — Harding twice, East Catholic and Platt Tech — they scored double-digits.
Stratford 8, Bunnell 0
STRATFORD020 104 1 — 8 12 0
BUNNELL000 000 0 — 0 1 1
Records: Stratford 5-1; Bunnell 1-3. Batteries: S — Brendan Duffy (W) and RJ Burlone; B — Tyler Vancho (L), Tyler Cartagena (6), Henry Gloria (6) and Justin Herrera. Highlights: S — Braydon Seaburg went 3-for-5 with one RBI. Ryan Duffy went 3-for-4 with one RBI. Brendan Duffy threw a one-hit shutout with 12 strikeouts. B — Herrera went 1-for-3. Vancho allowed three runs on six hits in five innings.