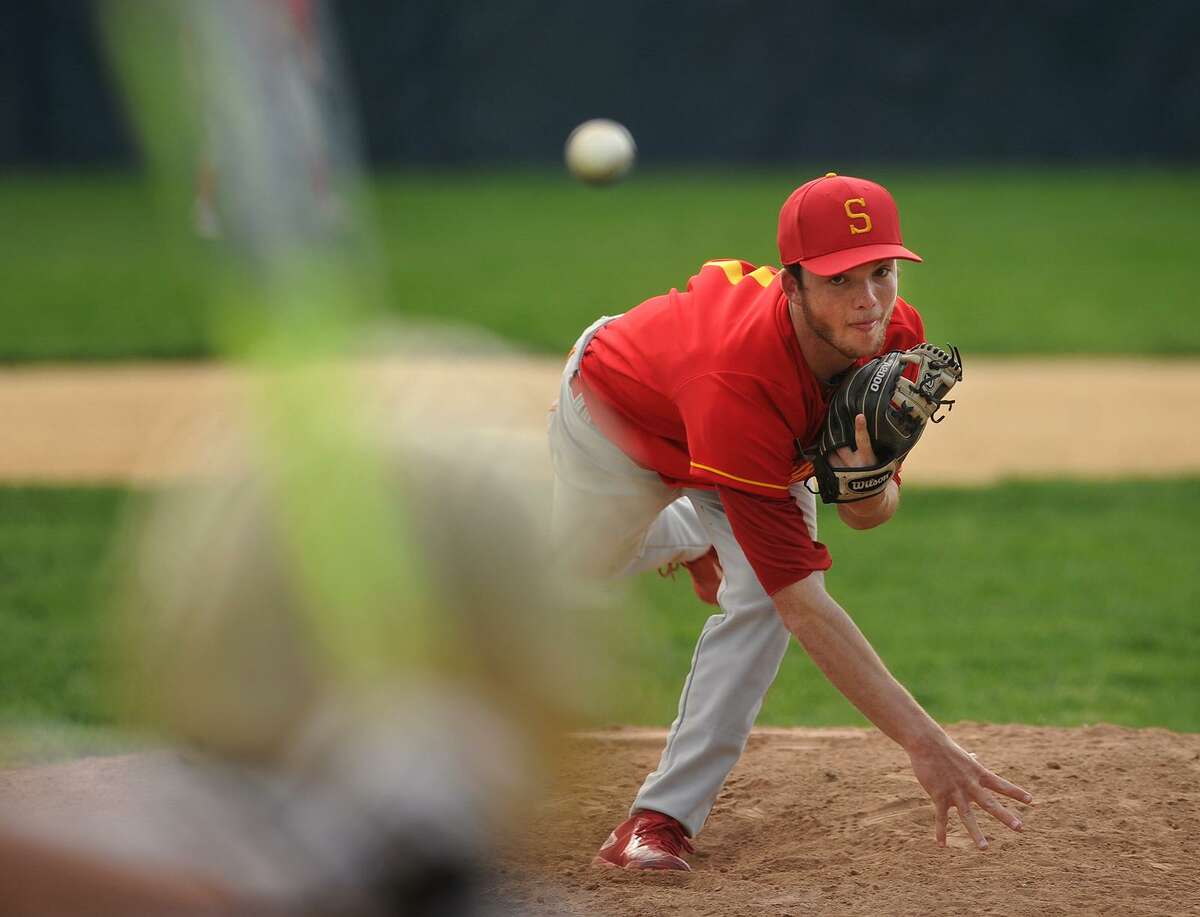 FAIRFIELD — Stratford coach Mick Buckmir sensed his team needed a pick-me-up after a challenging week that ended with the Red Devils dropping two of their final three games.
With that said, if there was ever a time for the Red Devils to have their ace on the mound, it was Monday afternoon against perennial contender Notre Dame-Fairfield.
Right-hander Brendan Duffy stepped up to the occasion for Buckmir and Co., tossing a complete game four-hitter to lead Stratford past the Lancers 7-2 on the road.
"Outstanding performance. What made it big was we had a tough loss on Saturday," Buckmir said, referring to a 9-4 hiccup against Joel Barlow. "The best thing an ace, a bulldog, a No. 1 pitcher does is stop things. The losing streak ended up being one. He got us right back into the win column."
Fedak singles home a pair for Stratford #ctbase pic.twitter.com/AvWRcdMx1z

— Doug Bonjour (@DougBonjour) May 7, 2018
Duffy's 111-pitch gem featured 11 strikeouts and only two walks, and helped the Red Devils (10-6) keep pace with the Lancers (11-5) in the South-West Conference.
"Duffy pitched fantastic," Lancers coach Bill Mazzucco said. "He had great control. He kept us on our heels. We just didn't hit him."
The Lancers managed only two baserunners through the first five innings against Duffy. Three two-out hits in the sixth — doubles by Dillon Higgins and Jacob Rainey and a single by Pete Minore — got the Lancers on the board, but Duffy worked out of further trouble to preserve a 5-2 lead.
Stratford takes 1-0 lead on what could've been an inning-ending DP #ctbase pic.twitter.com/r1A9xNB1MJ

— Doug Bonjour (@DougBonjour) May 7, 2018
Designated hitter Cameron Smith provided the Red Devils with some valuable insurance by homering in the sixth inning. The seventh and final run scored on an error, one of three on the day for Notre Dame-Fairfield.
"That's Cam's second home run this year. He's got a little power," Buckmir said. "He came through right at the right time because we needed some insurance."
The Red Devils broke out with 11 hits, including 10 off righty starter Dillon Higgins. They did most of their damage in the fourth inning, scoring four runs with the help of hits by Zack Fedak, Anthony Torreso and Gabriel Avila.
Notre-Dame Fairfield loaded the bases with the help of two errors in the seventh, but Duffy closed it out himself.
"Every day I try to come out and help our team get a win," Duffy said.
PLAYER OF THE GAME
Brendan Duffy, Stratford, P: The senior right-hander was at his best against Notre Dame-Fairfield's potent lineup, striking out 11 over seven innings. He allowed only four hits, three of which came in one inning.
QUOTABLE
"(Dillon) Higgins has been fantastic for us all year. Unfortunately, we had a couple key injuries today, which put five guys out of position. We tried our best out there." — ND-Fairfield coach Bill Mazzucco said
DEFENSIVE STRUGGLES
Errors proved costly for the Lancers, particularly in the first inning. Two miscues in the field helped Stratford plate its first run on a ground out by Kevan Duffy. Two of the Red Devils' runs were unearned.
STRATFORD 7, NOTRE DAME-FAIRFIELD 2
STRATFORD 100 400 2—7 11 2
ND-FAIRFIELD 000 002 0—2 4 3
Records: Stratford 10-6; ND-Fairfield 11-5. Batteries: S — Brendan Duffy (W) and RJ Burlone; ND-F — Dillon Higgins (L), Jeremy Tierney (7) and Jacob Rainey. Highlights: S — Duffy threw a complete game four-hitter, striking out 11. Cameron Smith hit a solo home run. Zack Fedak had a two-run single. ND-F — Pete Minore went 2-for-3 with a triple and one RBI. Rainey singled in a run.