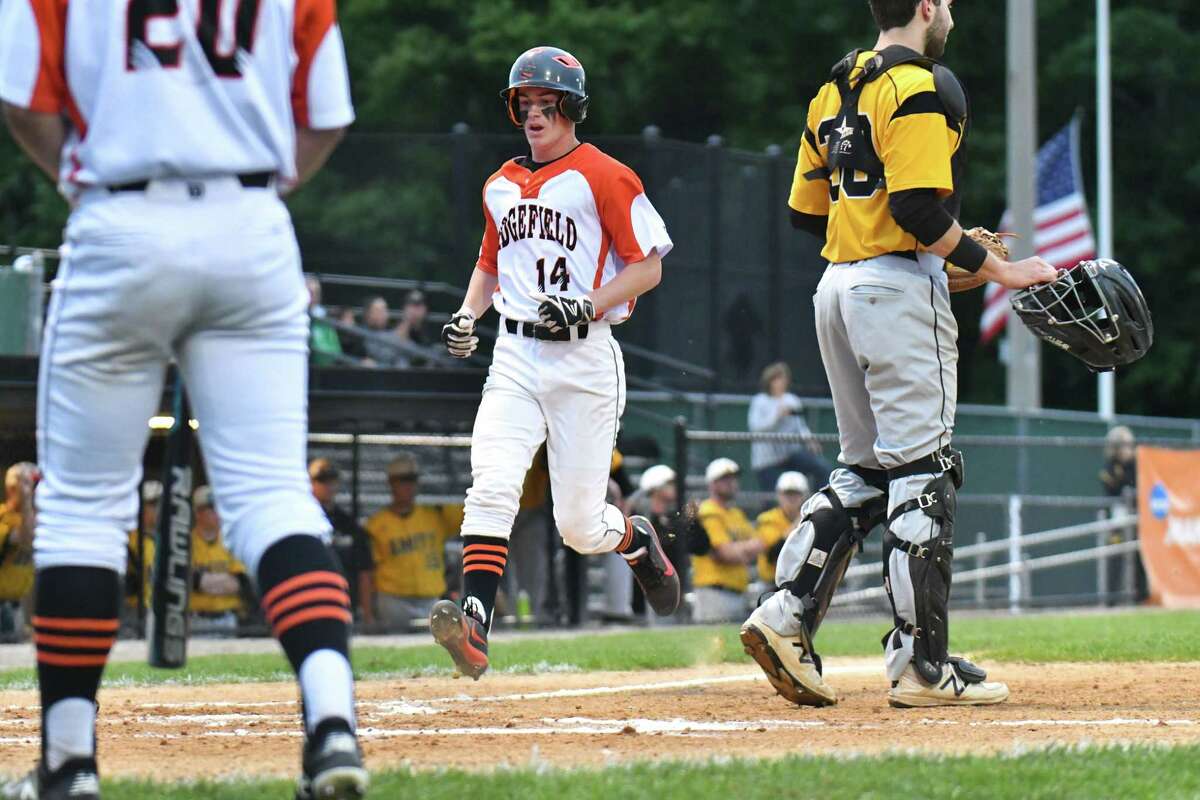 WATERBURY—One squad had never reached the final round. The other had made the state final its home.
The stark contrast between the Ridgefield and Amity baseball teams in recent seasons didn't stop the two teams from putting on a classic in the Class LL semifinals Wednesday night at Municipal Stadium as the No. 3 Tigers and No. 7 Spartans traded blows.
It was Ridgefield who prevailed, knocking off the mighty Spartans 2-1 in 10 innings to book a spot in their first ever state final. The win denied Amity a remarkable sixth straight Class LL title game appearance as pinch runner Brandon Grizzaffi scored from second base on back-to-back wild pitches.
"I thought it might go for another 100 innings like the Iowa baseball Confederacy and we'd never score again," Ridgefield coach Paul Fabbri said. "Brandon Grizzaffi, a senior, kind of an unsung hero took that base on third and that turned out to be a huge play."
Ridgefield will face No. 4 Cheshire — which beat Fairfield Prep in the other semifinal — Saturday at 12 p.m. at Palmer Field in Middletown.
CIAC BASEBALL TOURNAMENT SCOREBOARD
A pitcher's duel between Ridgefield's Alex Price and Amity's John Lumpinski couldn't be settled in seven as the two traded mostly scoreless innings. Lumpinksi left after seven innings while Price pitched into the ninth inning before handing the ball to Matt DeLuca.
"Going into it I was just hoping to start game out strong," Price said. "I had a 1-2-3 inning in the first and after that I just set the tone, took it inning by inning and see how the results played out."
The Tigers — who got knocked off by Staples in last season's semis — got off to a hot start as back-to-back singles with one out led to a sac fly from Quinn McDonald to give Ridgefield a 1-0 lead in the first inning. Lumpinski prevented further damage though, as a strikeout with the bases loaded kept it 1-0.
The Spartans tied the game at 1-1 in the fourth inning behind back-to-back singles from Jack Balocca — who stole second — and Pat Winkel. Each team had runners in scoring position late in the game before heading to extras.
"I feel bad for our pitchers, both of them," Amity coach Sal Coppola said. "I feel bad for Lodewick because I'm calling the pitches and that's a risky call for me to call a slider with a man on third. There's a risk that could happen but I'm just so proud of them. When you play in the Connecticut state tournament every game is a Game 7."
Ridgefield came close to snatching a 2-1 lead in the sixth inning as Nick Hanna reached second on an error. Nick Cullinan sit a single to left field but Hanna was thrown out at home by Balocca, who also made a spectacular diving catch in the seventh to prevent a hit.
RUN ENDS
The Spartans faced several ups and downs during a reloading season, but the Spartans almost found themselves back in a sixth straight final. Amity had runners on the corners with two outs in the top of the 10th before DeLuca got a key strikeout.
"We have confidence that we will come out on top," Coppola said. "I just wish we could have got to the top of the order again with Winkel facing (DeLuca); I felt like if we could have gotten through that inning we would have gotten the run we needed."
ACES WILD
A pair of outstanding pitchers — Price and DeLuca have propelled the Tigers to their first final appearance. Ridgefield held its first three state playoff opponents to a combined four runs, a trend that continued in the semifinals.
"We're a pitching and defense team," Fabbri said. "That's what we are, we are in these 2-1, 1-0 games; we're not going to hit any balls over the outfielder's heads but we're playing the last game of the season so that's not too bad."
PLAYER OF THE GAME
Alex Price, Ridgefield: Left before the game was settled, but his eight and-two-thirds innings performance was an outstanding one for the Tigers. Price allowed four hits.
QUOTABLE
"They're like the dragon and he was like John Snow out there," Fabri said. "I'm going get behind that kid every time."
AMITY 2, RIDGEFIELD 1
AMITY000 100 000 0 — 1 5 2
RIDGEFIELD100 000 000 0 — 1 7 0
Batteries: A—John Lumpinski (W), Ben Lodewick and Pat Winkel; R—Alex Price, Matt DeLuca (W) and Ben Cohen.