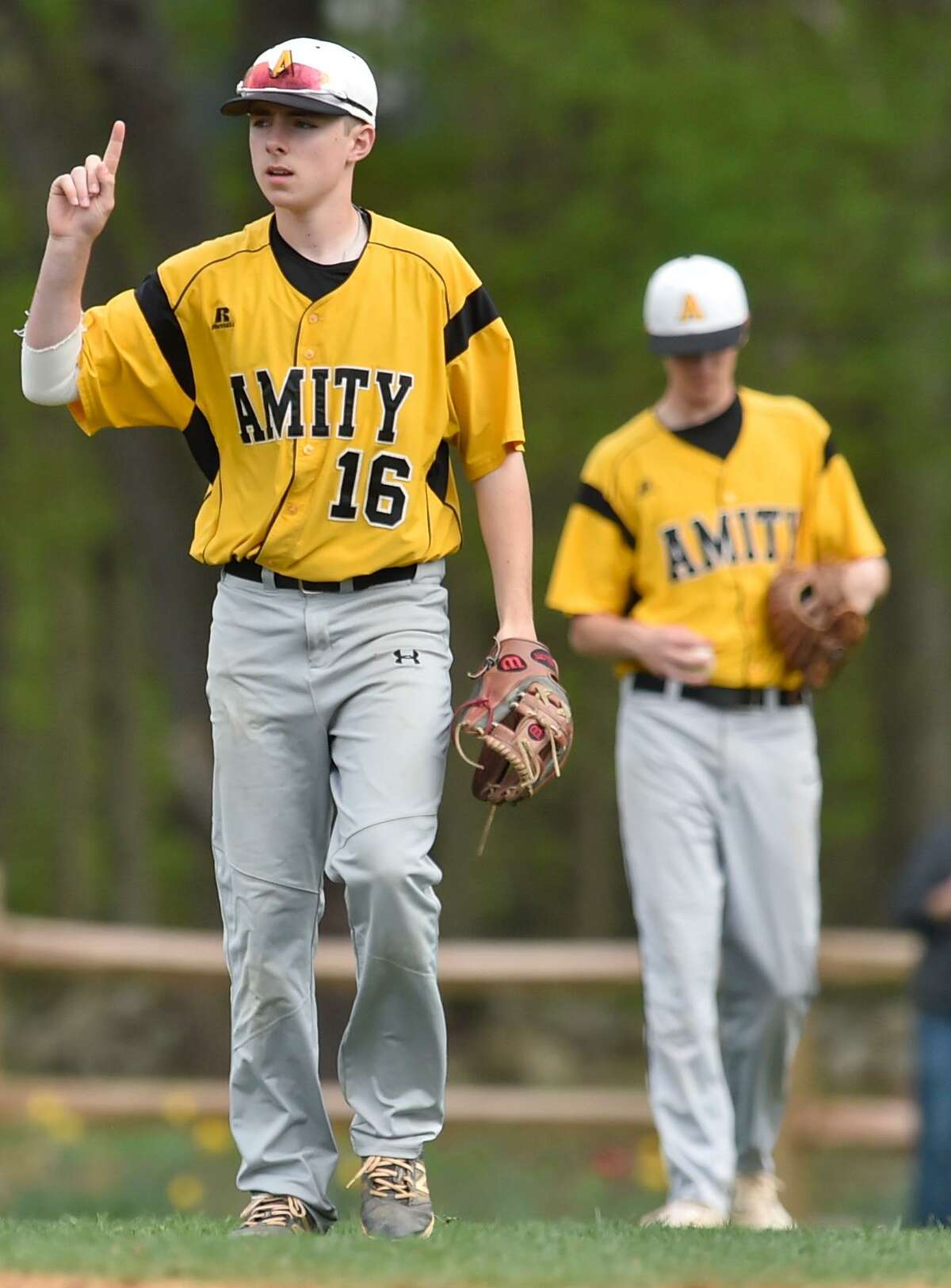 WOODBRIDGE — There is a time during each season when a team finds its feel-good place. The Amity baseball team has experienced this over its brilliant run over the last decade.
Monday afternoon may be that moment for this season.
Showing the resiliency which is starting to define this team, Amity scored once in the bottom of the sixth, after blowing a two-run lead in the top of the inning, to defeat Hand 4-3 in a Southern Connecticut Conference Hammonasset Division contest at John Janenda Field at Amity High.
"They are tough," Amity coach Sal Coppola said of Hand. "Every year they come for us. Every year it's a grind. They are a really good team. We just said to them how proud we were that they came right back. That's what you want to see this time of year."
The game had all the dramatics as the Tigers (11-4) had the tying run on first with two outs in the seventh and power hitter Ed Sweeney at the plate. Amity reliever John Lumpinski battled Sweeney and got the powerful right-hander to pop out to short on the eighth pitch of the at-bat to preserve the win.
"We played a good game," Coppola said. "There is definitely still room to improve. We are trying to get better. We have two weeks to try and get better for crunch time."
While the Spartans improved to 11-4 with their fifth straight victory.
In between was a playoff-type contest with Hand's Kyle Schaefer and Amity's Ben Lodewick battling on the hill.
Each put up solid numbers as Lodewick went six innings for the win, allowing three runs on three hits, while walking four and striking out three. Schaefer allowed four runs on eight hits, while striking out four and walking four, two of which were intentional.
"I would not want to face Lodewick," Coppola said. "He throws four different pitches. He mixed it up really well especially with some of the hitters they have."
Amity took a 1-0 lead in the first inning when Winkel launched a long homer to center. The lead increased to 2-0 in the second when Jack Balocca doubled to right and two errors loaded the bases, before James Runda brought in a run with a sacrifice fly to center.
Hand, ranked fourth in the GameTimeCT Top 10 poll, got on the board in the fourth inning to cut the deficit in half. Phoenix Billings led off with a double and scored on a two-out single to center by Julian Banerji.
The Spartans got that run back in the bottom of the inning when Runda singled with one out, moved to third on a double by Jon McNelis and scored when John Nolan beat out a grounder to third after Winkel was intentionally walked to load the bases.
The Tigers battled back to even the game in the sixth with a two-out rally which began with Cam Fitzgerald being hit by a Lodewick pitch. Two walks loaded the bases for Will Reiner who promptly delivered a two-run single to center, scoring Fitzgerald and Banerji to even the game at three.
"You can get a moral victory out of it," Hand coach Travis LaPointe said after his team lost its third straight game. "Every experience prepares us for a bigger spot in the postseason. Amity is a great team. We go toe to toe every game. That makes us better. They were a little cleaner today."
The tie was short-lived as the Spartans got that run back in the bottom of the inning. McNelis and Jared Smith opened the inning with singles to put runners on the corners, before Winkel was intentionally walked to load the bases.
Nolan delivered again with a sacrifice fly to center, scoring pinch-runner Peter Spodnick with the eventual winning run.
Correction: An original version of this story incorrectly stated that Amity's Pat Winkel had tied the state's career hits record. References to it have been removed.
The actual record, while reportedly held by Winkel and Staples' Ben Casparius at 125, is not officially known. However, Montville's Jeremy Terni had 148 in 98 games played from 1997-2000, which was regarded as the state's record back in 2000.
AMITY 4, HAND 3
HAND 000 102 0—3 3 3
AMITY 110 101 x—4 8 1
Batteries: H: Kyle Schaefer (L) and Will Reiner; A – Ben Lodewick (W), John Lumpinski (7) and Pat Winkel. Highlights: HR: (A) Winkel.