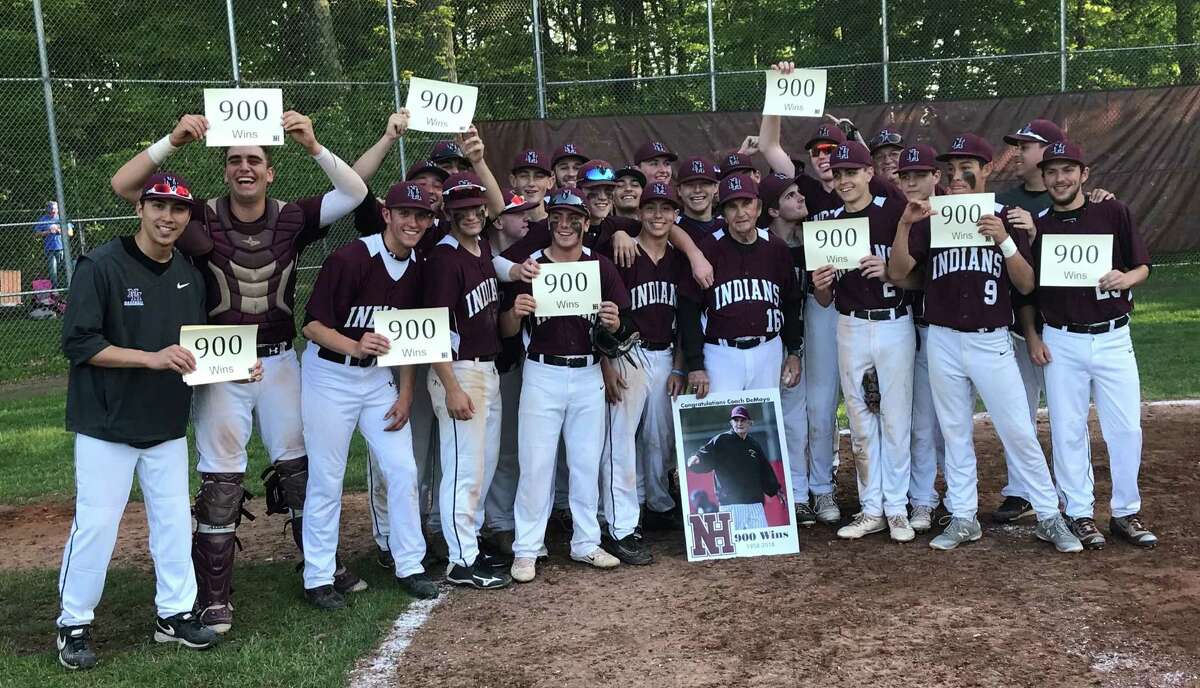 NORTH HAVEN — He stopped talking and looked down for a moment, then took a deep breath and wiped away a tear or two from his eyes.
The enormity of it all finally hit North Haven baseball coach Bob DeMayo just in front of the mound on the field that bears his name.
After waiting a few extra days because of inclement weather, the 85-year-year old veteran of 60 years at the helm collected the 900th win of his storied career with a 7-6 victory over Amity Wednesday afternoon in the Southern Connecticut Conference quarterfinals.
"I'm glad it's over with," DeMayo said. "I'm a bit choked up now. I'm just trying to coach baseball here."
It was more than that for his players. Zack Pincince, who picked up the save with three innings of relief, knew how big the day was. As usual, DeMayo didn't mince words when he came to the mound.
"I didn't feel the pressure at first," Pincince said. "I jogged in and warmed up and Coach says to me, "are you ready. There is a lot of pressure on you right now.'"
Amity (15-6) coach Sal Coppola joked as to why DeMayo had to win his 900th against him.
"He's the best and he's taught me some lessons in the game," Coppola said. "I always wonder if his players and people realize how smart he is."
Not to forget, the game was big too. North Haven hadn't won a SCC tournament game since 2013 when rain played havoc with the event and there was no championship game played.
And the Indians jumped on Amity righthander Ben Lodewick in the bottom of the first inning for two runs and could have had more but settled for RBI singles by Peyton Farina and Kevin Lucey.
Amity deadlocked things at 2-2 in the third inning when North Haven starter Luca Lawrence labored a bit. John Nolan doubled in a run and scored on a wild pitch.
North Haven (16-4) broke the game open in the fourth when Lodewick's pitches were high in the strike zone and the Indians were able to belt him around. A two-run single by Andrew Laudano and a two-run double by Steven Erbe, along with a RBI single from Dave Christoforo accounted for the scoring.
Amity, however, came right back with three runs in the fifth. The Spartans loaded the bases off Lawrence with none out. Enter Pincince, who allowed a bases clearing double to Quinn Burke before he got out of the inning.
"We were one or two hits away from tying or winning the game," Coppola said. "We didn't get the big hit when we needed it."
With a larger crowd than normal on hand for a weekday afternoon game anticipating history, the Spartans got their first two runners on base in the seventh inning. James Runda's sac fly made it 7-6 and there was some nervousness in maroon and white.
"Amity does this a lot," DeMayo said. "They are a good team and they come back, but we finally made the plays in the last inning. There was a lot of pressure on the kids and they handled it well."
Pincince then settled down and got the next two hitters to ground out to third baseman Nick Perillie to end the game.
"I turned around and saw the 899 (in cups on the fence) and knew I had to get those outs," Pincince. "All season, we wanted the 900th and we knew 16 wins is a lot to get there."
North Haven will travel to Fairfield Prep for a 3 p.m. start in the SCC semifinals Thursday. The winner will meet the winner of the Hand-Branford contest at West Haven High School for the league title at 7 p.m.
DeMayo mentioned the possibility of having to play two Thursday.
"Can any of you guys throw?" he joked to the media assembled in front of him. "I'm figuring out what we'll do for pitching. Anyone who pitched today and Monday is ineligible to pitch with these new pitch count rules."
The loss ended Amity's streak of three consecutive SCC tournament titles.
NORTH HAVEN 7, AMITY 6
AMITY 002 030 1 — 6 10 0
NORTH HAVEN 200 500 X — 7 9 1
Records: North Haven 16-4, Amity 15-6. Batteries: Amity — Ben Lodewick, William Rotko (5) and Pat Winkel. NH — Luca Lawrence, Zak Pincince (5) and Dave Christoforo. 2B: A — Julian Stevens, Quinn Burke. NH — Steven Erbe. RBI: A — John Nolan, James Runda, Burke (3). NH — Erbe (3), Christoforo, Andrew Laudano (2), Kevin Lucey. Winning pitcher: Lawrence. Losing pitcher: Lodewick. Save: Pincince.